---
The University of Bath tops this year's Times Higher Education Student Experience Survey, having moved up from second place in 2014.
Bath is rated highly by students in all 21 aspects covered by our poll, and it performs particularly strongly on the quality of its academic staff, degree courses and teaching facilities.
Other key areas in which the university excels include the state of its campus, the variety of the extracurricular activities and how it tailors its services to meet the individual needs of students.
Bath shares first place for "good community atmosphere" with the universities of Sheffield (last year's top-placed university, now third), Oxford and St Andrews in the survey of almost 14,700 students in 113 universities across the UK.
Dame Glynis Breakwell, Bath's vice-chancellor, says taking the prime spot in a student poll rounded off an excellent year for the university. It enjoyed record numbers of student applications, achieved the number one slot in last year's National Student Survey and rose six places in the research excellence framework. "I'm delighted because we've managed a very solid performance across the whole picture," she says.
The consistently high scores show that Bath succeeded in its efforts to provide a "nurturing environment for excellent enterprising minds", Breakwell adds. "Our students like to be challenged, but we also support them to take risks so that they have every chance to achieve their full potential."
Student liaison groups in each department, as well as a strong relationship with the students' union, helped Bath to listen to student needs and respond to them, she explains. "We have also been spending more than £1 million a week on improving the infrastructure over the past year and we will continue to do this for the next two years," she adds.
This year's second-placed institution is Loughborough University, which leaps back into the top 10 after it dropped to 11th in 2014.
Loughborough is rated best in the country for teaching facilities and, less surprisingly, is also deemed ahead of the pack regarding sports facilities.
Its students' union is regarded as one of the best in the UK, taking joint second place alongside the University of Dundee and the University of Leeds behind Sheffield's acclaimed union.
"People always think about sport when you mention Loughborough, but it's our achievements in other areas that is really important for providing an excellent student experience," says Rob Whittaker, president of Loughborough Students' Union.
More than 2,700 students at Loughborough belong to student societies, and student volunteers devoted 28,000 hours to community activities in the past academic year, he says. "We raised £1.4 million for charity last year, which is the sixth year in a row that we've raised more than £1 million a year. Students are engaging with the students' union in so many different ways – it's not just seen as a nightclub," he adds.
Robert Allison, vice-chancellor of Loughborough, says he is immensely proud of the active role that students play in the university's life. "We're told these days that students are consumers or customers who demand certain things – I don't buy into that," he says. "If you call them consumers, you commodify them – I see them as partners with us on a journey."
His informal chats with students across campus are just as crucial for keeping in touch with undergraduates and their requirements as the more structured weekly meetings he has with students' union reps, says Allison.
This year's top 10 includes two more new entrants: the University of Surrey, in joint sixth place (alongside one of 2013's top-ranked institutions, the University of East Anglia), and Newcastle University at number 10. Surrey is also one of the most improved universities for student satisfaction, rising 28 places this year; Cardiff Metropolitan University was the only other institution achieving a similar ascent.
Surrey, which has also climbed several university league tables and significantly increased its intake of high-grade students in recent years, says much of its success is a result of working with its students' union.
Gill Nicholls, vice-president and deputy vice-chancellor (academic affairs), says: "These results are testament to the hard work and dedication of staff across the university." She points out that the university has spent £230 million on improving its infrastructure since 2007, including the £36 million Surrey Sports Park and the library and learning centre which cost around £16 million.
"It is satisfying to see that such investment is appreciated by our students and is making a difference to their experience," she says.
Despite several new entries into the top 10 this year, both the University of Cambridge (fourth place) and the University of Oxford (fifth) retain their high positions, as do the University of Exeter (eighth, down from seventh) and the University of Leeds (unchanged at ninth). "This year's results reinforce how much can be achieved by those universities most committed to improving the student experience," says James MacGregor, director of YouthSight, which provides the data for THE's Student Experience Survey. "The relative stability of rankings between years highlights the remarkable gains made by a few."
Campus universities appear to dominate our student satisfaction rankings overall, despite top 10 finishes by Sheffield, Leeds and Newcastle, three of the UK's best-known civic universities.
Five of our top 10 institutions are campus universities, while 11 gain top 20 spaces, with Falmouth University (11th), the University of Nottingham (joint 12th) and Lancaster University (15th) among those campus-based institutions to score highly.
Overall, there is a slight diminution in the student experience since 2012, but many individual areas have been rated consistently highly over the past two years. Commenting on the fall, MacGregor says: "This survey doesn't tell us why, but it's interesting to consider whether there might be a link with higher tuition fees."
With nearly all UK undergraduates now paying fees of around £9,000 at English universities, students are demanding excellence in every aspect of their university experience, from their tutors and courses to the library and sporting facilities.
But will universities manage to deliver high-quality courses and student services while also increasing undergraduate numbers every year?
The abolition of limits on student numbers comes into effect this autumn, enabling universities to recruit as many students as they wish (see pages 27-29). But universities would be foolish to increase their intake massively in 2015-16, despite the financial incentives on offer, says Breakwell, who explains that Bath's gradual year-on-year increase in student numbers was viable only because of significant investment. "The temptation to increase student numbers substantially without investing significantly is certainly there, but that temptation must be resisted," she says.
Download the full Student Experience Survey 2015 results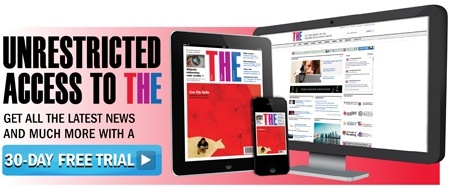 Register to continue
Why register?
Registration is free and only takes a moment
Once registered, you can read 3 articles a month
Sign up for our newsletter
Register
Subscribe
Or subscribe for unlimited access to:
Unlimited access to news, views, insights & reviews
Digital editions
Digital access to THE's university and college rankings analysis
Subscribe
Already registered or a current subscriber? Login