Source: PA
Editor's note: This file has been re-uploaded owing to export problems affecting the 2012 column.
---
---
The University of Sheffield tops the Times Higher Education Student Experience Survey 2014, up from third place last year.
The steel city institution was rated highly by students in all 21 aspects of university life covered by our poll, but its first-place finish for "good social life" and "good students' union" helped to seal its number-one status.
Sheffield also secured joint top place out of 111 UK universities ranked in this year's survey, which polled 14,300 students, when it came to satisfaction with facilities and accommodation.
But its joint-third finish for having "well-structured courses", behind only the universities of Cambridge and Oxford, most pleased Paul White, pro vice-chancellor for learning and teaching at Sheffield.
"It shows we have a good all-round offer, excelling on both the academic and social sides," White says.
Sheffield's decision to roll out academic skills classes and the chance to learn a foreign language across the entire university since autumn 2012 has been popular with students, helping to achieve the top spot, he adds.
This followed an institution-wide review of education after annual tuition fees rose to £9,000 in 2012. The review recommended that opportunities found on some courses should be available for all. "We wanted these things to be an entitlement, not just an optional extra," White explains.
Sheffield's culture of listening to students has also led to improved education provision. It now runs a student ambassador scheme that has led to the redesign of some modules, he adds.
"That closeness between students and academics is very important," he insists.
This year's second place is taken by the University of Bath, up from sixth in last year's poll.
It was ranked particularly highly by students for its "good industry connections", finishing joint top with Imperial College London, and shared first place with Loughborough University on the "good sports facilities" measure.
Having more than 200 Olympic and Paralympic athletes based on campus during the London 2012 Games helped students to appreciate the outstanding sports facilities on offer, believes Bernie Morley, Bath's pro vice-chancellor for learning and teaching.
"Seeing world-class athletes on campus helped to raise the profile of sport here in 2012," he says.
Its £100 million investment since 2012 in teaching spaces, accommodation and a new Centre for the Arts has also improved its standing – it was ranked joint first for high-quality facilities – Morley adds.
"We've involved students in these decisions, even the design of some of the new accommodation buildings. For instance, they told us they wanted small kitchens, but bigger social spaces," he says, adding that a dedicated student experience forum made up of students, senior academics and service staff heads was continuing to look at ways to improve all aspects of university life.
Last year's top-placed institution, the University of East Anglia, slipped to third in this year's table, followed by the University of Dundee (the overall winner in 2011), which shared fourth spot with the University of Oxford.
New entries into our top 10 include the University of Exeter (seventh, up from joint 26th last year), Durham University (8th, up from 16th) and the University of Nottingham (10th, up from joint 11th).
As can be seen from the top 10, older universities or smaller 1960s campus universities tend to do particularly well when it comes to student satisfaction scores.
But John Newton, senior project manager for YouthSight, which carried out the poll, points out that there are many types of institution within the THE's top 40.
"There are both city-based and campus-based universities, mostly pre-92 institutions, but we still have several modern higher education institutions ranked highly," Newton says. "It demonstrates that the provision of a positive student experience is not the domain of just one type of institution."
One of the modern institutions to break into our top 20 this year is Falmouth University, which gained full university status only in 2012, although it was originally founded as an art school 110 years earlier.
Falmouth, Cornwall's only university, was ranked in 12th place overall, scoring particularly highly for its accommodation but also across a range of measures deemed important by undergraduates.
Its £10 million investment in teaching facilities, the development of a mentor scheme for incoming students and the introduction of more counselling and living support staff were just some of its recent initiatives to improve the student experience.
Much of this work also stemmed from a students' union project called "Big 14", in which 14 major issues – both academic and social – were identified as requiring attention.
Introducing extra social spaces around campus, including seven barbecue areas and 40 benches, the start of live jazz evenings and providing a variety of fitness classes have led to a happier student body, Falmouth believes.
"Our students deserve the best and we put them at the heart of everything we do," says Anne Carlisle, vice-chancellor of Falmouth, who thanks students for their "constant input, which enabled us to improve and develop what we offer".
Other modern universities to perform highly included Northumbria University, which finished 21st (the highest placed among the University Alliance institutions), the University of Lincoln (joint 29th) and De Montfort University (39th).
Of the post-92 universities allied to Million+, the University of Sunderland finished top in joint 59th place, followed by Leeds Metropolitan University (joint 65th). These institutions are often composed of an older, more socially diverse undergraduate body, who tend to be less satisfied than younger students.
Overall, the mean satisfaction scores, collected in the eight months up to June 2013, did not increase on 2012 levels, but several institutions did significantly improve their standing.
Four of the 10 most improved institutions are based in London – King's College London, Brunel University, Royal Holloway, University of London and the Royal Veterinary College. However, the most improved institution was the University of Stirling, which rose 39 places on its 2012 ranking to joint 35th overall.
Reduced class sizes, improved student feedback and having employability embedded into its degrees, as well as a major library refurbishment, the creation of new study spaces and a £38 million revamp of its accommodation, were among the changes over the past two years that helped to improve Stirling's position, a spokesman says.
---
Methodology used in the Student Experience Survey 2014
More than 14,000 full-time undergraduates took part in this year's survey, which is an increase of about 3,000 compared with last year.
All respondents were members of YouthSight's student panel – who are recruited via Ucas – and their views were gathered between October 2012 and June 2013.
The Times Higher Education Student Experience Survey is broken down into 21 attributes of universities, chosen by students as key indicators. Participants were asked to rate how their university performed in each of the areas using a seven-point scale. Each attribute was assigned a weight reflecting its importance within the overall student experience.
The same wording and weighting methodology have been used for the past five years, with the greatest weight applied to the attributes that correlated most to whether or not the respondent would recommend the university to a friend.
Only universities achieving 50 or more ratings have been included in the final dataset, and each university's score was indexed on a scale from one to 100. A total of 111 institutions (102 last year) met the minimum sample threshold required based on respondents from a total of 14,300 respondents.
The difference in scores of similarly ranked institutions will not be statistically significant. When results are based on a sample of 100, we have to accept some imprecision to arise from sampling variability. But that does not mean to say that these results are without meaning. In this context, the relatively high level of consistency in our data from year to year is reassuring. For example, in each of the past four years, the universities of Sheffield, East Anglia, Dundee, Oxford, Cambridge and Leeds have all featured in the top 10 – this consistency demonstrates the impacts of best practice as opposed to sample variability.
However, the relatively unchanging make-up of the top 10 does not prevent other institutions' efforts from being recognised: Northumbria University, for example, has seen year-on-year improvements in student feedback, having risen to a new high of 21st place in 2014, up from 23rd, 31st and 45th in 2012, 2011 and 2010, respectively.
YouthSight believes that the wealth of feedback collected over time through this survey continues to be effective at both highlighting best practice and identifying specific areas where some universities may have room for improvement.
John Newton
Senior project manager, YouthSight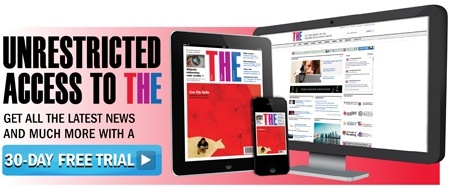 Register to continue
Why register?
Registration is free and only takes a moment
Once registered, you can read 3 articles a month
Sign up for our newsletter
Register
Subscribe
Or subscribe for unlimited access to:
Unlimited access to news, views, insights & reviews
Digital editions
Digital access to THE's university and college rankings analysis
Subscribe
Already registered or a current subscriber? Login