Source: Alamy
A critic of government higher education policy suspended by the University of Warwick since January is being charged with undermining the authority of the head of his department, Times Higher Education has learned.
Among the claims that form part of the case against Thomas Docherty is that he sighed and made "ironic" comments when interviewing job candidates.
Warwick has refused to comment on details of the case, except to deny that Professor Docherty's suspension is connected with his outspoken opposition to changes to the university system. He has been suspended since January this year, is thought to have been banned from any contact with his colleagues or students, and has also been prevented from attending an event and writing a book preface (see box, below). The University and College Union has called for his reinstatement.
Sources have told THE that the general charge against Professor Docherty, which could result in him losing his position as a professor of English and comparative literature, is that he undermined the authority of Catherine Bates, the former head of department who stepped down from the post earlier this year.
It is understood that it was Professor Bates who originally brought the complaint against Professor Docherty, himself a former head of department, but since then the case has been taken over by the university's senior management.
Some of the university's witnesses for the case against Professor Docherty will give evidence in the form of anonymous statements, meaning that they cannot be cross-examined, THE has been told.
Stuart Croft, the university's provost, has been leading the investigation into Professor Docherty and will also have the ultimate decision on his guilt or innocence, although a panel of other senior university figures will recommend an outcome to him at a tribunal scheduled for September.
The case cites three incidents as evidence of a campaign to undermine Professor Bates, it is understood.
Professor Docherty is alleged to have shown disrespect to candidates for a position in the department by projecting negative body language, making "ironic" comments and sighing during the interviews. It is thought there was dissatisfaction among some faculty members about the suitability of the candidates for the role.
There was also a disagreement between him and Professor Bates over whether to submit a colleague to the research excellence framework, it is believed, and the two are also said to have had a heated discussion over whether to create a new position in the department.
Some in the department feel that Professor Bates was eroding traditions of democratic governance and was introducing a line-management system, although THE has been told that there are other colleagues who support her.
It is understood that Professor Bates will not take part in the disciplinary proceedings, and THE could not reach her for comment.
A spokesman for Warwick did not comment on THE's understanding of the case against Professor Docherty, but repeated a previous statement that the disciplinary action was unconnected to his political views.
Separately, Warwick's UCU branch has condemned plans to cut jobs at the institution's Medical School and School of Life Sciences.
A spokesman for Warwick said there would be a reduction in staffing levels at the schools, although it would not know the exact number until the autumn.
david.matthews@tsleducation.com
Writer's block: description of an academic struggle
The University of Warwick has been criticised by a speaker at one of its own graduation ceremonies over its treatment of Thomas Docherty – including, it has now emerged, stopping him writing a book preface.
Speaking to present his friend Alexandra Pringle, group editor-in-chief at the publisher Bloomsbury, with an honorary doctorate on 16 July, Jeremy Treglown, a professor emeritus of Warwick and a former editor of The Times Literary Supplement, said that there was evidence that universities were "joining in the attack" on freedom of expression.
"I've even read and heard reports that infringements of intellectual liberty have recently occurred here at Warwick, too," he said. Although not mentioning Professor Docherty by name, he went on to refer to Warwick barring someone from speaking at a debate on campus. As reported previously by Times Higher Education, Professor Docherty was prevented last month from attending an event on the increasingly "authoritarian" nature of universities.
Professor Treglown also said that he had heard that the same person had also been "prevented by the university from writing a preface for a new book".
THE understands that last month Professor Docherty was told by Stuart Croft, the provost, that as part of his suspension he was not allowed to write the preface for a new book in the Warwick Interdisciplinary Studies in the Humanities series, of which he is one of the editors.
In his speech, Professor Treglown urged Sir Richard Lambert, Warwick's chancellor and former editor of the Financial Times, to investigate the incidents. He received a long ovation from the audience following this section of the speech, he said.
Speaking to THE, Professor Treglown criticised the university for not revealing what Professor Docherty was being charged with. "It's like something out of Kafka," he said, and added that many students and staff had contacted him after the speech with messages of support.
A university spokesman repeated a previous statement that Professor Docherty had not been suspended for his political views.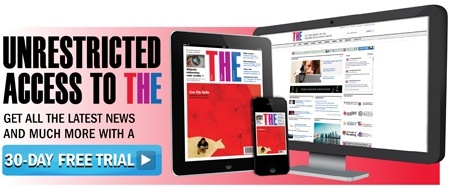 Register to continue
Why register?
Registration is free and only takes a moment
Once registered, you can read 3 articles a month
Sign up for our newsletter
Register
Subscribe
Or subscribe for unlimited access to:
Unlimited access to news, views, insights & reviews
Digital editions
Digital access to THE's university and college rankings analysis
Subscribe
Already registered or a current subscriber? Login