Source: Getty
Staff at Swansea University's School of Management have been warned that it is "not a rest home for refugees from the 1960s", amid high levels of discontent with what many academics regard as an overly aggressive style of management.
As Times Higher Education reported last September, Nigel Piercy was recruited as dean of the school in May 2013, shortly after his son, Niall, was appointed deputy dean for operations. Controversy arose when Professor Niall Piercy warned that any academic without four papers deemed 3* standard for the research excellence framework would be moved into teaching-only roles. The policy was rescinded, but controversy continued over increased teaching loads for some staff.
Further bad feeling was created in March when Professor Niall Piercy circulated a spreadsheet of student satisfaction scores for the first semester of 2013-14. Course modules with a low score, it was announced, would be placed in "special measures".
The names of course directors for some modules were omitted, but 22 academics submitted a formal grievance, arguing that directors' identities were common knowledge and that the spreadsheet undermined their "professional credibility". In a memo to staff, Professor Nigel Piercy emphasised that the corrective measures applied to "the module, not the individual teacher".
THE understands that the grievance is unresolved and that a similar spreadsheet was published last week, rating the second semester.
Meanwhile, in April, the school conducted an anonymous survey of its academics. Many complained of management disrespect, a lack of consultation and low morale. Professor Nigel Piercy added a "health warning" in the document – which was circulated to staff in the school – advising recent recruits to take the feedback "with a pinch of salt" as "it contains the feedback of a relatively small number of staff" who "had a lovely cosy lifestyle doing whatever they wanted for years".
He added: "There were a few hippy-dippy comments about collegiality and letting the 'people' make the decisions." Quoting a verse of Do You Hear the People Sing? from Les Misérables, he continued: "I'm sorry. This is not a commune. This is a managed institution pursuing goals that are closely aligned with the university's. It is not a rest home for refugees from the 1960s, with their ponytails and tie-dyed T-shirts. Live with it. Some wags call for the removal of some or all of the school's top management team. Yes, well don't hold your breath. Or actually, do."
In a document of last February seen by THE, Professor Niall Piercy claims the school has "a legacy of perhaps 20-30 staff [of 70] who are not up to standard in the classroom…Large-scale severance, redundancy or early retirement" is the solution. THE understands nearly 20 academics have left since the Piercys' arrival, mostly moving to well-regarded universities.
Several academics told THE they believed the Piercys had effectively been given carte blanche by university management to turn around what, by common consent, has been an under-performing school.
A spokeswoman for Swansea said: "The university is committed to improving the teaching and learning of students at the School of Management as part of our ambition to become one of the world's top 200 universities. All changes within the school seek to underpin this, and we hope that staff will support us."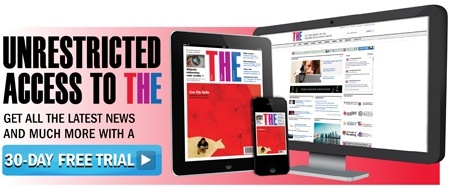 Register to continue
Why register?
Registration is free and only takes a moment
Once registered, you can read 3 articles a month
Sign up for our newsletter
Register
Subscribe
Or subscribe for unlimited access to:
Unlimited access to news, views, insights & reviews
Digital editions
Digital access to THE's university and college rankings analysis
Subscribe
Already registered or a current subscriber? Login