An artist and academic fascinated by "edges, borders and the scraps of land people tend not to care about" has completed a book and exhibition project devoted to the unexpected "untrammelled and untrod" landscapes around motorways.
Edward Chell, senior lecturer in fine art at the University for the Creative Arts Canterbury, grew up near Halifax and remembers cycling along the not-yet-completed trans-Pennine M62, where the vast signs gave the motorway a "monumental, even sublime" feeling.
He was astonished by the amount of wildlife around him when he was once stuck in a traffic jam on the M2. And he is intrigued by how motorways such as the M40 consist of "a succession of staggering 'reveals' ", as each bend opens up a new panorama.
Since the 18th century, Mr Chell argued, sightseeing has meant "going to places with views, which are in some sense edifying. Motorways aren't like that, because we rush through them and they are very utilitarian. But, similar to a lot of places we tend to ignore, there are hidden gems when we look for them. I am fascinated by the beauty of their utilitarianism, finding the extraordinary within the ordinary, which is visually very refreshing."
This interest in "neglected territories" had led Mr Chell to study environments such as stairwells, connecting corridors, doctors' waiting rooms and supermarket car parks.
He secured an Arts and Humanities Research Council fellowship for the academic year 2012-13, which released him from teaching and enabled him to carry out the research for the exhibition and book, both titled Soft Estate.
Motorway verges are rather harder to explore, he explained, except from the safety of a car park or a slip road, so he is careful to wear a fluorescent jacket and hard hat. These environments are inaccessible and seem deliberately closed off, but the fact that they are not often encroached on gives a sense of "nature bubbling up".
"Motorways are very controlled environments to funnel people along at high speed," Mr Chell said, "but they form natural as well as industrial corridors, creating what nature writer Richard Mabey calls 'Britain's largest unofficial nature reserve'."
One result, Mr Chell said, is that plants such as scurvy grass (a salt-tolerant coastal plant) can be found "burgeoning" all over the country. "You get extraordinary plant life because there are no agrichemicals and relatively little pollution," he added.
Well aware that few other people share his "passion for this sort of territory", Mr Chell nonetheless argued that "it affects a huge range of users, so the habitat deserves a bit more attention: this is here, this is what it is like – and it is often beautiful".
The multimedia show – which includes silhouette images of roadside plants – is at the Bluecoat in Liverpool until 23 February.
matthew.reisz@tsleducation.com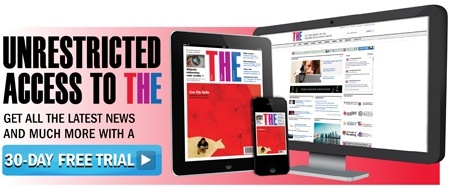 Register to continue
Why register?
Registration is free and only takes a moment
Once registered, you can read 3 articles a month
Sign up for our newsletter
Register
Subscribe
Or subscribe for unlimited access to:
Unlimited access to news, views, insights & reviews
Digital editions
Digital access to THE's university and college rankings analysis
Subscribe
Already registered or a current subscriber? Login