Source: Kobal
The academic who came across baffling phrases such as "bequest mazes", "Herculean liturgies" and "sinister buttocks" in a student paper was left scratching his head for a while.
Then it dawned on him: it was the product of what he now calls "Rogeting" – the creation of new meaningless phrases through the thoughtless and ill-considered use of a Roget's Thesaurus, generally to hide plagiarised material.
Chris Sadler, principal lecturer in business information systems at Middlesex University, suggested the neologism after spotting several potential "Rogetisms" in a student's piece of work.
After reading that "common mature musicians [and] recent liturgy providers are looking to satisfy…Herculean personalised liturgies", Mr Sadler attempted to trace the sentence's origin, suspecting that the nonsense had been generated through extensive synonym swapping.
"Even if the sentence had made sense, it seemed out of place in [a paper on] business information systems and I was motivated to seek out the source," he said.
He eventually located the original text, which read: "the current big players and new service providers are looking to supply more powerful personalised services."
Mr Sadler added that he had "seen quite a bit" of "Roget-ing", which he described as "disguising plagiarism by substituting synonyms, one word at a time with no attempt to understand either the source or target text".
Other new phrases coined via the splendidly inept process include "bequest mazes", a rough translation of "legacy networks", a term used to describe web networks using outdated computer formats.
To "stay ahead of the competition" became the quaint "to tarry fore of the conflict", while "new market leaders" was turned into "modern store guides".
Sadler's favourite Rogetism, however, is a rendering of the phrase "left behind", which was marvellously converted into "sinister buttocks".
"This was a sad business for me and especially [for] my student, but I do think 'sinister buttocks' deserves a prize," said Mr Sadler, who entered the student mistake for this year's Times Higher Education exam howlers.
In light of Mr Sadler's experience, any student tempted to deploy Roget's Thesaurus in future might well heed the counsel of horror writer Stephen King in his guide to good writing.
"Any word you have to hunt for in a thesaurus is the wrong word," he advised, adding "there are no exceptions to this rule".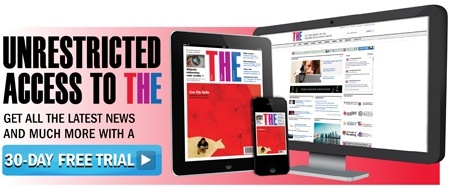 Register to continue
Why register?
Registration is free and only takes a moment
Once registered, you can read 3 articles a month
Sign up for our newsletter
Register
Subscribe
Or subscribe for unlimited access to:
Unlimited access to news, views, insights & reviews
Digital editions
Digital access to THE's university and college rankings analysis
Subscribe
Already registered or a current subscriber? Login