Source: Alamy
There is less than nine months to go until Scottish voters decide whether to break the 306-year-old union with England and leave the UK to form an independent country.
And the vote, which polls once predicted would be an easy win for the pro-union campaign, now seems a much tighter race. A recent poll released by ICM on January found that 46 per cent of people planned to vote for independence on 18 September, compared with 54 per cent who were against separation.
With the nationalists sensing the wind in their sails, vice-chancellors, academics and journalists gathered in Edinburgh on 29 January to hear the Scottish education secretary and the secretary of state for Scotland clash over whether independence would be good news for the country's universities. The debate generated headlines on the issue of immigration, but the two sides are still stuck in a stalemate over whether an independent Scotland would be able to keep its current position on tuition fees and share research councils with the UK.
In a sign of the campaign's increasing intensity, the speeches, by the Scottish National Party's Michael Russell and Liberal Democrat Alistair Carmichael, were peppered with accusations of xenophobia, grandstanding and duplicity.
In words from the speech trailed to the media beforehand, Mr Russell accused the UK government of running an immigration policy driven by a "nasty xenophobia that revolts me and revolts others".
This message was damaging the reputation of the UK as a study destination, he said, with the result that "Scotland loses out" on international students and scholars.
He pledged to reintroduce post-study work visas – which gave overseas students the automatic right to work for two years after graduation before they were scrapped in 2012 – in an independent Scotland.
Responding, Mr Carmichael alleged that Mr Russell was manufacturing a "synthetic spat" about immigration to "distract attention" from unresolved questions on tuition fees and a common UK research area in an independent Scotland.
Scottish students currently pay no tuition fees to go to university in Scotland. Owing to European Union laws, other EU students are subject to the same policy, except for those from England, Wales and Northern Ireland, who have to pay up to £9,000 a year. The SNP hopes to continue this arrangement in the event of independence.
Legally, the current position is permitted because EU member states are allowed to discriminate in this way within their borders.
But, if an independent Scotland became a separate EU member state, denying free tuition to students from the rest of the UK – a fellow member state – would become illegal, Mr Carmichael claimed.
Yet Mr Russell told his audience that an independent Scotland would have an "absolutely unique" case to make in Brussels to be allowed to continue this policy.
If students in the rest of the UK were allowed to study north of the border for free, he predicted, their numbers at Scottish universities would grow from the current figure of 14,000 to 93,000, taking around four in every five places and squeezing out Scots.
Because such students are much less likely to stay in Scotland after graduation than Scots, this would cause huge problems for employers north of the border, he argued.
The second post-independence conundrum is whether Scotland and the remainder of the UK would continue to share their research councils, facilities and peer review networks.
As made clear in a presentation by Anton Muscatelli, vice-chancellor of the University of Glasgow, Scottish universities do well in the present system. In 2011-12, they won 15.2 per cent of research council grant funding despite Scotland's having about 8 per cent of the UK's population, in effect securing a net influx of research funding to Scotland.
Mr Russell claimed that it was clearly in the interests of both countries to keep such a common research area going, "given Scotland's leadership in various areas".
But Mr Carmichael said Mr Russell was making "promises he cannot be certain of delivering" because a common research area would have to be negotiated by the two states after a vote for independence.
As a result of the SNP's position on various policies, he claimed an independent Scotland would go into these negotiations with the following unconvincing opening gambit: "We'd like to share the UK pound with you, and we'd still like to have access to the Bank of England, but as for your young people, they will need to pay fees while young people from France, Spain and Italy can get into our universities for free – oh, and can we have a common research area, too?"
david.matthews@tsleducation.com
Size matters: pension funds could suffer in separate state
A union leader has warned that Scottish academic pension funds could receive a lower rate of return if the country votes for independence.
Dave Watson, Scottish organiser (bargaining and campaigns) at the Unison union, outlined his concerns to delegates at "The future of higher education in Scotland and the UK" in Edinburgh on 29 January.
If the Universities Superannuation Scheme was split between Scotland and the rest of the UK, he claimed, the Scottish part of it would be "significantly smaller".
"Big pension schemes basically do better than small pension schemes. It's [owing to] the scale of the investment pot, the fact that you can pay for investment advice, you can recruit in-house pension advice…on that basis bigger schemes are better," he said.
"I don't think that problem is resolved," Mr Watson continued, but added: "It still wouldn't be a tiny scheme so it would be as big as many other pension schemes in Scotland are at present."
Last summer fears were also raised that if Scotland became independent, European Union rules on cross-border pension schemes could mean that the deficit would have to be filled immediately.
The Scottish government has pointed out that the EU had already relaxed rules relating to joint pension schemes between Ireland and the UK.
On this issue, Mr Watson said that these rules could result in a "big hit" for universities to balance the deficit "in a very short period of time".
One solution could be for the Scottish government to negotiate "transitional arrangements" with the EU to allow them to close the deficit more slowly.
Mary Senior, University and College Union Scotland official, told delegates that there were "more questions than answers" about what would happen to the USS in the event of independence.
Clock is ticking: teenagers question sustainability of free tuition
You might expect young Scots to be behind their government's policy of not charging them tuition fees.
But it seems that the policy has far from universal support from the very group who would bear the brunt if fees were introduced north of the border.
As part of a project to gauge the attitude of 14- to 17-year-old pupils in Scotland towards student debt, tuition fees and higher education, researchers interviewed 143 teenagers across nine schools and one college.
Their responses were made into a film, Our Future: Young People's Views of Higher Education in Scotland, which was shown to delegates at "The future of higher education in Scotland and the UK" in the capital on 29 January.
Catriona, from the Nicolson Institute in Stornoway, questioned the policy as the government was "pretty strapped for cash as it is".
"But if it wasn't for the government paying then it definitely wouldn't be an option for as many people as it is," she said.
Daniel, from Buckhaven in Fife, said: "I think it's a good system, but…I feel that there are some people out there who could definitely easily pay for higher education."
If better-off students keep using government money, he said, the system could become unsustainable. Kieran, from Springburn in Glasgow, said the money should be targeted towards those from deprived areas.
But Jonathan, from Buckhaven, Fife, said he agreed with the SNP's mantra that access to higher education should be based on "the ability to learn, not the ability to pay".
Sarah Minty, a research fellow at the Centre for Research in Education Inclusion and Diversity at the University of Edinburgh, who conducted the research, said that "while the majority of young people we spoke with were in favour of free tuition…many questioned the sustainability of free tuition in the long term".
Some suggested that students from better-off families could contribute to the cost of their education, although the pupils "were not suggesting that fees should be introduced on a level anywhere near that of England", she added.
The results are particularly relevant because 16- and 17-year-olds will be allowed to vote in the independence referendum in September.
There have been signs that a near-political consensus for free higher education is cracking. In 2012, Johann Lamont, the Scottish Labour Party leader, branded the system "regressive" and said it was "not viable" to fund mass participation higher education using only public funds.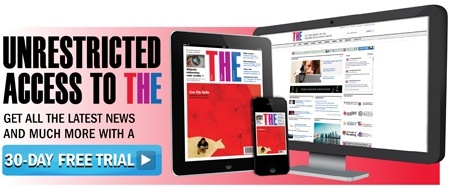 Register to continue
Why register?
Registration is free and only takes a moment
Once registered, you can read 3 articles a month
Sign up for our newsletter
Register
Subscribe
Or subscribe for unlimited access to:
Unlimited access to news, views, insights & reviews
Digital editions
Digital access to THE's university and college rankings analysis
Subscribe
Already registered or a current subscriber? Login