Source: Getty
For many years, the top jobs in UK universities have typically been reserved largely for academics, with administrators able to rise only so high up the career ladder.
But with higher education becoming an increasingly commercialised sector, could that be about to change? More than ever, do institutions need in their highest echelons the skills that managers possess?
Administrators might be expected to answer "yes" to both these questions, but two academics who have researched the issue have reached the same conclusion.
Zara Whysall, senior lecturer in business and management at Nottingham Trent University, and Anne-Marie McTavish, head of the department of management, human resources and enterprise at Birmingham City University, believe that the route to the vice-chancellor's chair is now open to administrators.
"We all know that until academics get to a senior level, they have been very much focused on teaching and research outputs," Dr Whysall said. "Given that administrators have been focusing on management, arguably they are much better placed to be allowed to lead an institution."
Administrators have, of course, long focused on managerial skills. But the landscape has shifted with the marketisation of higher education and, in particular, the student funding reforms of 2012.
"Universities need to be run as efficient 'businesses', and therefore, competitive advantage comes from doing that really well," Dr Whysall said. "It's not just about having really good researchers who can write good research outputs; it's also about making sure that you have good, effective managers who can run institutions effectively."
John Latham, vice-chancellor of Coventry University, is cited by Dr Whysall and Dr McTavish as an example of the new breed of leader. Before taking the top job, his role focused on developing Coventry's relations with businesses.
Dr Whysall acknowledged that older universities might be reluctant to appoint a non-academic vice-chancellor. But she saw no reason why such a career path could not become "common" at newer institutions similar to Coventry.
In light of this, Dr Whysall continued, training opportunities for administrators need to be revamped to allow talented candidates to prepare themselves for leadership roles.
"If we are expecting that they might be future leaders of higher education institutions, we have to make sure that we have a strong pipeline to bring these people through, so we are not putting people in leadership roles that they are not prepared for," she said.
In future, the pair argue, administrators should not be thought of as being on a career "ladder" along which they move upwards until they can go no higher.
Instead, they should be seen as being on a "lattice", on which sideways shifts to different roles can give talented administrators valuable experiences that will help them in their development. Line managers should seek to identify such opportunities for their staff, Dr Whysall and Dr McTavish argue.
Dr Whysall and Dr McTavish first presented their ideas in March at the annual conference of the Association of University Administrators.
Appointments
Ian Abrahams has been appointed head of the School of Education and professor of science education at the University of Lincoln.
The Association of Colleges has announced John Widdowson, principal of New College Durham, as its president-elect. Mr Widdowson has previously served on the AoC board and at the Higher Education Funding Council for England.
Sue Holmes, director of estates and facilities management at Oxford Brookes University, has been appointed chair of the Association of University Directors of Estates.
Campus infrastructure and student accommodation firm University Partnerships Programme has made Richard Brabner its business development manager. He joins from the University of Hertfordshire, where he was head of policy in the vice-chancellor's office.
The University of Sheffield has announced that Wyn Morgan will be its new pro vice-chancellor for learning and teaching. Professor Morgan, who takes up his position in September, currently holds a similar position at the University of Nottingham.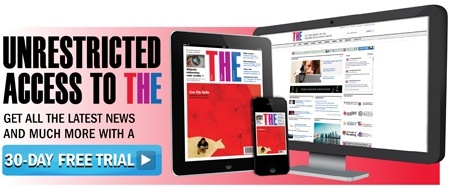 Register to continue
Why register?
Registration is free and only takes a moment
Once registered, you can read 3 articles a month
Sign up for our newsletter
Register
Subscribe
Or subscribe for unlimited access to:
Unlimited access to news, views, insights & reviews
Digital editions
Digital access to THE's university and college rankings analysis
Subscribe
Already registered or a current subscriber? Login