Source: Getty
The UK's forthcoming general election has variously been described in the media as the most uncertain in years, since the 1970s, in decades, in our generation, in generations, in a century. So far, no journalist has dared to stick the uncertainty rhetoric on full blast and call it the most uncertain election ever – but there's still time.
The media may be finding it hard to predict the outcome, but one UK vice-chancellor is certain that there are "risks, genuine risks" posed to higher education by a variety of post-election scenarios.
And these scenarios play out very differently, according to sector figures.
Andy Westwood, associate vice-president for public affairs at the University of Manchester and professor of politics and policy at the University of Winchester, sees some elements of consensus among the major parties.
Across the Conservative, Labour, Liberal Democrat and Scottish National Party manifestos, there are "strong pointers…towards [greater emphasis on] applied research, innovation and high-level technical education", said Mr Westwood, who served as special adviser to John Denham in the latter's time as Labour secretary of state for innovation, universities and skills.
The policies all "suggest a shift towards technical or work-based higher education and to applied research. There will be many in higher education who don't particularly like the sound of either", he added.
Mr Westwood would "take a punt and say that the science budget will end up being safe, but in any scenario I'd expect there will be a price to be paid. This time around it was impact; next time it could be a greater shift to government-directed activity – applied research, innovation, grand challenges…and so on."
Others are more worried about the fate of the research budget and see the subject as one of the unsettling "silences" of the parties' manifestos.
The Lib Dem manifesto goes the furthest of the major parties in pledging to "continue to ring-fence the science budget and ensure that, by 2020, both capital and revenue spending have increased at least in line with inflation".
But even that vow is well short of Universities UK's call for parties to set a goal of increasing research spending to match that of competitor nations such as Germany.
Link-ups, U-turns and 'red lines'
In the event of a hung Parliament, one scenario put forward by political commentators is for Labour to enter a formal coalition with the Lib Dems, while striking a looser agreement with the SNP or relying on its votes on some key issues.
Under that scenario, how would Labour implement its policy to lower the cap on annual undergraduate tuition fees to £6,000 in England?
Sir David Bell, the University of Reading vice-chancellor and former permanent secretary at the Department for Education, raises the question of whether the Lib Dems would vote in favour of £6,000 fees. Their MPs lined up to criticise Labour's policy when it was announced earlier this year, and Vince Cable, the business secretary, described the plan as "financially illiterate".
Sir David added that there would be "embarrassment" for Lib Dem MPs who had called for the abolition of fees only to vote to raise them to £9,000, if they were then to vote for £6,000 fees. "Imagine trying to explain that one at the next election," he continued.
But if the Lib Dems were to vote against Labour's £6,000 fees cap – as a Tory opposition would be expected to do – the SNP could come to the rescue. It has said that it would back lower tuition fees in England, and the SNP position is thought to be driven by the £2.7 billion in extra funding that Labour has pledged to replace the lost fee income. Under the Barnett formula for determining funding for the Scottish government, an estimated £200 million would flow north of the border.
But could Labour's £6,000 policy – which Sir David thinks the party will move "pretty quickly" to try to deliver – be an early test of the risk that England-only measures reliant on SNP votes would look "illegitimate"?
"If they are going to rely on the SNP, they are going to rely on the SNP," said Sir David. "It's been such a headline, retail commitment from Ed Miliband that they are going to have to do it if they are in power."
Mr Westwood said: "Labour have said their £6K promise is a 'red line' in any coalition, and the SNP have offered to help or at least not to vote against it. It's feasible that the Lib Dems, albeit with fewer MPs and therefore less coalition influence, would try to vote against it. But that would be brave, given their history."
'We need to worry about the money'
Speaking anonymously, the vice-chancellor expressing concern about post-election "risks" asked whether some form of Labour-SNP government would be less likely to deliver the promised £2.7 billion replacement funding because the SNP might apply pressure to spend in other areas.
"If it's Labour, we need to worry about the money. If it's Labour and the SNP, we really need to worry about the money," the vice-chancellor said.
However, Colin Talbot, professor of government at Manchester, has attracted attention from political commentators for a blog post in which he argues that the workings of Parliament mean that the SNP would have little scope to amend Labour spending plans.
The SNP could vote down a Labour budget, he argues in his blog, but only by voting with the Conservatives, a politically risky course for an avowedly anti-Tory party.
And how would universities react to the prospect of a Conservative-led government seeking a referendum on the UK's membership of the European Union?
UUK has been quieter of late on the Tory promise to hold an EU referendum than it has been on the subject of Labour's £6,000 fees policy, to which its board voiced strong opposition in a letter to The Times in February. UUK has previously argued that UK universities benefit from £1.2 billion a year in European research income.
"I think we will see universities being more assertive on the Europe dimension than they were [on Scottish independence]," said Sir David, a member of the UUK board.
An EU referendum could prompt "an interesting alliance of opinion between many parts of the business community and the higher education sector when it comes to the benefits of the UK staying in Europe", he argued.
The future of the Department for Business, Innovation and Skills is also uncertain post-election.
Mr Westwood suggested that departmental reorganisation was "probably most likely under a majority Conservative government", adding that "in a coalition deal, it's much harder to do. Deals are done on patronage, and Cabinet seats as well as other ministerial posts are the prizes…Either way [reorganising departments is] a lot of effort for little financial saving or political return."
The issue of potential future cuts to BIS was also raised last week by Lorraine Dearden, professor of economics and social statistics at the UCL Institute of Education and director of the education sector at the Institute for Fiscal Studies.
Speaking at an Education Media Centre briefing for journalists on the election, she was asked by Times Higher Education what levels of spending cuts the parties were proposing in non-protected departments such as BIS.
Professor Dearden replied: "We know…that there are going to have to be massive falls to meet the pledges [of the main parties]."
After the election, the new government would "have to own up in the first spending review" and detail the cuts that it intended to make to higher education, she said.
Until then, you can add funding to that growing list of uncertainties around the uncertain election.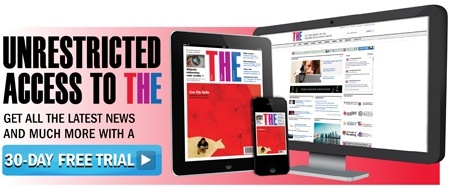 Register to continue
Why register?
Registration is free and only takes a moment
Once registered, you can read 3 articles a month
Sign up for our newsletter
Register
Subscribe
Or subscribe for unlimited access to:
Unlimited access to news, views, insights & reviews
Digital editions
Digital access to THE's university and college rankings analysis
Subscribe
Already registered or a current subscriber? Login