Margaret Archer is emeritus professor of sociology at the University of Warwick and director of the Centre for Social Ontology, now based at the department of sociology at Warwick. In April, Pope Francis named her president of the Pontifical Academy of Social Sciences – the highest-ranking appointment of a woman in his papacy.
Where and when were you brought up?
Near the Peak District in Derbyshire in the post-war years. I still love walking its moors and hills, enjoying their solitude – outside bank holidays.
How has this shaped you?
As a baby boomer and only child, it had two effects. First, only children often find that sociability is not second nature, although we need it as much as anyone else. Our social skills form a learned repertoire for coping. Years later, we may strike others as outgoing, even friendly, but I'm still aware that these are acquired skills, expressing genuine feelings, but that the mode of expression has been learned like Latin. Second, post-war parents seemed to be fearful, prudential and thrifty, valuing security over new experiences. I don't think I was alone in becoming exactly the opposite.
How does it feel to be the papacy's highest-ranked woman?
Let's face it, there isn't much competition; it makes women's rugby look mainstream! Apart from being pregnant and giving birth, I've never done anything "as a woman". One's gender, unlike one's sex, is a social construct and that leaves privileged women free to buck it.
What role does the Pontifical Academy of Social Sciences have in modern academic research?
The academy synthesises research rather than engaging in primary investigation. For 20 years, we have behaved like most other academies, organising long meetings and publishing long books. With Pope Francis, we are starting to be facilitators and campaigners.
Pope Francis has been praised for being more progressive than his predecessors. How do you think he has done so far?
Pope Francis has thrown open the windows. Some will only complain about the draughts, but I feel as exuberant as the crowds in St Peter's Square.
How did you feel about The Sunday Times' headline revealing your new role: "Grandmother, 71, tackles slave traffickers for the Pope"?
Hurt and disgusted because sexism + ageism = dismissal. A man would never figure as a "grandfather", although he might be reduced to a "pensioner" rather than a professor! Conversely, the Italian press elevated me to "Lady Margaret", showing that you just can't be what you are for most of the media (that is, a professor for 35 years).
Have you had a eureka moment?
Never. Maybe that's because I prefer a shower to a bath.
What advice would you give to your younger self?
Believe it, youth passes. Tomorrow you'll be 40 and the day afterwards 50. So get on with what matters to you.
Tell us about someone you've always admired.
Eileen Stamper was my erudite Anglican schoolteacher of Classics and religious studies and is now a very special friend. I admired her for being fides et ratio from when I was 13. Now a nonagenarian, she remains an omnivorous, discerning reader of biblical studies and theology. We share the same resentment towards the distraction of domestic chores. Eileen is lifelong learning and a very active reproach to antediluvian ageists.
What has changed most in higher education in the past 10 years?
Bureaucratic incursion, expressed through the regulation of funding, reward and recognition for departments and individuals, via performance indicators and sanctions. Their consequences are completely negative: collegiality becomes competition; informal esteem becomes a formal hierarchy; concern for students becomes "keeping office hours"; journals are selected for their "impact factor", articles are written with a weather eye to "citation indices" and so forth.
What are the best and worst things about your job?
The best thing in university life is the academic freedom that we are busy losing and the worst are the new bars on the iron cage of bureaucracy that are taking it from us.
As a child, what did you want to do when you grew up?
Become a top dressage rider, but I lacked the nanosecond motor coordination needed.
What do you do for fun?
For fun, nothing at all. Fun is what creeps up unexpectedly through the cracks, rather like C. S. Lewis' Surprised by Joy. I find it in the interstices of routine, even mundane events, when some exchange suddenly turns on the lights. I could also say scrambling in Chamonix with Freya, my granddaughter, and Maximus, our Bernois dog, and that would be true too (although it might give The Sunday Times too much satisfaction).
What's your biggest regret?
Never having mastered bi-location or how to get 48 hours into 24.
To what, or whom, do you feel most allegiance?
To intellectual integrity and creative adventurism combined. Less pretentiously, I want to help build a better society for everyone, using the talents I have been given – such as they are.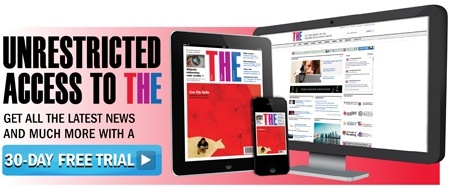 Register to continue
Why register?
Registration is free and only takes a moment
Once registered, you can read 3 articles a month
Sign up for our newsletter
Register
Subscribe
Or subscribe for unlimited access to:
Unlimited access to news, views, insights & reviews
Digital editions
Digital access to THE's university and college rankings analysis
Subscribe
Already registered or a current subscriber? Login