Graeme Reid is professor of science and research policy at University College London, a role he took up in April. Previously, he was head of research funding in the Department for Business, Innovation and Skills. In November, he was announced as the new chair of the Campaign for Science and Engineering (CaSE)
Where and when were you born?
Thorne in Yorkshire, 4 July 1955. My family moved to Scotland when I was three, and I grew up in Musselburgh, about five miles from Edinburgh.
How has this shaped you?
Later influences had more bearing. When I was about 10, an aunt sent me a book about the natural world as a Christmas present. It inspired my lifelong interest in science. Although I no longer remember its title or author, I have vivid memories of the content.
Why should Joe Bloggs care about your work?
Because Joe and Josephine Bloggs rely on the science and engineering community every day, to create new industries, cope with environmental change, improve public health and provide a secure food chain. Of course they are also enthralled by the evolution of culture and by our understanding of human behaviour, the planet on which we live and the universe in which it formed.
What is CaSE's most pressing concern or campaign?
2015 will bring a general election and, in all likelihood, a spending review. Pressure on public spending will persist. The devolution debate is far from over, and the UK's relationship with Europe is evolving. Science and engineering need a voice in each of these.
Is the research excellence framework the best model for apportioning funding?
The REF is much more than a device for allocating quality-related funding. It provides a nationally accredited assessment of research excellence. It helps researchers and students making career choices and public funders, charities, philanthropists and businesses choosing where to invest in science and engineering. The process might be improved, but the REF is a great national asset.
If UK research funding is insufficient, how much more should be available to help institutions compete globally?
It would take an increase of 30 to 50 per cent to bring us to the level of Germany or the US. But the scale of funding is not the only determinant of research competitiveness – the ring-fenced science budget and the Haldane principle allow the UK to punch well above its funding weight. Funding is a means to an end rather than an end in itself.
What do you do for fun?
I love cycling as long as I don't have to cross too many contour lines. I read political memoirs, 20th-century classic novels and trashy thrillers. I go to the cinema and have recently rediscovered the wonders of 1950s and 1960s films. I am addicted to antique markets.
If you were a prospective university student now facing £9,000 fees, would you go again or head straight into work?
I would definitely go to university: no question or hesitation. There are financial pressures on students and their families, but higher education is one of the most enriching experiences in our lives.
What advice would you give to your younger self?
Calm down: it will be all right.
What are the best and worst things about your job?
I have been fortunate, I have enjoyed all my jobs. But University College London is an outstanding place to work, and I have been made so welcome by the UCL leadership and my other colleagues. I hope I can repay their confidence in me. On top of that, I have wonderful roles at the National Centre for Universities and Business, the Association of Medical Research Charities and now CaSE. I must have done something good in a previous life.
Appointments
The University of Lincoln has announced two appointments. Evgeny Khukhro has joined the School of Mathematics and Physics as senior lecturer in pure mathematics, while Michael Gillman is the new deputy head of the School of Life Sciences.
Jane Duckett, Edward Caird chair of politics at the University of Glasgow, has been appointed president of the British Association for Chinese Studies.
Robert Gordon University has named Chris O'Neil the new head of its Gray's School of Art.
Niamh Nic Daéid has joined the University of Dundee as professor of forensic science. Professor Nic Daéid joins from the University of Strathclyde.
James Georgalakis has been named director of communications and impact at the Institute of Develop­ment Studies, based at the University of Sussex.
The University of Chester has made four appointments in the Faculty of Health and Social Care. Janice Gidman has been appointed associate dean (learning and teaching), Julie Bailey-McHale head of inter­professional education, Kim Gibbon head of midwifery, child and repro­ductive health and Rachel Andrews faculty administrator for quality.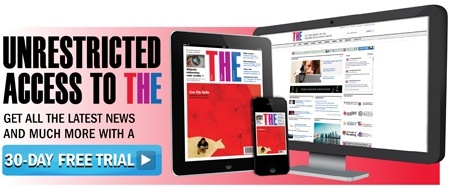 Register to continue
Why register?
Registration is free and only takes a moment
Once registered, you can read 3 articles a month
Sign up for our newsletter
Register
Subscribe
Or subscribe for unlimited access to:
Unlimited access to news, views, insights & reviews
Digital editions
Digital access to THE's university and college rankings analysis
Subscribe
Already registered or a current subscriber? Login