The global academy draws disproportionately from the male population. This is an immoral use of resources: we underutilise the talents of women and we support work of a lower quality
Curt Rice is a professor in the department of languages and linguistics at UiT The Arctic University of Norway (formerly the University of Tromsø) and a member of its board. He is founding director of the university's Center for Advanced Study in Theoretical Linguistics and leader of Norway's Committee for Gender Balance and Diversity in Research. When he becomes rector of the Oslo and Akershus University College of Applied Sciences in August, he will be the first foreigner to head a Norwegian institution.
Where and when were you born?
I was born in 1962 in Johnson City, New York. When I was four years old, we moved to Minnesota and I spent most of the rest of my childhood there.
How has this shaped you?
My parents were part of a mobile generation willing to make geographically significant moves to pursue career opportunities. That is part of the context in which it even was thinkable for me to pursue a career in Norway.
How does it feel to be not only the first outside appointment to this position but also the first non-Norwegian to lead one of the country's institutions?
It feels big. It feels like an enormous responsibility to a group of people who have deeply impressed me [over] the past few months as I've started to get to know the institution. Being the first foreigner to fill such a position will create opportunities to contribute to the further internationalisation of Norwegian higher education and, perhaps, of Norway in general.
How strong is Norway's higher education system, and could it become a major global player?
Norwegian institutions could do a much better job of receiving and supporting foreign students and faculty. Norwegians love to follow the rules, and…some of those are invisible to newcomers. That is part of why things move so slowly here. If we're going to increase our international position – which is in Norway's interest – we have to realise that our current systems require significant simplification.
How does it differ from the US sector? Are there aspects of Norway's higher education that could be adopted by the US and vice versa?
Higher education in the US is not monolithic, which makes it difficult to answer this question. But I do think the four-year bachelor model in the US gives a broader education than the three-year Bologna model, and it's been a loss for Europe to have shortened that degree. The US, of course, has tremendous resources available for research as a result of its culture of philanthropy. We are on the cusp of a change in this area in Norway, and for me it can't come quickly enough.
Your research focuses on gender balance in academia, specifically in science. What is the current state of the global academy in relation to this?
The global academy draws disproportionately from the male half of the population. Assuming that intelligence is equally distributed across the entire population, this is a tragedy for science because it means we're taking in weaker men where we could have stronger women. This is an immoral use of society's resources, both in the sense that we underutilise the talents of women and that we spend money supporting work of a lower quality than it needs to be.
You've been in Norway for more than 20 years now. What first drew you to the country?
I came to Norway in 1991. My Norwegian-born wife and I had just finished our PhDs at the University of Texas at Austin, and we decided to take a year in Norway so that I could experience that side of her life. I was lucky enough to get a postdoc [position] in Trondheim [at the Norwegian University of Science and Technology], which then extended into a replacement position there, which then extended into a permanent position in Tromsø in 1993. And the midnight sun is just so mesmerising – once you arrive, you can't imagine leaving.
What advice would you give to your younger self?
Be thoughtful and deliberate in figuring out what you want to do.
Tell us about someone you've always admired
As an undergraduate, I had a teacher, Don Steinmetz, who introduced me to linguistics. He was a polyglot of rare dimensions; he was an inspiring teacher; and he was a researcher and thinker of unusual clarity. We wrote together after I decided to pursue linguistics, and his interest in my career always encouraged me. Don passed away a few years ago, and the loss of a person who has played such a role in one's life is heavy to bear.
What keeps you awake at night?
The failure to realise that the problems I didn't solve yesterday will still be there for me to work on tomorrow. When I forget that, I try to solve them in the middle of the night, which is a pretty lousy way to prepare for the next day.
If you could introduce one global higher education policy, what would it be?
All bachelor's students must spend at least one year abroad studying in a language other than their mother tongue.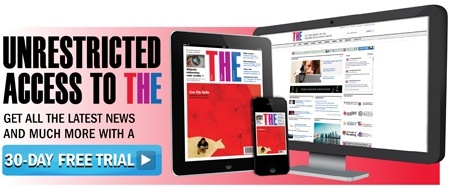 Register to continue
Why register?
Registration is free and only takes a moment
Once registered, you can read 3 articles a month
Sign up for our newsletter
Register
Subscribe
Or subscribe for unlimited access to:
Unlimited access to news, views, insights & reviews
Digital editions
Digital access to THE's university and college rankings analysis
Subscribe
Already registered or a current subscriber? Login