Source: Reuters
With research excellence very much at the forefront of their minds, scholars could be forgiven for focusing on getting their work published in high-impact journals.
In a recent article, however, Daniel Rigby, professor of environmental economics at the University of Manchester, advises economics scholars to think twice before publishing in journals with high average citation counts.
The study, published in the American Journal of Agricultural Economics, found that there was no relationship between journals' impact factors and the perceived career payoffs from publishing in them. Professor Rigby and his co-authors also found that academics do not believe that publishing their papers in journals that have a large social impact outside academia will best advance their career, even though "impact" was a key assessment criterion in the 2014 research excellence framework.
The findings – following research carried out with more than 900 environmental and agricultural economics academics – suggest that "there's a bit of a disconnect between advancing your career as opposed to having that broader impact in society", Professor Rigby said. "We did some [further] analysis where we split the big sample into different groups…but we still don't find a correlation between that broader [social] impact and career progression in any of the segments. There's not even a niche or group of researchers who seem to think that is the case."
Even when his team examined UK results in isolation, no correlation between social impact and career advancement was identified.
Given the clear importance of impact factors in applied science research, Professor Rigby suggested that the results could signal trouble for the future of interdisciplinary research and a retreat of academics back into subject silos.
"It could make it harder for the interdisciplinary collaborations that are required to address some of the big social and environmental problems of the day," he said. "You have people who are meant to be collaborating across disciplines who are going to be pulled in different directions in terms of where they want to publish: where for one group [journal] impact factors count and for the other it's just not how things are."
He suggested that his findings could prompt scholars to take a more informed and discerning view of which journals will best serve their work and their careers, and not simply home in on high-impact publications.
"Given that this is the largest survey in this research area, people will, if they look at the lists [of journals identified by respondents as best for career progression], think…that's where I should target," he said.
Professor Rigby did note, nonetheless, that the results were based on "perceptions" and as such threw up some eyebrow-raising data.
"When we do the segmentation into the six different groups [of academics], you've got certain journals that are repeatedly appearing in the top three. But then you have frankly weird stuff, where for one group Science is top [and for] another group it's bottom for career progression.
"So there are certain segments – with similar demographics – that are either misperceiving what the career signals are or actually there is just quite a lot of variety out there in terms of how particular journals are perceived in subcultures."
Appointments
Helen Gleeson, formerly head of the School of Physics and Astronomy and professor of physics at the University of Manchester, has taken up a new position as head of physics and astronomy at the University of Leeds. Professor Gleeson has also become Cavendish professor of physics at the institution.
The University of London has made Bill Abraham director of development. Mr Abraham will be responsible for establishing a new development office to build fundraising capacity in support of the university's new strategic plan.
Feminist scholar Jacqueline Rose has joined Birkbeck, University of London as professor of humanities in the Birkbeck Institute for the Humanities.
David Alder is to be the new chief marketing officer at Plymouth University. He joins Plymouth from the University of Bristol, where he was director of marketing and communications.
Bishop Grosseteste University has announced the appointment of Anne Craven as its new registrar and secretary. Dr Craven joins the institution from the University of Northampton.
Giulia Faggio and Maria Gribling have been appointed to positions in the University of Westminster's business school. Dr Faggio has been made lecturer of economics in the department of economics and quantitative methods, and Ms Gribling has become senior lecturer in human resource management.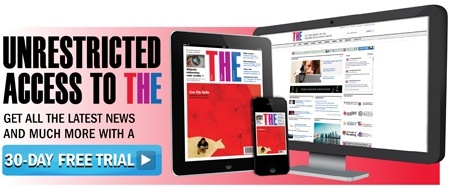 Register to continue
Why register?
Registration is free and only takes a moment
Once registered, you can read 3 articles a month
Sign up for our newsletter
Register
Subscribe
Or subscribe for unlimited access to:
Unlimited access to news, views, insights & reviews
Digital editions
Digital access to THE's university and college rankings analysis
Subscribe
Already registered or a current subscriber? Login