Source: iStock
Students' use of counselling services at the University of Oxford has soared over the past decade, a Freedom of Information request has revealed.
The number of undergraduate and postgraduate students accessing counselling services at the institution has shot up by 136 and 172 per cent respectively since 2003-04.
The university attributed the rise to more students being prepared to seek help, while an expert in higher education counselling said that such a trend was not unusual and visible across the Russell Group.
Data from a Freedom of Information request made in 2014 by the mother of a student whose daughter left Oxford after developing mental health problems at the end of her first year reveal that 1,070 undergraduates used the service in 2013-14, up from 453 in 2003-04.
The percentage rise was higher among postgraduate students, with 729 of them accessing services in 2013-14, up from 268 a decade before, although over the same period the number of postgraduates at Oxford rose by 66 per cent.
The information was obtained by Belinda Phipps, whose daughter left Oxford in the summer of 2013 at the end of her first year studying maths.
One of the student's school friends who was also at Oxford, Balliol student Andrew Kirkman, took his own life in December 2013 after being diagnosed with depression.
The student told Times Higher Education that in her experience, each Oxford college had a different approach to dealing with mental health problems. "There is no united front from the university on it, which contributes to the really poor experiences of some students and the really good experiences of others," she said.
However, a university spokesman said that Oxford had "worked hard" in recent years to encourage students to ask for help as soon as possible. The rising demand for counselling "shows that [students] are more prepared to seek support and also that the university and colleges are identifying students with difficulties earlier and referring them for help", he added.
Oxford said that the proportion of all undergraduate students accessing counselling services climbed from about 4 per cent in 2003-04 to 9 per cent in 2013-14, which is "entirely in line with the rest of the sector". "Describing the percentage increase in terms of the increase in raw numbers of students is misleading as it does not reflect the relatively small numbers using the services," the spokesman added.
Jeremy Christey, chair of the British Association for Counselling and Psychotherapy Universities and Colleges, confirmed that Oxford did not "really stand out as unusual" compared with trends at other Russell Group universities.
The rise in demand for counselling could be "a sign of students trusting their support services and not necessarily a fault or pathology in the individual students", he said.
Less stigma, more communication
Chris Pike, the Oxford University Student Union vice-president for welfare and equal opportunities, said that it was "impossible to know for sure" what had contributed to the rise but said "hopefully" it reflected "decreased stigma, better communication and a fundamental belief that students have a right to welfare and mental health support".
Rosanna Hardwick, communications manager of the charity Student Minds, said that more preventative work for students was vital because the introduction of £9,000 tuition fees could put them under greater pressure.
"To set realistic personal expectations and manage stress, students need support at all levels: from their peers, from their family, from their tutors and from university support services," she said.
Stay close: cutting face-to-face care is a 'mistake'
Reducing face-to-face counselling with students in favour of cheaper online or telephone-based services is a mistake, the University of Oxford's head of counselling has said.
Many higher education institutions are trimming their on-campus counselling staff, with some seeking more cost-effective ways to support students, a Westminster Higher Education Forum event on student welfare was told on 5 March.
But turning to the outsourced online or telephone services that some businesses use to help staff, such as Employee Assistance Programmes, would not work for students, said Alan Percy, Oxford's head of counselling.
"Students want face-to-face counselling," he said, adding that many online support services provide only "low-level" help.
Nevertheless, it was important to provide more opportunities for students to approach counsellors online, said Paul Haskell-Dowland, senior lecturer in information systems security at Plymouth University. "For some students, it is their preferred form of contact," he said.
Institutions also need to find ways to analyse the information they hold on student performance to pick up on potential problems before they escalate, he added.
Dr Haskell-Dowland developed a system that brings together assessment and attendance information for Plymouth's 24,000 students, which allowed it to identify poor attendance, or low scores in different classes at an early stage.
However, the system to help cut dropout rates had proved difficult to introduce because some parts of the university were unwilling to provide their data, he said.
Robert Allison, vice-chancellor of Loughborough University, told the conference that it was also important to use "informal networks" within the university to spot potential problems.
While Loughborough's students' union played a central role in helping to identify and help those with specific problems, he was also keen to listen to some of the university's longserving cleaning staff, who often had a good sense of student problems.
These "informal networks…allow you to pick up on problems when they are small rather than when they are much bigger", Professor Allison said.
Any search for more efficient methods of student counselling across the sector reflected the tight financial situation faced by universities, he added.
Jack Grove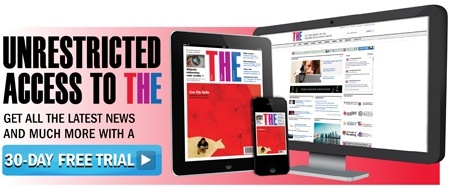 Register to continue
Why register?
Registration is free and only takes a moment
Once registered, you can read 3 articles a month
Sign up for our newsletter
Register
Subscribe
Or subscribe for unlimited access to:
Unlimited access to news, views, insights & reviews
Digital editions
Digital access to THE's university and college rankings analysis
Subscribe
Already registered or a current subscriber? Login