Source: Getty
Students' unions are still dominated by middle-class white men – with women and minority group members relegated to more junior sabbatical posts, a study suggests.
While women are strongly represented within the student movement at a national level – seven of the past 15 National Union of Student presidents have been female – they are far less likely to attain senior roles at branch level, researchers at the University of Surrey have found.
In interviews with nearly 50 students' union officers from 10 UK universities selected to offer a nationally representative sample, the researchers heard that men would generally run for the union presidency while women would pursue sabbatical positions around student welfare.
In one interview for the study, "Diversity and difference within the leadership of UK student unions", a union president said that in elections students generally preferred women in welfare roles.
The researchers also heard from a welfare officer who said that the sexism encouraged by a laddish culture held women back: "I've found that…some of the male students wouldn't take a female candidate [for union president] seriously."
The study, which also included interviews with 42 university managers, appears to confirm findings published by the NUS in 2010 that 47 per cent of union officer roles were held by women, although just 28 per cent of presidents were female.
The work was due to be presented at the British Sociological Association's annual conference in Glasgow, being held on 15-17 April, ahead of the NUS' annual conference next week (21-23 April) in Liverpool, where at least 50 per cent of all delegations must be women, in line with a motion approved last year.
A poor showing
The paper also says that students from poorer families struggle to get involved in union politics because many must work, which leaves them less time to network and establish friendship groups that form the basis of most election bids.
Part-time work was a significant barrier, said one students' union president, because it meant that he "couldn't get involved with societies and [attend] big meetings" in the week. "That's where the kind of class thing is a barrier…you're just at a disadvantage against people who didn't have to work during their studies," he said.
Poorer students who lived at home were less likely to join student politics than those who lived and socialised in halls or close to campus, the study says.
Black and ethnic minority students are under-represented in union roles, constituting 11 per cent of officers compared with 17 per cent of students, the study says.
Despite the overall "narrowness" of union leadership teams, one minority group is well represented. Gay students make up about 11 per cent of sabbatical officers as opposed to 6 per cent of students, it adds.
Rachel Brooks, professor of sociology at Surrey and one of the report's authors, said that it was vital for unions to reflect the wider student body because they played an increasingly key role in shaping university policy.
"They do have a fair bit of power – senior [university] managers listen very seriously to what they think about the student experience," Professor Brooks said. "Student union leaderships are often a vehicle that leads to other positions of influence, such as becoming an MP, so it is important these opportunities are available to all students," she added.
Vote for me: who's in the running for top NUS posts?
Megan Dunn is likely to be elected president of the National Union of Students at next week's annual conference in Liverpool.
Although she is standing as an independent, the current vice-president (higher education) looks set to win the vote of the powerful Labour Students organisation, which is backing a free education candidate for the first time in years.
Ms Dunn, 24, a former president of Aberdeen University Students' Association, is also likely to pick up votes from Scottish delegates and may even attract support from anti-cuts campaigners for her clear stance against tuition fees.
With Toni Pearce, the current president, unable to stand for a third term, none of the declared candidates is likely to pose a serious challenge to Ms Dunn's candidacy.
Her main rival is Beth Redmond, who describes herself as a "22-year-old revolutionary socialist feminist from Merseyside" and is backed by the National Campaign Against Fees and Cuts.
Ms Redmond, who studies at the further education City and Islington College in London, calls in her manifesto for the NUS to position itself as "part of a wider movement of the oppressed and exploited against the rich and powerful".
Such a radical message may alienate many delegates, but it is likely to prove more popular than the "anti-politics" candidacy of Leon French, a music student from the University of Hull.
Mr French calls on the NUS to "open up to all students regardless of political opinion" and "take time out from national politics", but he omits to mention that he is an active Conservative Party member who stood unsuccessfully as a local councillor in Hull last year.
The fight for vice-president for higher education may prove a more intriguing battle. All three candidates have links to the University of Birmingham, site of several student protests recently.
The favourite to win is the Labour-backed Poppy Wilkinson, the current president of Birmingham's Guild of Students, who has previously been criticised by anti-cuts groups for failing to support student protests.
She is challenged by Hattie Craig, a veteran of three campus occupations at Birmingham who is running on a pro-activism ticket, as well as by Birmingham alumnus Sorana Vieru, now on sabbatical from a PhD at the University of Bristol, who campaigns on diversity.
Jack Grove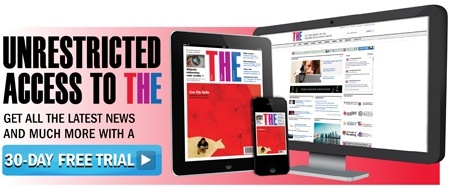 Register to continue
Why register?
Registration is free and only takes a moment
Once registered, you can read 3 articles a month
Sign up for our newsletter
Register
Subscribe
Or subscribe for unlimited access to:
Unlimited access to news, views, insights & reviews
Digital editions
Digital access to THE's university and college rankings analysis
Subscribe
Already registered or a current subscriber? Login