Source: Alamy
Some universities could lose their licences to recruit overseas students if the government goes ahead with plans to further tighten visa rules, a former Home Office official has warned.
The plans were outlined in a speech given last week by James Brokenshire, the immigration minister, in which he said the Conservatives would plough on with their drive to cut net migration to the "tens of thousands" by 2015 – despite the figure having risen recently to 212,000.
Edward Acton, vice-chancellor of the University of East Anglia, said he feared that Mr Brokenshire's words will herald a "truly savage reduction" in the recruitment of students from outside the European Union by UK universities and called aspects of the speech "embarrassing". Bill Rammell, vice-chancellor of the University of Bedfordshire, said that he could "barely recall a government minister's speech receiving such a strong backlash".
Mr Brokenshire said that the current 20 per cent tolerance threshold of student visa refusals that education institutions are allowed before losing highly trusted sponsor status "may be too generous and we may need to look [at it] again". Newspapers have reported that he wants to lower the threshold to 10 per cent.
The minister added that the "trusted status given to universities and colleges who want to attract foreign students isn't an automatic right", while noting "considerable concerns" about some institutions.
Any repeat of the Home Office's 2012 decision to strip London Metropolitan University of its highly trusted sponsor status and right to attract non-EU students would leave UK universities fearing major damage to their attractiveness to potential overseas students.
Figures cited by The Guardian, attributed to the Home Office, state that reducing the visa refusal rate threshold from 20 per cent to 10 per cent could lead to 105 of the 1,700 educational institutions able to recruit overseas students losing their licences.
Although the bulk of institutions affected would be further education and private higher education colleges, some suggest that universities could also be at risk.
Near the threshold
Don Ingham, a former head of managed migration at the Home Office who now runs Veristat, an immigration consultancy that advises education providers, said: "I would not be surprised to find there were some universities hovering around that [10 per cent] figure…Anything that tightens up an already tight regime would be very harsh and would have a further impact on educational institutions – and within their number there may be some universities who may fall foul of it."
He added: "What we have seen with the 20 per cent figure is pretty much a zero tolerance policy from the Home Office for anyone who exceeds that threshold."
Mr Ingham continued: "The whole idea of visa refusals as an indicator of performance in terms of the quality of students being brought to the UK is something of a blunt instrument. There are lots and lots of cases where a person may be refused a visa [with no] implication that that person is not a genuine student."
Professor Acton said that he was "pained" that Mr Brokenshire and Theresa May, the home secretary, "are adamant that they will continue with their [net migration] policy and continue to target and discourage international students. What makes me so dismayed…is that it can only be done by a truly savage reduction in university recruitment."
Mr Brokenshire dismissed fears that the drive to cut immigration is harming recruitment of international students at the UK's "world-class" universities, calling those concerns a "ludicrous fiction".
Professor Acton said: "It's a very embarrassing statement. The evidence is stark and completely compelling."
The number of non-EU students at UK universities fell by 1 per cent in 2012-13, according to the Higher Education Statistics Agency, the first drop since records began in 1994.
Professor Acton said he hoped that a change in Tory policy on net migration and international students could be won, with a new stance reflected in the general election manifesto.
"Figures in the Policy Unit at No 10 do want change, but I think the prime minister and Mrs May are too frightened of Ukip at the moment to want change," he added.
Liam Byrne, Labour's shadow universities, science and skills minister, said: "It is simply ridiculous that students are in the net migration target, and Mr Brokenshire's comments are further proof that this policy is a clear and present danger to bigger, better universities with an ever wider global reach."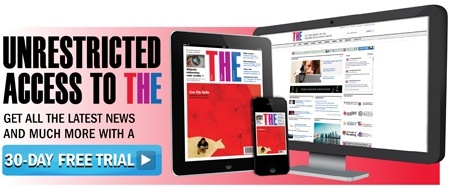 Register to continue
Why register?
Registration is free and only takes a moment
Once registered, you can read 3 articles a month
Sign up for our newsletter
Register
Subscribe
Or subscribe for unlimited access to:
Unlimited access to news, views, insights & reviews
Digital editions
Digital access to THE's university and college rankings analysis
Subscribe
Already registered or a current subscriber? Login