Source: Getty
Higher education groups in Brazil have denied that there is insufficient transparency in the relationships between public universities and private companies after an investigation appeared to show widespread irregularities and fraud.
Federal prosecutors are investigating an agreement between the Federal University of Rio de Janeiro (Unirio) and state-controlled oil company Petrobras, which allegedly subcontracted tenured staff meant to work solely for the university via an academic foundation.
The contract's value had reportedly been doubled to R17 million (£3.77 million), paying six research fellows as partners in companies that had been subcontracted by the foundation without a proper bidding process.
Petrobras is already embroiled in a multibillion-pound embezzlement scandal in which contracts were allegedly inflated so that the excess could be skimmed off by politicians and executives.
According to Leandro Mitidieri, a federal prosecutor with Rio de Janeiro's Public Prosecutor's Office, the Unirio matter "is linked to the question of support foundations, which in some cases can serve to loosen the rules of public law, especially the requirement for public tender and bidding, and to financially benefit the professors [if] leaders of the foundations are part of the public education institution".
He said the law "expressly prohibits" such foundations from subcontracting academics who are employed by a university and from giving work to companies run by the relatives of university staff.
The investigation was now in its final analysis stage, Mr Mitidieri said, and could result in criminal, civil and administrative action.
Loreine Hermida da Silva e Silva, dean of undergraduates at Unirio, said that a disciplinary process had been established. "The rector of Unirio…is mindful of the investigations and is committed to establishing the facts," she added.
Muckrakers make a mark
The revelations about Unirio and Petrobras were made in a special report by five newspapers (O Globo, Zero Hora, Diário Catarinense, Gazeta do Povo and O Estado de São Paulo) into contracts involving universities and private companies.
In one example, the Federal University of Paraná was given R1.8 million from the National Department of Transport Infrastructure for a dredging project, but Gazeta do Povo reported that 56 per cent of the funds went to private companies.
Responding to the Unirio allegations, the National Association of Leaders of Federal Higher Education Institutions (Andifes) said that academic foundations – private, non-profit institutions formed to support research and development – were vital to public universities and were subject to scrutiny through each state's public prosecutor.
"There's no lack of transparency," said Gustavo Balduino, the executive secretary of Andifes. "There are many rules and regulations."
The Ministry of Education told O Globo that it had requested explanations of the reported irregularities from the universities.
"If there are irregularities, as it appears in these cases, it falls to the rectors to act first," said Luiz Cláudio Costa, the ministry's executive secretary. "The Ministry of Education becomes involved only if there are irregularities involving higher authorities within the institutions, which does not appear to be occurring."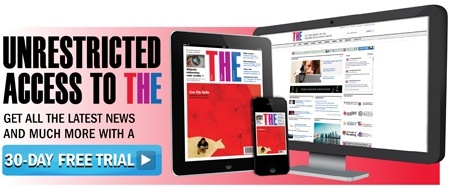 Register to continue
Why register?
Registration is free and only takes a moment
Once registered, you can read 3 articles a month
Sign up for our newsletter
Register
Subscribe
Or subscribe for unlimited access to:
Unlimited access to news, views, insights & reviews
Digital editions
Digital access to THE's university and college rankings analysis
Subscribe
Already registered or a current subscriber? Login