Source: Coursera
Teaching a massive open online course is seen as a feather in the cap for many academics: an opportunity to reach thousands of students, increase personal notoriety and boost the reputation of one's university.
For one Mooc teacher, however, his course resulted in him nearly losing his job, catching the attention of several Middle Eastern regimes and having to ban disruptive students from course discussions.
The course, Constitutional Struggles in the Muslim World, was taught by Ebrahim Afsah, associate professor of public international law at the University of Copenhagen. It ran for 10 weeks, from December 2013, on the US Mooc platform Coursera.
"If you are teaching a controversial course, there is a risk of physical and reputational damage to you," he told a conference for partners of Coursera, held in London last month, adding that he had "almost" lost his job because of the controversy his Mooc attracted.
On a recent trip to Iran, Professor Afsah continued, he had a "nice friendly chat, for four hours, with the Iranian secret service", who knew everything about his Mooc and wanted to talk about it in a little more detail. "If you want to touch the hornets' nest you need to be prepared for the repercussions," he told delegates.
Risks involved
Talking to Times Higher Education, he declined to elaborate on the incident but did go into detail about the risks associated with teaching his course. "If you discuss these issues…you will obviously criticise those who are currently in power, and if you as an instructor…happen to travel in this region often, as I do, you will expose yourself to potential repercussions," he said.
The course also attracted attention because of the way it handled problem students. Five of the 20,000 participants were banned from using the discussion forum.
"[The forum] attracted a number of people who…were out there to harm, to insult and to disrupt the learning process," Professor Afsah said. Such students were first warned publicly and, if they failed to rectify their behaviour, banned from future discussions. This approach was "against the recommendations of Coursera", Professor Afsah said, but was something he felt worked well.
"We made it clear that this course would treat this online class of many thousands of students no differently than I would treat any physical class."
In January, Coursera blocked access to sections of its site for users in Cuba, Iran, Sudan and Syria, in order to comply with US trade sanctions. The move affected all courses on the platform, but given the topic of the Copenhagen Mooc, Professor Afsah felt that his course was particularly affected.
"Because the deliberate aim of my course was to engage in a dialogue with people from Iran, Syria, Sudan, it clearly affected us and my students much more personally than some of the other courses," he said.
Despite the problems, Professor Afsah remains an advocate of Moocs, although he does have some words of advice for universities that are considering offering them.
"If you do it well, it will not reflect on your career very prominently. If you do it badly, it will affect your personal reputation but it will also reflect negatively on the reputation of your institution."
Listen to the full interview with Ebrahim Afsah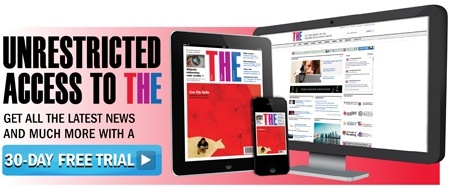 Register to continue
Why register?
Registration is free and only takes a moment
Once registered, you can read 3 articles a month
Sign up for our newsletter
Register
Subscribe
Or subscribe for unlimited access to:
Unlimited access to news, views, insights & reviews
Digital editions
Digital access to THE's university and college rankings analysis
Subscribe
Already registered or a current subscriber? Login