Universities are beset by a racist mindset that views black people as "outsiders", academics have argued.
At a public talk titled "Why Isn't My Professor Black?" at University College London, a number of black scholars claimed that insidious forms of racism may explain why just 85 of the UK's 18,500 professors are black, and only 17 are black women.
William Ackah, lecturer in community and voluntary sector studies at Birkbeck, University of London, told the event, which was chaired by UCL provost and president Michael Arthur, that outdated Victorian views on the "wild and untamed" nature of "the Negro" still persisted at some level in UK universities.
"This [idea] that black life is…anti-intellectual still echoes down the corridors of time," Dr Ackah said on 10 March.
"Society has grown comfortable with black people in sport or music, [but] it has a problem with black people leading in public life and academia, even if…we are more than capable of doing so," he added.
The situation contrasts with US universities, where the existence of black studies courses had created a space for black academics to gain a foothold in academic life, Dr Ackah explained.
"There are a lot more black academics, administrators and leaders there, not just in black studies, but other subjects as well," he said.
Lisa Amanda Palmer, a lecturer in working with children, young people and families at Newman University, Birmingham, who researches the "cultural politics of blackness", said that too often black academics were seen as "interlopers" on "white" university campuses.
Dr Palmer claimed that campuses were like the "colonies" of British imperial times, "where intellectual power and authority are [always] white".
"Black students carry this weight of racism with them…our appearance in the academy seems quite peculiar [to white students]," she said.
Shirley Anne Tate, associate professor in the School of Sociology and Social Policy at the University of Leeds, agreed about the existence of a "mindset that views black academics as 'out of place' ".
She said that they were often excluded from academic networks crucial for advancement and struggled to find mentors because black academics were seen as "outsiders".
Nathan Richards, a doctoral student in digital history at Goldsmiths, University of London, whose film Absent from the Academy explores the lack of senior black academics in the UK, said that studies more relevant to black people were neglected as a result.
"If there are no black people moving up, you do not get people able to set the agenda," Mr Richards said.
Amid many comments from a mainly black audience of students and academics, UCL itself was also criticised for its uncritical praise of one of its benefactors, the Victorian polymath Francis Galton, known as the "father of eugenics".
One student raised the issue of UCL's Galton Lecture Theatre – Galton also endowed a professorial chair in eugenics, now genetics, at UCL – in light of the scientist's controversial opinions on the "inferior Negro race", whom he hoped to be supplanted in Africa by the "industrious, order-loving Chinese".
"Why do we celebrate someone like Francis Galton who hated us [ie, black people]?" the student asked.
Professor Arthur said that the issue of Galton had been raised with him since he started at UCL in September, but he did not comment further.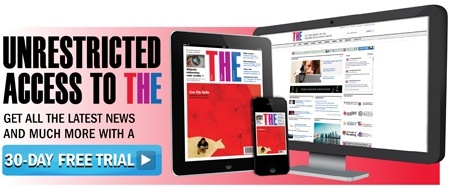 Register to continue
Why register?
Registration is free and only takes a moment
Once registered, you can read 3 articles a month
Sign up for our newsletter
Register
Subscribe
Or subscribe for unlimited access to:
Unlimited access to news, views, insights & reviews
Digital editions
Digital access to THE's university and college rankings analysis
Subscribe
Already registered or a current subscriber? Login