Source: Alamy
In September, the Centre for Human Ecology, a Glasgow-based academic institution that "exists to stimulate and support fundamental change towards ecological and social justice through education, action and research", will vote on whether to become a cooperative.
The entire higher education sector is "getting away from the original idea of a university as a place of learning and scholarship, not entirely merged with the market", argued Luke Devlin, one of the centre's directors. After losing accreditation to run MSc courses in human ecology in 2010, the centre, which now runs short courses and retains a board of academic advisers from universities, started to rethink its structure and asked "what can we do differently?" he explained.
Cooperativism, long established as a model for running businesses, has not yet taken off as a way to organise universities, with the notable exception of Mondragon University in the Basque Country in Spain, part of the huge Mondragon Cooperative.
But the idea is increasingly the focus of research and debate in the UK, and advocates believe that creating a cooperative university would be less of a radical leap than it might sound. In June, a conference on the subject, Re-imagining the Future of Higher Education: Exploring the Co-operative University, was held at the University of Bristol.
Questions remain about exactly how much of the cooperative model higher education institutions can, or want to, adopt. Mr Devlin made clear that what cooperativism will actually mean in practice at the centre is very much up for debate. When the idea is put forward at the centre's annual general meeting next month, it will be a broad commitment to "go in that direction", rather than anything particularly concrete, he said.
Universities – or at least their leaders – do not seem to be taken with the cooperative idea. Around a year ago, Mervyn Wilson, chief executive and principal of the Manchester-based Co-operative College, which researches the cooperative movement, told Times Higher Education that a "handful" of vice-chancellors had met with him to discuss how to incorporate elements of the model into their universities.
But since then, Mr Wilson said, these discussions had "not led to serious engagement with the power structures in the institutions".
Bid for empowerment
Advocates of cooperative universities say that the model would address what they claim is a growing sense of powerlessness among academics and a distrust of senior management.
"Academics are increasingly questioning the forms of democracy that exist in their institution," said Joss Winn, a senior lecturer in the department of education at the University of Lincoln.
The main benefit of cooperative governance, he said, is that "it would demand that democracy within the institution is more transparent and brought to the forefront" as well as making sure all staff have "a sense of control and tacit ownership".
Young researchers are crying out for democracy at work, according to a report completed in September 2013 by Dan Cook, a researcher into cooperative higher education. Nearly three-quarters of a surveyed group of current or recent research students found the idea of workplace democracy "very attractive" or "attractive", with those wanting to become academics particularly attracted to the idea, according to Realising the Co-operative University.
But do universities have to become cooperatives to become more democratic? Mr Winn insisted that the cooperative model offers more than just greater democracy. It is about "self-identifying" as a cooperative, showing "solidarity" with other co-ops, and educating people about the model, he said.
Generating solidarity, however, at a time when universities are offering iPads to lure prospective students from their rivals and creating fractional contracts to attract research stars in time for the research excellence framework, might go against the grain of where the academy is currently heading.
Mr Winn's answer to this is to point out that in the late 1970s and early 1980s, when dire economic circumstances were driving private companies to the wall, many distressed firms were turned into cooperatives by their staff as a way of preventing their going under. Becoming a cooperative could be a solution for universities currently in financial dire straits, he said.
As well as being "democratically controlled", cooperatives have to be "jointly owned", according to the definition of the International Co-operative Alliance, to which all cooperatives sign up. At Mondragon, members put in their own money to buy part of the institution's capital, which they can later withdraw. But Mr Cook said that this model – which would effectively constitute a staff buyout of a university – was "unlikely" to work, although not impossible.
More plausibly, a cooperative university would simply retain its current, rather ambiguous ownership status as a charity, he said.
The conversion of an entire university to a cooperative does not appear imminent, and, Mr Cook said, the creation of an entirely new institution on the scale of an existing university would be a "very expensive thing to do" and so is "clearly not going to happen".
But a middle way might be the creation of a cooperative research group, for example, within a university, Mr Winn suggested. Mr Cook said he did know of one university where there was discussion about converting a single department into a cooperative.
As his report pointed out, cooperatives at the level of individual departments could work because "academic staff tend to identify with their discipline before their university". Mondragon University is actually a collection of four different cooperatives, each comprising a different department.
Mr Cook's report lists a number of barriers to the creation of a cooperative university, such as limited understanding of the model, the untested legal situation, lack of consensus on the cooperative's size and structure, and "possible resistance from 'disempowered' senior managers".
But he insisted that these are "relatively minor things" and added that a cooperative university would not necessarily be hugely different from its current form. "You can end up with much the same university but better managed."
This sentiment was echoed by Mr Winn. "It doesn't actually have to be that radical," he said. "For a university to become a co-op it just requires that the organisation agrees to cooperative values and principles." This is simply "changing its mission", something that universities do frequently, he added.
What is stopping university heads from moving down the cooperative road is a lack of a detailed blueprint or game plan, said Mr Cook. "It's difficult to take it seriously until there is that."
His report's recommendations will be familiar to anyone in academia – more research.
david.matthews@tsleducation.com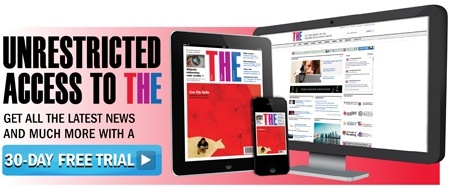 Register to continue
Why register?
Registration is free and only takes a moment
Once registered, you can read 3 articles a month
Sign up for our newsletter
Register
Subscribe
Or subscribe for unlimited access to:
Unlimited access to news, views, insights & reviews
Digital editions
Digital access to THE's university and college rankings analysis
Subscribe
Already registered or a current subscriber? Login