Source: Getty
Governance: the word could lay claim to being one of the most boring in the English language. But do not be deceived. In universities, it is behind a number of dramatic exits of vice-chancellors this year after fallings-out with governing bodies, and at the centre of the question of whether universities could face future parliamentary legislation on regulation. With coincidental but apt timing after the series of top-level departures, the Committee of University Chairs last month published a new version of its higher education code of governance for the UK. The new code, about a year in the making, updates the old version originally published in 2004.
To its supporters, the new code strikes a sensible balance between adjustments to take account of recent controversies and respecting institutional autonomy. To its critics, it is merely "tinkering" and exposes a "failed self-regulatory system". And to others, there are clear contrasts with the more "holistic" Scottish government-commissioned review of governance, which looks like it will result in legislation giving students and staff the right to a role in the running of Scottish universities.
The new CUC code is slimmed down: 25 pages long compared with the 150 pages of the previous version, with the aim of being clearer and more usable for an audience beyond just governing bodies.
UK governing bodies are not required to follow the code. It applies on a "comply or explain" basis – meaning that if governing bodies do not follow parts of the code, they must explain why.
There are revised wordings or new governance principles in a number of areas at the centre of recent controversies, including "safeguarding public funds" when setting vice-chancellors' pay and ensuring governing body decisions are free from "undue pressures" from donors or corporate sponsors.
There is also an attempt to head off further terminal splits between governing bodies and vice-chancellors. The code says governing bodies "could consider" the "formalisation" of a deputy chair's role as intermediary, which could potentially be "helpful if there are significant differences of view within a governing body or with the executive".
But overall, there are no wholesale changes in terms of the substance of the code. As Sir Nick Montagu, the outgoing CUC chair, writes in his covering letter, CUC members "will recognise many of the provisions of the code from previous versions".
Tinkering or important updates?
Aaron Porter, associate director for governance at the Leadership Foundation for Higher Education, said the new code "strikes a good balance between acknowledging how higher education has changed over the past few years…while still respecting the diversity and autonomy of the higher education sector".
Mr Porter, a former National Union of Students president, continued: "My feeling is that the code is appropriate for where we are right now. I think we should probably spend some time to see how individual governing bodies respond and possibly reform themselves in order to comply with the code. And then I would say that a future government, after the next general election, will want to see how the higher education sector has responded – and they will then make their own decision about whether they feel that there's a requirement for legislation or regulation."
On transparency, the CUC code says that each governing body "should" conduct its affairs "in an open and transparent manner" and options they "could consider" include "publishing agendas and minutes of meetings". For some, that is not enough and highlights broader problems around decision-making in universities.
Sally Hunt, University and College Union general secretary, said of the code: "The odd tinker here and there will do nothing to solve the problems of a failed self-regulatory system or restore confidence in how decisions are taken at our universities.
"We need to see far better student and staff representation at the top table and an end to the weak excuses used by universities for not publishing minutes of key meetings."
Megan Dunn, NUS vice-president (higher education), said that "in an increasingly complex regulatory environment, there is a case for governing bodies to go beyond this update and review their structures and cultures in a more fundamental way".
She continued that students "should be actively engaged in academic governance", adding that they can be "a democratising force in higher education, challenging the encroachment of corporate values and practices that reduce education to a market transaction".
The CUC code states that it is for the whole of the UK, but says that Scottish institutions "will need to look first" to the Scottish Code of Good Higher Education Governance, which came into force in 2013 after the Holyrood government-commissioned review.
Ferdinand von Prondzynski, principal and vice-chancellor of Robert Gordon University, who led the Scottish review, had a different take. Scottish universities are "legally obliged" to take account of the Scottish code and it would be "potentially dangerous" for institutions to be following two different codes, he said.
"For me one of the key conditions of success for a code of governance is that it is memorable," said Professor von Prondzynski – and he does not see that quality in the CUC code. He called it "a more complicated code than it needs to be", arguing that "condensing it has made it more complicated" as it now has a blend of elements that governing bodies "must", "should" and "could" follow that are listed "without any real explanatory narrative".
Silent on students
While the CUC code is "strong on the regulatory and monitoring aspects of higher education", he said, "it is relatively silent…on one of the key stakeholder groups, which is students".
Proposed legislation from the Scottish government, following the review's recommendations, would require governing bodies to include at least two student representatives and two elected staff members.
By contrast, the CUC code references a more nebulous "expectation, often enshrined within the constitutional documents of HEIs, that governing bodies will contain staff and student members and encourage their full and active participation".
Asked about the key differences in the emerging governance frameworks in Scotland and England, Professor von Prondzynski said: "Good governance is not just a question of getting the regulation right, it's a question of ensuring that what the institutions do properly reflects the needs of those they do it for."
Governance should reflect "the purpose of the institution", he said, adding that Scotland had taken "a more holistic view…than is emerging in England".
Does the CUC code mean English universities are "safe" from possible future legislation on regulation? "If there is evidence of more widespread, or not infrequent, incidents of questionable governance, or of less than perfect interaction between governors and senior management, then pressures will arise to deal with it," said Professor von Prondzynski.
In his covering letter to the CUC code, Sir Nick says: "We see the code as a vital guardian of autonomy and a bulwark against external interference and over-regulation."
Professor von Prondzynski countered: "I wouldn't have said that, I have to say…Because it seems to suggest the wrong attitude. I don't think the purpose of a code is to ward off regulation. I think the purpose of a code is to do the right thing."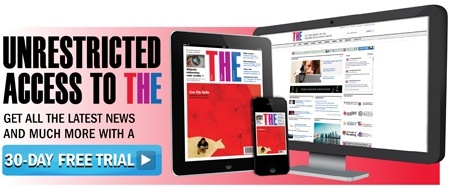 Register to continue
Why register?
Registration is free and only takes a moment
Once registered, you can read 3 articles a month
Sign up for our newsletter
Register
Subscribe
Or subscribe for unlimited access to:
Unlimited access to news, views, insights & reviews
Digital editions
Digital access to THE's university and college rankings analysis
Subscribe
Already registered or a current subscriber? Login