Source: Alamy
As fun as the centre sounds, there is also a sense of urgency and anger that motivates these scholars and students. Resistance to government changes requires more than protest
The free university movement is growing. Across the UK, a new generation of cooperative and non-fee-charging institutions are springing up with the aim of creating an alternative model of university education. And they are evolving: there is a shift away from temporary zones of opposition and towards "institution-building". Sustaining Alternative Universities, a conference held in Oxford last year, brought together people from across the country who want to build on the movement's momentum. As Tim Huzar of Free University Brighton told one national newspaper: "It's important to realise an alternative and demonstrate it." He continued: "It isn't just a political act. It's a real service." It is a sentiment being echoed elsewhere, from the Ragged University project active in Edinburgh and Glasgow to Cardiff People's University to the Free University of Liverpool, which now offers a non-credit bearing foundation degree in culture and performance and a BA in cultural praxis.
To some, all these ventures might seem redundant. After all, the kind of free internet courses that have caught on in the US, the massive open online courses, are already making the idea of charging for access to lectures look a bit old-fashioned.
But the free university movement is about far more than providing free stuff. It is about creating…well, what? I'm worrying away at this question as my train jolts its way to Lincoln. I've come to talk to some of the people involved in the Social Science Centre, a self-declared "not- for-profit co-operative" zero-fee institution that "organises study and research at all levels including undergraduate, masters and doctorates in philosophy". When I first heard about the centre last year, I decided to join up as an associate academic member. But this is the first time I've visited, and I'm not sure what to expect.
It is very new. The first batch of students joined in October last year. And it is very small. The initial cohort was only nine students strong. Its income is tiny, relying as it does on employed members paying an annual subscription equivalent to one hour's pay. But it has big ideas. Mike Neary, one of the centre's founders, claims that the Social Science Centre is "about the possibility of creating a new kind of higher learning out of the ruins of what the 'idea of the university' has become".
The novelty of the centre begins to sink in during my first encounter. I am talking to Gary Saunders and Vernon Goddard, two centre members, in a noisy hotel lobby. About halfway through the conversation I realise that I am not sure if I am talking to students or staff. Goddard teaches on one of the centre's programmes run for the city's vulnerably housed. Yet his scrupulously updated "learning journal" blog has already fixed him in my mind as a student who attends the centre's "social science imagination" course and ad hoc seminar sessions. It turns out that the distinction between staff and students is one of the many things that the centre is seeking to rethink.
The social science imagination course runs for two hours a week in term- time and draws a wide variety of learners. Students include a recent school-leaver, a PhD student, a retired banker and a self-employed education consultant, as well as school and college teachers. Sessions are designed collaboratively. Participants are able to work closely with experienced researchers and are encouraged to publish their work through the centre.
The people who come along have often heard about the centre through word of mouth. However, the centre has been trying to raise its local profile by organising public lectures at venues across Lincoln. A recent one, delivered by Michael Fielding, emeritus professor of education at the Institute of Education, University of London, was - appropriately enough - on the theme of democracy and education. The centre also tries to attract attention through its annual general meetings. This year's AGM, held on 11 May, had workshops on ethnographic research, a session on critical political economy and a keynote by Mervyn Wilson, the chief executive and principal of the Co-operative College in Manchester.
Saunders and Goddard seem to be thriving at the centre. They keep returning to how "very enjoyable" it is to be involved in this "ideas factory". Goddard notes that, after each session, he "spends another two hours" talking through the ideas he has encountered with his wife. This is a message that also comes across when I phone Sarah Amsler, a reader in the Centre for Educational Research and Development at the University of Lincoln and another founder member of the Social Science Centre. As I try to work out why people would give up their evenings to become "teacher- scholars", she reminds me of something that is all too easy to forget: "It's really exciting to create something new in freedom."
As fun as it sounds, there is also a sense of urgency and anger that motivates these scholars and students. As the dean of teaching and learning at the University of Lincoln (which has no formal connection to the Social Science Centre), Neary has plenty of first-hand experience of the UK's new tuition fees regime. He describes the government's move to stop funding teaching in the arts, humanities and social sciences as an "attempt to impose a pedagogy of debt, by which students are taught the dogma of mainstream economics and the consumerist discourse on which it is based".
But he adds that resistance to these changes requires more than protest: it requires a commitment to "build something", to create a different model of what a university could be. And it is important to him, as it is to all the other centre members I talk to, that this alternative be "a recognisable social institution" and not "just an ideal".
On the centre's website it is made clear that students "will not leave the centre with a university degree". Nevertheless, those who study up to six years, or eight years part-time, can receive a certificate "equivalent to a degree" at, respectively, undergraduate or postgraduate level. Students can also get an "extensive written transcript detailing their academic and intellectual achievements".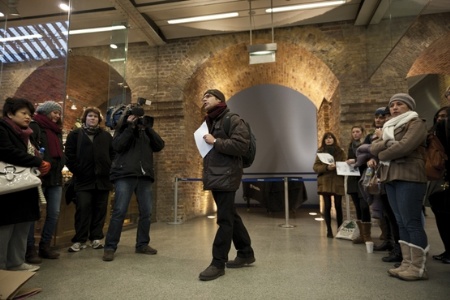 This is an infant movement, and no one is under any illusions about the difficulty of relying on the goodwill of volunteers to keep such projects afloat. The appetite for such places is growing
The process of building an institution has pushed the 20 or so people actively involved in the centre to rethink not only the nature of a university degree but also the relationship of the university to the wider community. This comes home to me with some force when I head off to visit David McAleavey - another founder member - who is taking a class at the Pathways Centre, a charity in Lincoln that offers accommodation for homeless adults. I spend the first half-hour chatting to Dan Crittle, Robert Davies and Kane, three homeless men who are also Social Science Centre students. They are involved in a centre project called Our Place, Our Priorities and they tell me about how they are turning a series of walks along predetermined cross-cuts, or transects, of Lincoln into photo- essays that offer a wry take on social exclusion.
Afterwards McAleavey explains that the centre needs to be understood as "an active part of the city" rather than "a discrete entity". It is a point I have already heard from Amsler, who suggests that the small scale of Lincoln has helped to forge the networks of trust that the centre relies on. Neary also insists that "place is key", bonding learners and teachers into something that could never be achieved through distance learning or free internet provision.
In a recent review of the free universities movement in Adults Learning, the journal of the National Institute of Adult Continuing Education, journal editor Paul Stanistreet picks up on this theme: the need for rootedness, he notes, is "a theme that runs through the alternative university movement". It seems that, in a sector where mainstream institutions scramble for the prestige of being ever more international and footloose, a commitment to relocalisation has become a marker of critical intent.
While at the Pathways Centre I take the opportunity to ask McAleavey what it is like to pursue a free doctorate through the centre. He is undertaking a Social Science Centre PhD, supervised by Amsler, in evolutionary educational psychology. But it also emerges that he helps to run Social Science Centre seminars that deconstruct the very idea of the PhD.
McAleavey's programme of study has few bureaucratic trappings and will not necessarily lead to a thesis and viva, but he does not feel that he is missing out. He has agreed with his supervisor to pursue a PhD by publication. Although it will be validated by external experts, McAleavey argues that the validation that concerns him most is that "the work is of value and is peer-reviewed and appears in the journals". There is an interesting and potentially creative tension at work here. The centre does offer a structured and supported educational experience. But the nature and politics of this experience is of its own devising.
Which is not to say that the politics of the Social Science Centre are straightforward. One might expect that its members would cohere around a left-wing ideological programme, and a number of the key figures in the centre are explicit that they draw inspiration from autonomist Marxism. Neary cites Henri Lefebvre's notion of urban revolution as a big influence. However, my assumption that the centre would be an exclusively militant redoubt did not last beyond that first meet-up with Goddard and Saunders. The former explains that he used to work in a bank and remains "a great believer in capitalism and the market", although, he is quick to add, "not the way it has functioned in the last x number of years and not for education". Saunders, in contrast, offers a Marxist diagnosis of the centre as "revolutionary not just in terms of teaching but in terms of the way people work, so instead of producing education as a commodity with use value and an exchange value we are trying to do something else".
His engagement with the topic is sharpened by the fact that he is six months into a PhD at the University of Lincoln on the free universities movement. He is delighted at the way the movement has "taken off with new [free university] centres opening all the time". But what really strikes me about Goddard and Saunders is how well they get on and how they relish what Saunders calls the "dissensus" their different perspectives create. He adds that "it feels like you are on the edge sometimes…there is no blueprint for it". But it is clearly a journey they are enjoying.
The Social Science Centre may not seem like big news; as Neary puts it: "We are nurturing the flame, it is real but it's very small." But the centre is just one example of the kinds of new institutions that are being thrown up in the wake of the death of free mainstream higher education. This is an infant movement, and no one I spoke to was under any illusions about the difficulties of relying on the goodwill of volunteers to keep such projects afloat. The appetite for these kinds of places, however, seems to be growing. At an open day held by the centre last year, about 40 potential students queued up to find out more.
What will all of this lead to? Perhaps nothing. The free university movement is an experiment-in-progress. Irit Rogoff, a professor of visual cultures at Goldsmiths, University of London who is researching alternative educational practices, was quoted in Times Higher Education last year suggesting that such movements could revitalise mainstream university provision, and in particular those institutions "feeling beleaguered and less and less relevant as sites of innovative or urgent thinking".
But it is also possible that the kind of growth we have seen in cooperative, or free, schools (now the third-largest school sector in England after Church-run schools) will be replicated in the higher education sector. Or perhaps a settled pattern of sustained voluntary activity will be achieved. After all, the University of the Third Age (U3A) manages to deliver a vast array of courses, in which "members regard themselves as both learners and teachers", entirely on a voluntary basis.
But my brief trip to Lincoln has impressed me with the open-ended nature of the centre's work - and that is partly because it does not seem to feel like work at all. The pleasure of debate, of being part of something that is inventing itself and willing itself forward, is in the air in Lincoln. Perhaps the apposite question is not "what next?" but "where next?"l
Register to continue
Why register?
Registration is free and only takes a moment
Once registered, you can read 3 articles a month
Sign up for our newsletter
Register
Subscribe
Or subscribe for unlimited access to:
Unlimited access to news, views, insights & reviews
Digital editions
Digital access to THE's university and college rankings analysis
Subscribe
Already registered or a current subscriber? Login