This month marks the bicentenary of the birth of the novelist Anthony Trollope (1815-82), one of the most prolific and popular authors of the 19th century. Supported by a lively and learned Trollope Society and never out of print, his 47 novels have been adapted for television and radio and continue to contribute to our idea of the enormous sweep of the 19th century. Trollope is the great realist of Victorian literature. Among his English contemporaries, he was closest to the French project of literary "truth to life", exemplified by Balzac and Flaubert, which transformed both the novel's form and the reading habits in the second half of the century. In this sense, he was a profoundly radical writer, although this may sound somewhat paradoxical. He wrote exclusively about the lives of the Victorian middle classes, which today are often seen as imperialist or irrelevant, but his perennial theme is social prohibition and his approach remains compelling.
In particular, his style creates what we might call active readers, seduced and sometimes cajoled into applying their own knowledge to his plots, so that, as Virginia Woolf wrote, they believed in them "as we believe in the reality of our own weekly bills". Reading Trollope in the 21st century, we are obviously still affected by this style and hence, rather remarkably, find ourselves teasing our way through the experiences of a Victorian reader as much as the complexities of the plots.
To think a little more about Trollope's realism, I am being driven around the Cambridgeshire Fens by Michael Williamson, deputy lieutenant of the county and chair of the Trollope Society. We are visiting surviving real-life locations that feature in the 1879 novel John Caldigate, in which a posh young debtor runs away to find gold in New South Wales and comes home to be convicted of bigamy.
Comic strips created new ideas about the rhythm of daily life and about how it looked and felt. They conjured up recognisable scenarios while leaving readers to fill in the gaps
I am adapting this subtle 600-page book as a new 94-page colour graphic novel, published this year as Dispossession in English and as Courir deux lièvres (To run two hares) in French. I am a Trollope enthusiast – "The Chronicles of Barsetshire" accompanied my teens – but on this occasion I come to him as a graphic novelist, visual narrative scholar and research fellow at the University of Chester.
My adaptation, therefore, has a somewhat scholarly frame. It was commissioned to celebrate Trollope's bicentenary by a unique team of word and image experts from the Belgian university KU Leuven and Cardiff University. The commission was unusual for a couple of reasons: there are no previous graphic adaptations of Trollope, and it is rare to find scholarship of any stripe resulting in the production of a graphic novel.
My Cambridgeshire road trip is serving to highlight one aspect of Trollope's realism. He writes about what he knows: the districts and domestic lives of Middle England. But I am also trying to tease out something more – the ways in which stories are produced, written or drawn, and read. I set myself the challenge of replacing Trollope's literary voice, the method of his realism found in John Caldigate, with a visual style. This is a more complex challenge than adapting the plot.
Trollope's novels are set in what was, for him, the very recent past, and his techniques of understatement create an overwhelming sense of the world in which he and his readers lived. Scrutiny of John Caldigate reveals that this effect is as much to do with the careful structuring of juxtapositions and omissions as with description.
Little is ever described in detail. Rather, Trollope is both accurate and equivocal. "Perhaps", he writes, or "it was said of". He provides readers with various points of view, never strictly his own, and we make our own sense of them. So it is no surprise that his writing gives the impression of being true to life. Producing equivocation through the style of my new graphic adaptation, the visual nuts and bolts, became one of the biggest challenges of showing, rather than telling, the plot. How does one draw "Perhaps"?
Fortunately, I have navigated the turbulent waters of visual stylistics before, in a research project where I attempted to draw six pages by one comic strip artist in the style of another. (One of these has already been published in Jan Baetens and Hugo Frey's 2014 book, The Graphic Novel: An Introduction.) I wanted to see exactly how a change in drawing style affected the plot. Such stylistic exercises are commonplace in music and literature, but they are rare in drawing.
The history of graphic novel adaptations is itself bedevilled by the idea that comics can introduce children to literature. The only concern is fidelity to plot, wherein the educational worth of the literary source is thought to lie. More serious attempts to adapt a 19th-century realist novel present challenges of voice and style to which the comic strip medium is only recently beginning to respond.
Yet although we usually think of the comic strip as a short-form medium, it parallels the historic development of the novel in becoming a long form through serialisation. This is where I needed to think about the impact of comics in the 19th century. Victorian comics thrived on serialisation. Readers savoured the anticipation of literary instalment novels, and it was the same with comics in journals. But this wasn't simply an effect of "cliff-hanger" plots or one-page "episodes". In fact, comic strips created new ideas about the rhythm of daily life and about how it looked and felt. They conjured up recognisable scenarios while leaving readers to fill in the gaps from their own experience, to complete the story.
Surprisingly, this effect feels curiously similar to the equivocation, or accumulation of points of view, that characterises Trollope's writing style. David Skilton, one of the commissioning team at KU Leuven/Cardiff, has noticed that a particular illustration to one of Trollope's novels, by John Everett Millais, seems to support this intuition. Millais uses a technique of the strips when he draws a hunt meeting from Orley Farm. Distance from the scene, combined with a single moment of clarity and an accumulation of discernible subjects, puts a viewer in a position to see everything relative to their personal situations, aspirations and ideas. The viewer completes the story.
Understanding comics and their readers, as much as visiting inspirational locations in Cambridgeshire and elsewhere, has provided me with clues to understanding Trollope's style and his Victorian readers, and with ways of articulating and drawing Dispossession. The more I utilise this understanding, the more exciting I find Trollope's writing. Increasingly, he seems to me to be among the great stylists, a master of the techniques of making his writing open to the reader's particular sense of what is happening and why, either in the 19th century or the 21st.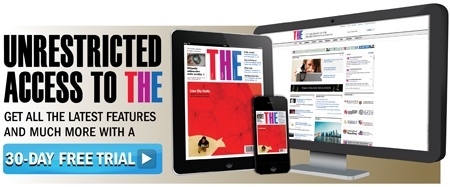 Register to continue
Why register?
Registration is free and only takes a moment
Once registered, you can read 3 articles a month
Sign up for our newsletter
Register
Subscribe
Or subscribe for unlimited access to:
Unlimited access to news, views, insights & reviews
Digital editions
Digital access to THE's university and college rankings analysis
Subscribe
Already registered or a current subscriber? Login