Source: Reuters
Yates counts herself lucky to have never stumbled across looters in the act - archaeologists and police who have found themselves in this situation in South America have been killed
"We can't do anything. These people have killed before and will kill again."
This was the warning from Guatemalan wildlife poachers when they told Donna Yates, a 20-year-old student archaeologist from Boston University on only her second dig, that a nearby Mayan ruin was being looted.
Their fears were well founded: the vandals who targeted the site, called Cancuén, went on to kill a man who had spoken to an archaeologist and they also beat a woman to the brink of death. Their haul was an altar, which they buried temporarily in a village near the border in the hope of smuggling it into Belize.
The raid was the trigger for a major operation involving the Guatemalan secret service and the US authorities, which eventually led to the altar's recovery.
It was not the first time that Cancuén had been targeted by looters, and the site where Yates was working – she chooses not to name it – had not escaped their attention either. Even though it was at an isolated location in the rainforest, several hours from human habitation and accessible only along a dried-up riverbed, tunnels had been dug into every temple by those hoping to find valuable artefacts.
All this happened 11 years ago, but the experience of this field trip is as vivid now in the mind of Yates as it was then.
"I'm there, a 20-year-old just expecting to be a regular archaeologist for the rest of my life, and I'm standing in the middle of the rainforest with men telling me they had just killed a jaguar, and people killing each other over the looting of antiquities. At that point I realised I couldn't continue to let [looting] happen."
Ever since, the trafficking of cultural artefacts has been Yates' focus. Now a Leverhulme early career fellow at the University of Glasgow, she is understandably wary of comparisons to Indiana Jones, let alone Lara Croft of the Tomb Raider video games, explaining that she spends much of her time at her desk, piecing together smuggling networks or studying legal mechanisms for preventing looting.
But fieldwork on the ground is vital in understanding the harsh economic conditions that drive people to steal antiquities, as well as the international dealers and buyers who fuel the trade in historical artefacts.
Perhaps it is the result of the field she has chosen, and the countries where she pursues it, but Yates concedes that she does tend to end up in "very difficult places".
In 2004, she travelled to Bolivia to study the ruins of Tiwanaku, once the capital of a pre-Incan empire that extended into present-day Peru and Chile.
Yates had not been there long before Tiwanaku attained huge symbolic significance for the protest movement that would eventually force Carlos Mesa to resign as Bolivia's president and bring Evo Morales to power.
It quickly became apparent that anyone who was not an indigenous Bolivian was not welcome at Tiwanaku, forcing Yates and her colleagues to escape by driving through the night along a dry riverbed. They were stopped repeatedly at blockades, where "everybody was drunk", according to Yates, who recalls a bizarre episode in which soldiers forced a colleague to break dishes on the road in an attempt to stop any more vehicles passing. Eventually the archaeologists were allowed through to the administrative capital La Paz, on condition that they took a woman and her baby with them.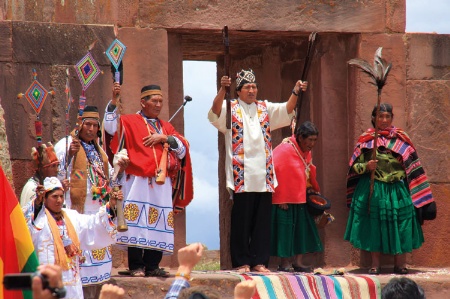 Yates' second visit to Bolivia the following year was a happier occasion, as it became clear that Morales was set to become the country's first indigenous president. She was at Tiwanaku for the winter solstice celebrations called Willkakuti, and watched as 40,000 people celebrated the rising of the Sun over the mountains. Later, Morales would take part in an investiture ceremony at Tiwanaku wearing traditional dress.
Bolivia was the subject of Yates' University of Cambridge PhD and it is the cultural significance attached to sites such as Tiwanaku – which has been looted three times in recent years – that fascinates her. Seeing the way that poorer nations can be exploited by Western dealers and collectors, she is driven by concern for social justice.
"The places I tend to work are very poor, where people are in difficult situations based on their race, religion or systematic inequality," says Yates. "I see the illicit trade in antiquities as being evidence of this inequality and as maintaining it.
"It's a situation in which extremely rich and wealthy white people take complete advantage of people who can't fight back, and then blame them for it. I see it as double victimisation – these people are not only having their property taken from them, they are having their ability to construct their own identities taken from them by people who have all this power, who don't even consider it to be a problem."
Yates' work continues to throw up some challenging situations. She had an uncomfortable time in Bolivia in 2013 when Morales offered asylum to the US whistleblower Edward Snowden – as an American citizen, she feared being accused of being a spy.
For the past month, she has been in Nepal, considering whether the problem there of robberies at remote temples provides a useful comparative study to the Bolivian experience.
Yates counts herself lucky to have never stumbled across looters in the act – archaeologists and police who have found themselves in this situation in South America have been killed.
"If I look back on some of the situations, I realise they were absurd and feel quite risky, but it doesn't feel like that at the time," she says. She spends much of her time working alone in remote locations. On the other hand, face-to-face encounters with dealers and collectors have been "largely mundane".
"Especially higher up the chain, you get people collecting who don't see the connection between what they do and the people on the ground," observes Yates. "It's a completely different way of viewing the world and that's something I have to accept. If I couldn't do that I could be an activist, but I wouldn't be constructing anything near to a complete picture for academic purposes."
Beyond the collectors, the other end consumers of the illicit trade in antiquities over the years have been museums, and Yates readily admits that she "ruins" museums for some people.
She says some museums have done "horrible" things and has little sympathy for institutions that are not honest about their past and the provenance of their artefacts.
However, she senses that attitudes are changing – highlighting the current exhibition at Paris' Musée du quai Branly, Mayas: Revelation of an Endless Time, as a good example. The exhibition was conceived by Mexico's National Institute of Anthropology and History and curated by its director, bringing together items loaned from 11 museums in the country. It had previously been on show at the National Palace in Mexico City.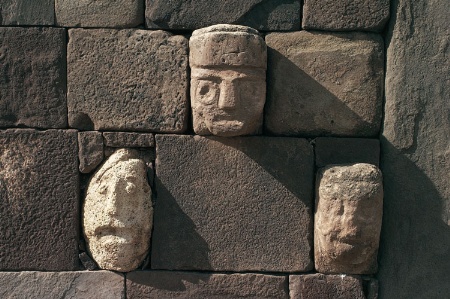 "In the past five years, the whole scene has completely changed and I think for the better," says Yates. "There's a lot of push for museums to actually return objects, and every high-profile return of an object moves everyone a step closer. It's happening more and more, and that's really quite good."
Developing countries have played their part in this and the internet has also been a key factor in moves to stop the illicit trade in antiquities, allowing images of stolen objects to be circulated swiftly.
The key factor, however, has been public opinion, and Yates points to the impact of the shocking images that circulated of the looting of the National Museum of Iraq during the 2003 war.
To the media and the general public, the smuggling of antiquities is "a sexy topic, it's art smuggling, it's evil people collecting beautiful objects", says Yates. "It's really easy to make the case for stopping this to the general public, and the public puts a lot of pressure on institutions and individuals. At this point, if you were at a dinner with a collector who pulled out antiquities from Iraq and Syria, you would probably be worried [about their provenance]."
However, Yates admits that it is premature to hope that the age of big smuggling networks is over. In September last year, in the most high-profile case of recent years, the National Gallery of Australia handed back to India a 900-year-old bronze sculpture of a dancing Shiva and a stone sculpture of the god Ardhanarishvara, both of which had been trafficked.
The items had been bought from the New York-based dealer Subhash Kapoor, with the Shiva exchanging hands in 2008 for $5 million (£3.2 million). Kapoor is currently awaiting trial in Chennai, India, on charges of receiving artefacts that had allegedly been stolen from disused temples in the south of the country.
Kapoor denies wrongdoing, but his gallery manager, Aaron Freedman, has pleaded guilty to six counts of criminal possession of stolen property in a US court – stating that he had helped Kapoor to manage the shipment and sale of more than 150 looted Indian statues, some of them 2,000 years old.
What, then, is the solution? Yates' research project seeks to understand the relationships between communities, governments, the law and international criminal markets, with the aim of developing regulatory mechanisms for controlling the illicit antiquities trade.
For her, the focus has to be on breaking up criminal networks and eliminating the markets for looted archaeological treasures. She readily states that not enough people are being jailed for committing this sort of crime.
But the focus also has to be on the countries that are the origin of the trade and on lifting them out of poverty. If this cannot be done, the countries will remain unable to protect their heritage, argues Yates.
And she believes that society at large can play a role, too, by not accepting the illicit collecting of antiquities as something that just happens, but by condemning those who deal in and collect such items as "monsters".
Yates concludes: "Having a big ivory thing in your house just isn't socially acceptable any more – your friends will think you a monster and will picture dead elephants. Stepping out in a full fur coat is now considered weird and even offensive. We need the same reaction for looted antiquities."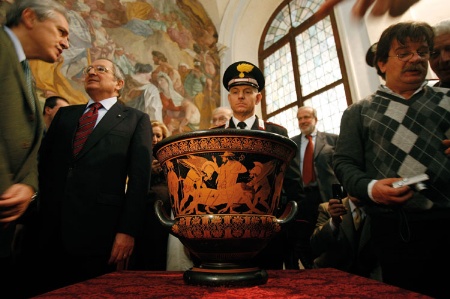 The mummy's return: some high-profile 'looted' antiquities
The Euphronios krater
A large Athenian vase (above) dating to c. 515BC that is believed to have been excavated illegally in Italy in 1971. It was bought by New York's Metropolitan Museum of Art in 1972 for $1 million, and was returned to Italy in 2008.
The Weary Herakles
The bottom half of this Roman sculpture was excavated by archaeologists in Turkey in 1980, but the top half had disappeared before that dig. The following year, the top half was acquired by the Museum of Fine Arts in Boston. In 2011, it was returned to Turkey, where it joined its other half.
The Sipán backflap
This spectacular gold armour was among the contents of a tomb in Peru, identified as belonging to the Moche civilisation of c. 500BC, which was looted in 1987. It was seized a decade later after being offered for sale for $1.6 million. A federal grand jury indictment named one of the traffickers as being the Panamanian consul-general in New York, who had allegedly smuggled the backflap into the US in his diplomatic bag.
The Elgin Marbles
With Amal Clooney part of the legal team advising the Greek government on efforts to return the marbles, this collection of sculptures and inscriptions has been back in the news in recent months. The legality of taking the items from the Parthenon and other buildings at the Acropolis in Athens to London in the early 19th century continues to be debated, but the British Museum has refused to relinquish them.
Tetaki's frescoes
Egypt alleged that five fragments of frescoes, believed to be from the 3,200-year-old tomb of the cleric Tetaki near Luxor, had been stolen in the 1980s. The Louvre in Paris maintained that it had acquired them in good faith in 2000, but returned them in 2009.
Rameses I
A mummy believed to be that of the 3,000-year-old body of Pharaoh Rameses I was returned to Egypt in 2003. It was thought to have been stolen by grave robbers in about 1860. It was afterwards displayed by museums in North America.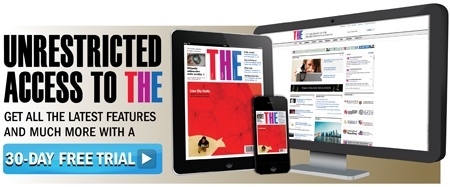 Register to continue
Why register?
Registration is free and only takes a moment
Once registered, you can read 3 articles a month
Sign up for our newsletter
Register
Subscribe
Or subscribe for unlimited access to:
Unlimited access to news, views, insights & reviews
Digital editions
Digital access to THE's university and college rankings analysis
Subscribe
Already registered or a current subscriber? Login