Source: Getty
Basic handsets, many without internet capability, dominate; smartphone penetration, in the industry jargon, is estimated to be 15 per cent at most
Lesego is 18 and lives in an isolated village in western Botswana. She is smart and wants to study for a degree, but the nearest universities are several hundred miles away in the east of the country, and she cannot afford to relocate.
Instead, she is learning remotely. She does not use a computer, because her family cannot afford one and the electricity supply is prone to frequent outages, but her newly purchased smartphone allows her access to the internet and a suite of online courses – offered by some of the most respected universities in the world – as well as the most up-to-date literature, all at very little cost.
This scenario is imaginary, but it is one that policymakers and educators hope might become a reality for many living in similar conditions in the world's poorest continent in the not-too-distant future.
Driven by falling costs and a lack of fixed phone line connections, mobile phone ownership in Africa is booming, and is transforming everything from banking and healthcare (with text messages used to transfer money and send health advice), to agriculture and politics (farmers can receive guidance, weather forecasts and market reports, while communications technology has played a key role in recent uprisings) – so why not education?
The possibilities are being much hyped. Last year, the US television channel CNN declared that mobile technology had "immense" potential to transform Africa's "dysfunctional educational system…as mobile phones – cheaper to own and easier to run than PCs – gain ground as tools for delivering teaching content".
It has also captured the attention of the international development community. In 2011, the US Agency for International Development and Stanford University held m4Ed4Dev (Mobile for Education for Development), a round-table discussion designed to explore the use of mobile devices for education in developing countries, and last year the United Nations Educational, Scientific and Cultural Organisation published Turning on Mobile Learning: In Africa and the Middle East. In February, Unesco hosted its second annual Mobile Learning Week, a five-day conference designed to explore the contribution that mobile learning might make towards its Education for All goals.
Mobile phones are already being used to improve teacher training and as a way of staying in touch with university students, but can they really improve access to and the quality of higher education on a significant scale?
The African economy has been growing at a rate of about 5 per cent a year for the past decade and, according to the World Bank, it is predicted to grow more quickly than that of any other continent over the next five years. The booming information and communications technology sector, and in particular the rapid growth of mobile communications, is credited with having driven much of this remarkable economic expansion.
The figures are certainly impressive. There are now more mobile phones in the whole of Africa than there are in the US. In 2001, only about 25 million people in Africa had a mobile phone subscription, but by last year this number had rocketed to about 650 million – an increase of 2,600 per cent. According to a 2012 report by GSMA, a trade association that represents 800 mobile operators across the world, there are 475 million mobile connections in sub-Saharan Africa alone, compared with just 12.3 million fixed line connections.
"Mobile phones are having a profound impact on so many levels of society in Africa – communication, banking, entertainment," says Steve Vosloo, senior project officer in the Unesco mobile learning division for teacher development and higher education. "In terms of access, it is like no other ICT before. Obviously radio and television are huge, and play a massive role, but they are broadcast media, whereas mobile technology is an interactive medium. In terms of uptake it has massively surpassed PCs, so we feel that it warrants particular attention."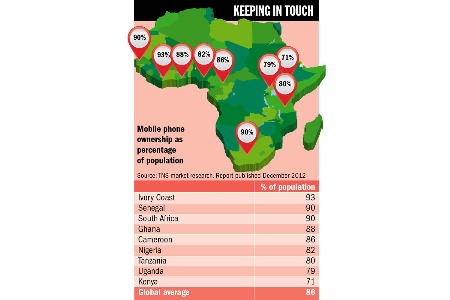 One of the main reasons for the explosion in the number of mobile phones is cost. Simple handsets with basic capabilities are affordable for many, while in many places, basic "entry-level" smartphones can be bought for tens of pounds. Just 10 years ago, internet-ready laptops or desktops with similar processing capabilities would have cost thousands of pounds, and required access to additional technologies such as modems and routers. And with mobile phones, of course, comes the potential to access to the World Wide Web.
At this point, however, the gap between the future scenario and the present becomes clear. So far, only basic handsets, many without internet capability, dominate; in fact, "smartphone penetration", in the industry jargon, is estimated to be between 6 per cent and 15 per cent in Africa.
And although the mobile infrastructure has improved massively – with the continent's internet bandwidth (its capacity for downloading materials) increasing 20 times over between 2009 and 2012 – this is a continent in which about two-thirds of the population still live without domestic access to electricity (some innovative low-tech solutions are used to overcome this problem, such as using car batteries to recharge mobile phones).
These are just a few of the reasons why Gary Marsden, a professor in the department of computer science at the University of Cape Town, South Africa, injects a note of caution when discussing the educational possibilities introduced by the seemingly unstoppable rise of mobiles.
"There's lots of excitement and lots of potential here in Africa, but lots of worry as well," Marsden explains. "If everyone has a mobile computing device, then that's fantastic…There is a lot of rhetoric and hype, but evidence on the ground suggests people do have access to handsets."
Unsurprisingly, technology firms have their eyes keenly trained on Africa. Earlier this year, a Microsoft smartphone built by the Chinese manufacturer Huawei was released specifically for the African market; and after a tour of sub-Saharan African cities, Google chairman Eric Schmidt declared Kenyan capital Nairobi a "serious tech hub". The city is already home to a Nokia Research Centre specifically dedicated to "understanding the needs of the African mobile phone user".
And, of course, the situation varies hugely between and within countries, making it difficult and often unhelpful to consider them as one entity. Internet penetration is estimated at 15.6 per cent across Africa, according to Internet World Statistics (it stands at 83.6 per cent in the UK), but in Somalia it is just 1.2 per cent.
"If we start to see mobile technology as the silver bullet, then [mobile learning] is doomed to fail from the start," Unesco's Vosloo concedes. "It is not going to be the saviour of Africa's education, but it can potentially make a significant contribution."
Dolf Jordaan is head of e-learning at the University of Pretoria in South Africa, a country in which the percentage of adults using mobile phones soared from 17 per cent in 2000 to 76 per cent in 2010 (and is still growing). Here, mobile phones have become the key technology for students browsing the internet for job openings and information about bursaries and grants. Jordaan believes that they will soon do far more. "As mobile technology becomes more affordable and more capable, it will likely become the key technology used for communication with students, content delivery and assessment."
He suggests that mobile phones could help to tackle one of South Africa's key challenges: high dropout rates. "One of the big problems that higher education in South Africa faces is the large number of students that get access to higher education but do not have the financial and logistical support needed to complete their studies successfully," he explains.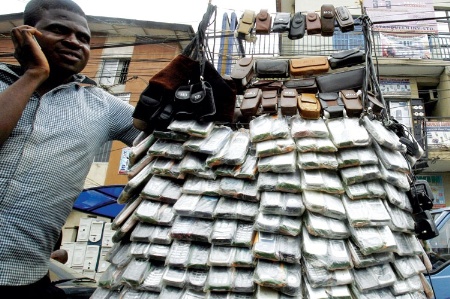 There is nothing on the internet in many African languages, because no one in those communities has the ability to produce content
According to figures from the Department of Higher Education and Training, the average undergraduate graduation rate in South African universities is just 15 per cent, rising to 20 per cent for those on master's courses.
"Mobile technology allows universities to deliver content, offer learning support and communicate with these students more effectively and at a lower cost," Jordaan says, adding that improved contact with students could help to boost graduation rates.
But while his assessment provides encouragement, a 2012 report by the World Bank and the African Development Bank points to an absence of comprehensive national strategies to promote the use of technology for education, a lack of finance and prioritisation of investment in ICT, limited infrastructure of the type required to support its widespread use in education, and a lack of technological expertise among educators.
For John Traxler, professor of mobile learning and director of the Learning Lab at the University of Wolverhampton, these problems – and many more besides – are all too familiar.
"When we talk about how the global South is currently using mobiles in education, we're almost inevitably talking about the use of SMS [short messaging services] or simple technology," he says. "Sometimes some apps might be installed on phones, but we're not talking about smartphones. Using apps on smartphones would be very nice, but a very small proportion of the population has them. First, the hardware needs to trickle into the economy. The risk is that you end up replicating the already existing digital divides."
One project in which Traxler took part involved working with the Kenyan government to encourage primary school teachers to communicate via SMS as part of a distance learning professional development scheme. Although the 200,000 participating teachers reported some benefits, with geographically dispersed learners able to offer each other peer-to-peer support, the exercise also highlighted some of the problems that arise when implementing mobile-based learning in sub-Saharan Africa.
"First, we were able to get cheap messages from [mobile network provider] Safaricom. Such providers might give you a deal like this for a fixed term, through their corporate sociability arm, but after that they expect you to go away. It's not a model for building sustainability – quite the opposite, in fact."
The project, he says, was never properly evaluated – partly because civil war broke out in Kenya while it was still in progress in 2008. "Also, culturally it didn't align with the way Kenya viewed how education should work – with the teacher standing at the front," he says. "We were setting a system up that would allow more discursive education, but the championing of it was not done well and it was difficult to get participation."
Francisca Aladejana, professor of science education and provost at the College of Education in Ikere-Ekiti, Nigeria, agrees that progress towards "transforming" the continent's educational system is slow. Her institution uses mobiles for relatively basic purposes. "We use mobile phones mostly for sending relatively small amounts of information to students," she explains, "including guidance on when coursework is due, information about holiday periods, and on schedule changes."
On the plus side, bulk text messages "come at a very cheap cost and have made the use of mobile phones very attractive for these purposes. It has helped considerably to increase communication between teachers, students and parents."
On field trips, many students now record pictures and videos, and later get them printed at cybercafes on the campus, Aladejana notes. Many students are unable to afford the texts required to complete their courses, but they "can access the internet to read up a lot of information related to their courses of study and even download books".
While Aladejana says that universities themselves, as far as she can tell, are not making direct efforts to bring mobile technology into teaching and learning, she can see its potential. "Currently, fewer than a quarter of students that finish secondary school can find a place in the tertiary institutions," she explains. "Most students then resort to part-time and distance learning. Mobile technology can provide those students in distance learning programmes and at online universities access to educational information from the comfort of their home."
But she also lists the problems that would need to be overcome to achieve this: poor network coverage, the lack of affordable devices, relatively expensive service costs and the limited nature of the phones that are available – problems that are certainly not exclusive to Nigeria. "For most people, the price of internet access is just prohibitive," says the University of Cape Town's Marsden. He recalls that on a recent trip to Zambia, "two gigabytes of bandwidth [roughly enough to download a short, high-definition movie] cost about £40". In Zambia, average annual income is about £900 a year. "The internet may be there, but the average user using a mobile phone just cannot afford to download stuff," he says.
Another huge challenge is developing online educational resources that can cater for Africa's diverse and multilingual population. "There is nothing at all on the internet in many African languages, because no one in those communities has the ability to produce content," says Marsden.
Booming mobile web access may be an effective way to access online resources, but what about those who want to create their own? "We have research going on about ways to create authored content using mobile devices, and that's tremendously exciting. The next part is getting lecturers in African communities to create," he says.
Christine Ofulue, associate professor of linguistics at the National Open University of Nigeria, is doing exactly that, designing educational applications for mobile phones in local, indigenous Nigerian languages including Yoruba, Igbo, Hausa and Nigerian Pidgin. "The project is in its pilot stage, but the aim is to design mobile apps in local languages and in both speech and text format, so that both literate and non-literate people can have access to information that will improve their livelihoods," she explains. "Hopefully the content will also be useful as a resource for literacy development to improve literacy figures.
"Higher education in Africa has yet to jump on board the mobile technology train and, presently, only a few private organisations provide learning materials, such as exam quizzes, via mobile phones. However, I believe it is only a matter of time. The most important issue is how to do it right and maintain the quality of learning."
Wolverhampton's Traxler warns against "parachuting a solution in" and agrees that approaches and resources often need to be localised. "There is great potential to expand mobile learning, but whoever is doing it needs to work with the institutions, infrastructure, environments and cultures at a national and institutional level and find out how people learn and what their aspirations are."
Despite the current mismatch between the rhetoric about proliferating mobile phone usage and unbridled potential for e-learning, and the reality, Marsden believes the continent will find its own solutions.
"I'm hopeful that there will be some really great educational resources coming out of Africa as more people get mobile and are able to produce content. Different models of mobile learning – and perhaps more effective models – could emerge from the developing world."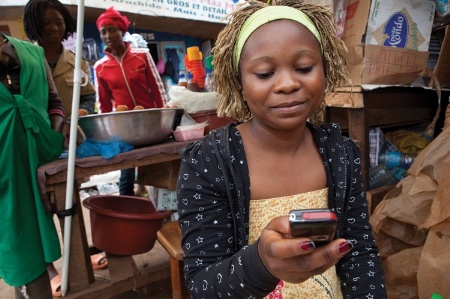 Giving teachers the tools: tailoring web content to meet requirements
When The Open University launched the Teacher Education in Sub-Saharan Africa (Tessa) programme in 2005 with a network of universities in the region, it was with the hope and expectation that the use of laptop and desktop computers on the continent would one day proliferate, and that these would become the technology of choice for students wishing to access the project's resources.
However, eight years into the scheme – which aims to improve the standard of school-level education in Africa by providing access to free, high-quality online teacher training resources – it is becoming clear that it is far more common for people in the region to access the internet using mobile technology.
Tessa staff are therefore looking at ways to ensure that their award-winning resources can be used by those surfing the mobile web.
"When Tessa started, I think we were vastly over-optimistic about the rapidity at which internet access would spread across Africa," admits Freda Wolfenden, associate dean in the Faculty of Education and Language Studies at The Open University and, until 2012, director of the Tessa programme.
"In terms of the development of infrastructure, it just hasn't been as fast as some people predicted. It's only in the past year that even the lecturers at some of the universities we work with – such as Egerton University in Kenya – are all getting their own laptop or desktop, and that the whole campus has internet access."
But, anecdotally at least, staff working on the programme have noticed that their resources are increasingly being accessed by students off campus.
"They are now accessing learning materials through their phones, which was unheard of six years ago," Wolfenden explains. "Now, when we go to rural schools and ask where they got a lesson idea from, it will often have come from a Tessa resource that they read on their mobile."
Tessa resources are being used in a range of different ways. The University of Zambia in Lusaka is aiming to improve the standard of secondary school science teaching, while the University of Education in Winneba, Ghana, is targeting resources at teachers working with preschool children. The Keeping Girls in School project in Malawi, meanwhile, uses Tessa materials to encourage more women from rural areas to enter teaching. All content is published under Creative Commons licensing, meaning that anyone online can use the material.
The Open University is now looking at ways to redesign some of the resources to make them more user-friendly when accessed from mobile devices. There are challenges, however, as Wolfenden explains.
"Our content is not designed to be viewed easily on a small mobile screen. There is quite a bit of text because when we built it we were very concerned about download speeds. There aren't very many graphics, so it's not good to look at it on a tiny screen."
This means that many of the materials are more suited to tablet computers, but access to tablets is still limited.
Wolfenden observes that the development of mobile resources for higher education in Africa is not structured.
"The universities that we work with are not at the forefront of technology use, nor are they awash with capital," she points out. "They are not doing anything particularly formal to help their students to access materials on their mobiles, and tablets are a long way from being ubiquitous."
Register to continue
Why register?
Registration is free and only takes a moment
Once registered, you can read 3 articles a month
Sign up for our newsletter
Register
Subscribe
Or subscribe for unlimited access to:
Unlimited access to news, views, insights & reviews
Digital editions
Digital access to THE's university and college rankings analysis
Subscribe
Already registered or a current subscriber? Login