Source: Eduardo Fuentes
We need to look at the system as a whole, and think seriously about how many universities we have, what they do and how we pay for teaching and research
It is now some 50 years since British higher education began to expand. More has unambiguously meant better. Without expansion, we would not have ended discrimination against women, allowed millions of our fellow citizens to fulfil their potential, or achieved our place as the leading country in Europe for research.
There is much to celebrate. But, as I retire from my final job in British higher education, I also feel frustrated. The system could, I believe, be much better still.
The successes of UK higher education have been achieved with very little conscious planning, and problems remain. Entrenched privilege has changed little since the 1960s; it is now clear that anyone in government who believed that the new student loans system would save money will be proved wrong; and the government is hell-bent on destroying the sector's success in recruiting international students. We have universities that are supposedly autonomous but in reality are entirely dependent on public money, that are supposed to compete but cannot increase tuition fees. It is not only the fee system but the whole system that deserves the term "omnishambles".
There is an argument, bolstered by the sector's successes, for letting things muddle along. But higher education is too important to our economy and society. We need to take a look at the system as a whole. We need to think seriously about how many universities we have, what they do and how we pay for teaching and research.
I believe that we have too many universities, that they are trying to do too many different things, and that the way we fund their research is fundamentally flawed.
We don't need two or more universities in each of our major cities, glowering at each other and competing to attract the attentions of businesses and local authorities. Why does Leeds or Sheffield or Oxford, for example, need two vice-chancellors, registrars or groups of governors? In London, the situation is even more bizarre, with some 40 universities within the M25 and more arriving by the day. The Higher Education Funding Council for England has remained supine in the face of evidence that all this is unnecessary and inefficient. The Welsh government stepped in to reduce the number of universities in Wales; maybe the next English government will have to do the same.
At the same time, universities are trying to do too many things at once. They are trying to be conference organisers, caterers, sporting promoters, careers advisers, pastoral counsellors; they run great estates, research institutes, theatres and concert halls; sell souvenirs and T-shirts, act as property developers and invest on the stock market. They set up overseas subsidiaries, finance start-up companies, develop science parks, maintain some of the most beautiful buildings in Britain, run some of our greatest museums, art galleries and libraries. They even run buses.
Yet there is a strong argument for specialisation. Some universities could concentrate entirely on postgraduate education. This would allow them to make better use of the best researchers – who are already, in many places, concentrating on master's and PhD students and leaving undergraduate teaching to junior staff.
We would need to modify the way research is funded – but reform is badly needed.
While I have no objection to the principle of research assessment, the practice of it is a different matter. Each assessment costs somewhere between £20 million and £100 million, yet 75 per cent of the funding goes every time to the top 25 universities. Moreover, the share that each receives has hardly changed during the past 20 years.
It is an expensive charade. Far better to distribute all of the money through the research councils in a properly competitive system. After all, the US, a world leader in research, has no equivalent of the research excellence framework.
Universities should also forget about fundraising. It has been 20 or 30 years since the pressure to fundraise began, and after large sums of money have been invested in "development", the results have been frankly pitiful, except among a very select group of universities.
Vice-chancellors are now expected to be supplicants for gifts rather than academic leaders or university managers. We now have the bizarre spectacle of Hefce setting universities a target of raising £2 billion a year to substitute for cuts in public funding. The fundraisers are rubbing their hands; we'll need, they say, to double the number of staff in development. That would mean having more fundraisers than academic staff in architecture and planning or in agriculture and veterinary science. This is sheer madness.
Instead of fundraising, universities should be allowed to charge a fair price for the services they provide. This was the solution advocated by Lord Browne in his review of student fees, but the government refused to accept it.
Higher education is one of the best investments that the state and individuals can make. We already spend less on it than do many comparable countries. It is adding insult to injury to tell us that the state will not support this success story and that we should spend our time going cap in hand to hedge fund millionaires to fund such vital public services.
British higher education deserves, and can justify, much greater funding than our blinkered politicians seem ready to give it.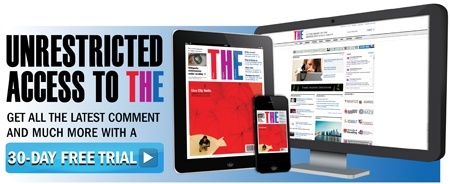 Register to continue
Why register?
Registration is free and only takes a moment
Once registered, you can read 3 articles a month
Sign up for our newsletter
Register
Subscribe
Or subscribe for unlimited access to:
Unlimited access to news, views, insights & reviews
Digital editions
Digital access to THE's university and college rankings analysis
Subscribe
Already registered or a current subscriber? Login