Is it time to move "beyond the silly hype" about massive open online courses?
Ferdinand von Prondzynski, vice-chancellor of Robert Gordon University in Aberdeen, thinks so. He took to his website, A University Blog, to make that very point.
"A year or two ago a number of people who wanted to grab a bit of public attention in higher education claimed loudly that MOOCs ('massive open online courses') were the future, and that all universities would have to go down this route," he writes – linking to a Times Higher Education article from last year in which Don Nutbeam, vice-chancellor of the University of Southampton, urged institutions to produce Moocs or face dire consequences. "It's Mooc or die. More to the point, do it quickly," Professor Nutbeam said at the time.
Despite the lack of a declared business plan for both universities and Mooc platforms, Professor von Prondzynski continues, "the hype continued to roll and seemed to have the capacity to persuade rational commentators that MOOCs were the future".
"Not even the really annoying acronym seemed to be able to put people off," he writes.
A couple of years later, however, although Moocs are still around, the "over-excited breathless rhetoric has calmed down" – which is a source of relief for the Scotland-based vice-chancellor.
He cites a move by Mooc platforms towards making agreements with big business – namely Coursera, the US Mooc provider, which recently announced that it is to work with companies such as MasterCard and Shell, among others, to provide courses for employees.
"Few people now think that MOOCs will turn higher education upside down. Nobody is arguing any more [that] all universities must offer hundreds of MOOCs or perish. More importantly, most now accept that a university course with thousands of students that generates absolutely no income cannot be the way forward for the system."
Instead, he says, there is a growing movement to consider how online learning can be used to improve teaching, and how online courses can provide a viable income stream.
"Some universities (e.g. Georgia Tech) are now charging a tuition fee for such courses, though admittedly the fee is rather lower than for the 'normal' on-campus programme."
A two-year Mooc-style master's degree in computer science at the US institution is initially expected to be below $7,000 (£4,260) – far less than a traditional degree.
"More generally," Professor von Prondzynski says, "the much more reasonable agenda now is to find ways in which the MOOCs experience can support new developments that will bring higher education of good quality to larger audiences and how these participants can be properly supported."
He concludes that it is clear that online learning will be a major part of the future, and that it is right to suggest that some disruptive change may improve what universities do.
"It is reasonable to argue that the traditional model of higher education cannot be the only way to offer teaching and learning. But it is also good not to get carried away by each new bit of hype."
Send links to topical, insightful and quirky online comment by and about academics to chris.parr@tesglobal.com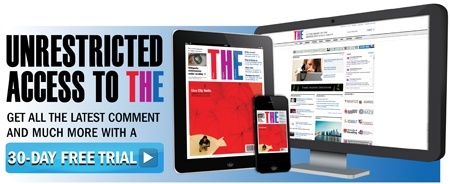 Register to continue
Why register?
Registration is free and only takes a moment
Once registered, you can read 3 articles a month
Sign up for our newsletter
Register
Subscribe
Or subscribe for unlimited access to:
Unlimited access to news, views, insights & reviews
Digital editions
Digital access to THE's university and college rankings analysis
Subscribe
Already registered or a current subscriber? Login