"Today, I had a perfectly reasonable request from a student who wanted to review an exam from last term," writes Andrew Robinson, a contract instructor in the department of physics at Carleton University in Ottawa, Canada, on his Precarious Physicist blog.
"I was unable to comply with this request because to do so would be to give my employer more of my time for free," the UK-born academic continues. As a dedicated teacher, he says, he feels "extremely sad" about this state of affairs but wishes to make a stand on behalf of his peers in Canada, the US, the UK and Australia who are being "shamelessly exploited by our employers".
"We do not have permanent jobs, we have to eke out an existence by patching together many temporary contracts to try and earn enough to survive on," Dr Robinson says.
He is talking about the realities of the working life of academics known in Canada as contract instructors or sessional lecturers and in the US as adjunct professors. In the UK academy, scholars are often employed on short-term or "zero-hours" contracts.
His total earnings for the year are C$34,000 (£17,600), a "paltry sum" for which he works "all year round, with a break of a week over Christmas". His family "is officially classed as 'poor' by Statistics Canada". He receives no pension contribution from his employer, despite having worked at the institution for four years.
The university sector, Dr Robinson argues, is the worst employer of all when it comes to taking on highly qualified people at low salaries. He has finally decided that "enough's enough".
"I am sorry that this directly affects students, but if the university wants a 'Full Service' teacher, then they need to pay us as a highly qualified professional person would expect to be paid."
Dr Robinson admits that his decision to turn down the student's request is "not without risks".
"My teaching contracts can be abolished by the Head of Department with the stroke of a pen," he writes. "I could be out of [a] job at the end of term for protesting about pay and conditions."
His blog post was published in the build-up to National Adjunct Walkout Day in North America on 25 February, whose organisers urged adjunct staff to boycott work to raise awareness about their concerns. Another blogger embracing the issue was Erin Wunker, formerly assistant professor in the department of English at Mount Allison University in New Brunswick, Canada (now a sessional lecturer at Dalhousie University, also in Canada).
"I see you, prepping for your classes every night until midnight (or later)," she writes in a letter to contract academic faculty posted on the Campus Notes blog at rabble.ca. "I know you're teaching more than regular faculty, because that's how contracts work at your institution."
"I see you, applying for your own position," she continues. "And I see you not get it, sometimes. I see you, applying for postdoctoral fellowships, for grants, and asking for adjunct status if that grant is successful. I see you working extra, because the grant means you can do the work you love, and because the grant would mean that maybe, just maybe, you've got some leverage (but not a living wage). I see you wobble, because a successful grant may not end up meaning shit."
The letter concludes: "I can't fix anything for you by myself, but know that you're not alone."
Chris Parr
---
Send links to topical, insightful and quirky online comment by and about academics to chris.parr@tesglobal.com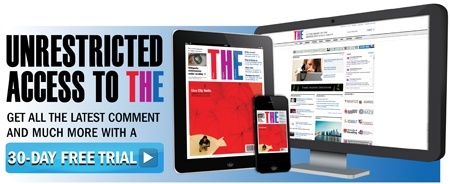 Register to continue
Why register?
Registration is free and only takes a moment
Once registered, you can read 3 articles a month
Sign up for our newsletter
Register
Subscribe
Or subscribe for unlimited access to:
Unlimited access to news, views, insights & reviews
Digital editions
Digital access to THE's university and college rankings analysis
Subscribe
Already registered or a current subscriber? Login