Source: Paul Bateman
In some of its earliest and most famous incarnations, philosophy was something practised in public, and for the public good. Socrates spent so much time engaged in conversation with his fellow citizens that when Aristophanes ridiculed him in his play The Clouds, everyone knew who Socrates was. The Stoic philosophers got their name from the stoa, the public porches that covered the ancient marketplaces of Athens. Today we might well have called them shopping-mall philosophers.
But today's philosophers are not in the malls, and this impoverishes both the malls and philosophy. Philosophers once had wide-ranging interests, including politics, education, natural science, God, the soul, drama and poetry. But during the last century or so in particular, the subject has largely come to ignore this public, wide-ranging calling as it has migrated to the ivory towers of the academy.
Some of this has happened quite organically: as philosophy has given birth to specialised disciplines covering many of its former concerns, philosophers have found themselves tilling smaller and smaller intellectual plots. Aristotle would probably not recognise what we philosophers do if he were alive today, such is its narrowness and technicality.
Another reason for philosophers' move away from the public sphere is the professionalisation of the discipline. More than a century ago, William James complained, in an essay titled "The Ph.D. Octopus", that universities were so interested in prestige that they were unwilling to hire brilliant teachers who lacked a PhD. These days, nearly every academic has earned a doctorate of some kind, which has made it necessary for universities to invent new standards for assessing how good their faculty is. So today's philosophers are preoccupied with the need to gain peer-reviewed publications.
For the record, we both hold tenured positions at US institutions – otherwise it is extremely unlikely that we would be writing an article like this one. (It is also rather unlikely that we would have chosen to write this together, since co-authoring is frowned upon in modern humanities.) But we are grateful, in a sense, that we have not since moved to more prestigious institutions, because that might require us to devote ourselves to ever-greater specialisation, which would make reaching out beyond our academic discipline even more difficult.
If philosophy is, as the name suggests, about loving wisdom, then it shouldn't be something that is practised by only an erudite few. The argument that wisdom is valuable for everyone, and the life spent pursuing it is itself a good life is not some sort of Pollyanna idealism, but a pragmatic hope that philosophical reflection (what academic and novelist David Foster Wallace simply called "choosing what to think about") can and does give life meaning.
Kierkegaard, who wasn't known for his cheery idealism, once quoted, approvingly, Gotthold Ephraim Lessing's view that "if God held all truth enclosed in his right hand, and in his left hand the one and only ever-striving drive for truth, even with the corollary of erring forever and ever, and if he were to say to me: Choose!—I would humbly fall down to him at his left hand and say: Father, give! Pure truth is indeed only for you alone!"
Reflection has the tendency to produce more and better answers to the questions we ask, and this is undoubtedly a good thing. But philosophical reflection has a more basic, more interesting value. On most days, we enact dozens of beliefs – in being a friend, a citizen, a professor – without giving them a second thought. When we think again about these beliefs in hard and sustained ways, some of them strike us as wrong, or more immediately, wrong for us.
In his book Log From the Sea of Cortez, John Steinbeck talks about the curiosity that drove him and his friend Ed Ricketts to the Gulf of California: "We search for something that will seem like truth to us; we search for understanding; we search for that principle which keys us deeply into the pattern of all life; we search for the relations of things, one to another, as this young man searches for a warm light in his wife's eyes and that one for the hot warmth of fighting."
Sex and fighting – there's nothing boring about that. This is what philosophy, at its best, is like and what more of it needs to be about: a response to the most personal of our animal, erotic drives, our deep desire to find things out, our grappling as Menelaus grappled with Proteus, refusing to let go until the way forward is clear. And if that fails to draw crowds at the mall, then we're all in deep trouble.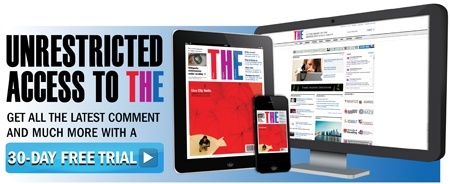 Register to continue
Why register?
Registration is free and only takes a moment
Once registered, you can read 3 articles a month
Sign up for our newsletter
Register
Subscribe
Or subscribe for unlimited access to:
Unlimited access to news, views, insights & reviews
Digital editions
Digital access to THE's university and college rankings analysis
Subscribe
Already registered or a current subscriber? Login