Source: Mitch Blunt
Rather than seeing Chinese students as a proportion of market share, a cheque, we need the language of public good and a global harmonious society
A recent article in Times Higher Education highlighted the high proportion of Asian students studying for postgraduate qualifications in our universities, and the implications of this ("Asian postgraduates outnumber Britons in four subjects", 19 March).
Those who think about the future of UK higher education often worry about China in particular. In the face of large numbers of students from the People's Republic, notably in such subjects as engineering and maths, they have been heard to say that UK universities are "over-reliant on the Chinese market".
My first response is that it is not a market. My second is that Chinese students cannot be viewed as somehow interchangeable with the large numbers of talented young people in other parts of the world who are willing to invest in a British university education. No matter how much economists talk about the potential of the rapidly developing BRICS nations (Brazil, Russia, India, China and South Africa), China is unique.
It is not simply that China is the world's second-largest economy and growing fast, that it is home to almost a quarter of the world's population, and that all agree that the future geopolitical and environmental future of our planet will be deeply influenced by the choices it makes in the next few years.
It is not that we shouldn't value the diversity of our institutions, with cultural and academic richness drawn from well over 100 countries. But China offers the UK a once-in-a-generation opportunity. By an accident of history and the deep desire of Chinese parents to make sometimes tremendous sacrifices for their children to have access to the best education and prospects that the world can offer, the UK has built a profound connection with arguably the largest and most influential nation on our planet.
We have overcome the enmities of our far-from-perfect colonial history, in large part owing to the generosity of the Chinese spirit and their respect for our intellectual, technological and business heritage.
Will we convert this relationship into a long-term partnership for the future of nations and people in the world – and how will this be possible? One way is through our response to a common problem shared by our two countries: the need to produce an innovative, inclusive and sustainable future for our children.
China is busy developing technologies to free itself from the thrall of the carbon age. It is to the UK, as well as to other countries, that China looks to train its gifted young scientists and engineers and to build joint technologies for a green future.
While the UK shares many of China's technological ambitions, we know that our own scientific and industrial heritage is vulnerable. We have lost great swathes of our capability in infrastructure and national investment in research and development. We need engineering as a discipline, but such teaching is resource intensive and its continued success is due in no small part to the past and present presence of Chinese students and gifted academics.
Investment in the UK's next generation of low-carbon power, for example, is already being developed hand in hand with China, including by my own university.
One might dismiss such views as inevitable, coming from a vice-chancellor in a city with a historic focus on engineering and manufacturing. But pause for thought: we can build a green future only if we build the broadest and most inclusive skill base. Our challenges are global and our solutions must be the same.
Rather than seeing our Chinese students primarily as a proportion of market share, a cheque, what we need is the language of public good and a global harmonious society, one that sees our common challenges and uses our mutual skills to address them.
Even this is not enough. Like people from every nation, our Chinese students and partners want to be seen and understood in their talents and struggles. The UK still harbours too many prejudices about China and is ignorant of the aspirations of its young people. We must care for our Chinese students in the way we care for all our students. They are our colleagues, co-creators of knowledge and our friends.
In Sheffield, we realise that this aim is in no way separate from the aspirations of our home students, communities and businesses. The chair of our chamber of commerce is committed to helping local companies learn how to work and trade with China, and the chamber has supported a scheme to place Chinese students with the companies he represents. Our lord mayor has backed our campaigning work in support of international students, while our Confucius Institute participates in city-centre vibrancy, our Global Manufacturing Festival and an emerging business district led by one of our own Chinese graduates.
Our students go further. They rightly urge us to see education itself beyond borders, with learning bringing people and their ideas together in ways that transform how they understand problems and see themselves.
This is not blind idealism. It is a vision that remembers what universities are for, one that is vital not only for the future of UK higher education but also for the relationships that will secure the future of our world.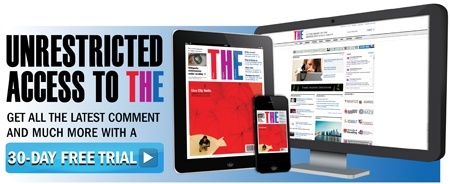 Register to continue
Why register?
Registration is free and only takes a moment
Once registered, you can read 3 articles a month
Sign up for our newsletter
Register
Subscribe
Or subscribe for unlimited access to:
Unlimited access to news, views, insights & reviews
Digital editions
Digital access to THE's university and college rankings analysis
Subscribe
Already registered or a current subscriber? Login