In the US and Australia, two very different higher education reform initiatives are playing out in two very different ways. In the US, President Barack Obama recently expanded a programme that enables borrowers to cap their federal student loan repayments at 10 per cent of their monthly income.
By contrast, Australia's prime minister, Tony Abbott, is proposing to remove caps on tuition fees. What's more, he wants to raise interest rates on student loans and lower the income threshold at which graduates are required to begin repayment.
But strikingly, neither plan takes advantage of the remarkable paradigm shift under way in higher education today. New teaching and learning innovations offer the possibility to help resolve the great challenges facing higher education, including the pressing challenge of cost.
Adaptive learning systems, experiential learning, competency-based approaches, programmes that offer alternative credentials, courses that are accessible on mobile devices and educational partnerships with employers all personalise higher education. They allow students to tailor their learning to fit their needs, their learning styles – and, just as importantly, their budgets.
While the residential campus remains a superb model for education, it's expensive, place-based and unsuited to the lives of many non-traditional learners. New teaching and learning innovations push past these limits. Because they make higher education more customer-centric, they have the potential to increase student retention, graduation rates and overall attainment.
Indeed, the US higher education system is ideally positioned to adopt these new methods and approaches. Compared with the more homogeneous, often centrally controlled university systems in many other nations, US higher education is a brilliant mosaic – a vibrant array of public and private research universities, liberal arts colleges, special-purpose institutions, community colleges and more. This inherent diversity gives the US the flexibility to reshape the existing system in ways that benefit students.
Which raises the question: why aren't these developments garnering more attention and support from US leaders? A few have begun to move in this direction, but by and large the higher education policy debate remains focused on managing college costs and student debt. What's more, policymakers tend to home in on student-aid schemes as the primary way to address the cost problem. An integrated approach that tackles college costs by re-examining how we deliver higher education itself could produce a more lasting solution. In fact, as US policymakers gear up to renew the Higher Education Act, the country's key higher education statute, they have an opportunity to forge a bold new path for American higher education by investing in these new teaching and learning approaches, and spreading them to even more institutions.
Whether in the US or Australia, the debate over how much higher education should cost, and how those costs should be managed, is obviously vitally important. But it needn't be the totality of the conversation. The global labour market's continued demand for employees with the most advanced education and skills compels all of us to seek new opportunities to improve college attainment, completion, postgraduate employment and affordability.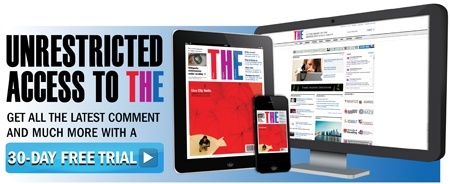 Register to continue
Why register?
Registration is free and only takes a moment
Once registered, you can read 3 articles a month
Sign up for our newsletter
Register
Subscribe
Or subscribe for unlimited access to:
Unlimited access to news, views, insights & reviews
Digital editions
Digital access to THE's university and college rankings analysis
Subscribe
Already registered or a current subscriber? Login