The task of completing a PhD is hugely rewarding for many, but it can also be immensely arduous and sometimes even a risk to the candidate's health.
In a post on the PhD Talk blog, one of a series on "self-care" in academia, Jenna Townend, a first-year, full-time PhD student, tackles this issue and offers her tips for healthily managing a PhD.
In the frenetic period just before the start of her doctoral studies in the department of English, drama and publishing at Loughborough University, a virus that had been brewing for several weeks attacked her full-on, incapacitating her for five weeks. That experience, and then hearing the story of an acquaintance whose own illness had ultimately prevented her from completing her PhD, spurred Ms Townend to take action.
Her advice is a "work in progress" but it revolves around four main pointers: creating and implementing a "sustainable working pattern", compensating for periods of long hours, setting boundaries and finally having "joy every day".
On the first, she says that although students are often told to treat a PhD "like a job" and aim to work regular hours, it is not always possible. But keeping to a sustainable time period in a day is important, she says, and suggests keeping a written track of working patterns.
On long hours, she writes that "painful experience" had taught her that 12-hour days are sustainable only for three weeks. "I need to recoup these hours by taking a full afternoon or evening off…or having the whole weekend away from my thesis."
Setting boundaries, her third pointer, was a particular struggle, she says, because she has a "crippling inability to say 'No' to things". She adds that working towards a "pattern of self-care" meant controlling this urge.
Finally, her rule on finding daily joy is that it must not directly relate to the thesis. "Talking with loved ones or friends, cooking a favourite meal, going to the pub, or taking a long bath" are among her suggestions.
Ms Townend told Times Higher Education that universities now have "many fantastic mental health resources" and there was a "greater willingness to talk about stress, anxiety, etc". But she added that there still needed to be an "institutional shift in terms of the expectations and pressures that are put on PhD students" if these resources are "not to become increasingly over-stretched".
Eva Lantsoght, assistant professor of civil engineering at the Universidad San Francisco de Quito in Peru, who runs PhD Talk, said that Ms Townend was not alone in her experiences.
"Even though I haven't had any serious health problems during my PhD, I used to push myself a little extra before going on a holiday, and very often I'd be sick from exhaustion the first two to three days of my holiday," she told THE. "I experimented a lot trying to find out what…makes me productive for a long stretch of time. Jenna's recommendations are similar to what turns out to work very well for me."
She added that she hoped the blog posts would help current doctoral candidates and early career researchers who "might be struggling with their workload [and] the pressure of academia".
---
Send links to topical, insightful and quirky online comment by and about academics to chris.parr@tesglobal.com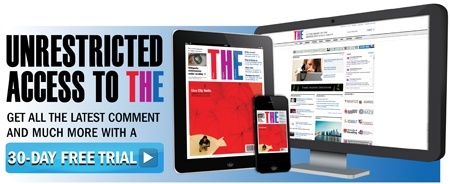 Register to continue
Why register?
Registration is free and only takes a moment
Once registered, you can read 3 articles a month
Sign up for our newsletter
Register
Subscribe
Or subscribe for unlimited access to:
Unlimited access to news, views, insights & reviews
Digital editions
Digital access to THE's university and college rankings analysis
Subscribe
Already registered or a current subscriber? Login