Source: James Fryer
A department head who had published on the Stalinist period asked me without irony for a five-year research plan
Is Stalin's Russia the model for today's policymakers in UK higher education?
This question may raise a wry smile, but working in the archives of Soviet higher education institutions from the late 1920s, I noticed that many documents could be stylised translations of those I routinely write for the bureaucracy of my own institution or funders.
Struck by this, I did an experiment. I chose some boilerplate text and points from an archival report in which a Soviet scholar justified his research to his funding body. Having translated and tweaked it, I incorporated it into an end-of-project report about my own research project. It was accepted without comment.
Bureaucrats everywhere, I quipped, are like Pavlov's dogs: ring the right bells and they salivate. But now it was other specialists in my field who were salivating. I was amazed at just how desensitised we had become to features of an institutional and ideological framework that can hardly be considered a model for academic freedom and intellectual integrity.
The huge differences between carrying out scholarship in today's Britain and in Stalin's Soviet Union are obvious, not least because formal censorship and direct state repression are not routine consequences of dissent in the UK. Moreover, education was viewed primarily as a public rather than as a private good by Soviet policymakers.
Yet the parallels are surprisingly pervasive. They include the imperative for competition between institutions; the subordination of intellectual endeavour to extrinsic metrics; the lurching of departments and institutions from one target to another heedless of coherence; the need to couch research in terms of impact on the economy and social cohesion; the import of industrial performance management tactics; and the echoing of government slogans by funders (of which the Arts and Humanities Research Council's invocation of the "Big Society" some years ago is only the most crass example).
When a head of department, who had published works on the Stalinist period, asked me without irony to provide my five-year research plan, the parallels became inescapably farcical.
Contrary to popular perceptions, Stalinist scholarship was not a desert populated by intellectuals cowed or silenced by the state. Some of the most important literary and cultural theory of the 20th century was produced in the Soviet Union at this time, but there were significant distortions and myriad valuable research projects were destroyed. The problem was not so much the party imposing its own line (there was no line on matters such as literary theory) as it was the erosion of the structures that insulated scholarship from the demands of state policy and economic imperatives.
When scholars wanted to promote their perspectives as superior to those of rivals in their pursuit of resources and influence, they found it more effective to appeal to authorities outside the academy. The closer research was to the concerns of government and industry, the more powerful became the appeal to non-scientific forms of authority, so crucial scientific issues became obscured and ideological conformism usurped exploration.
We are increasingly exposed to the same trends. Frederic Lee's research into the effects of the 2008 research assessment exercise on economics departments in UK universities shows that the requirement for staff to publish in neoclassical "diamond list" (prestigious) journals led to a sharp decline in the recruitment of "heterodox" faculty and to an ideological homogenisation of approach. Apart from narrowing the field, this hardly helped economists to diagnose and warn about the problems bequeathed by years of deregulation in the banking sector.
This is a symptom of a general centralisation of decision-making in universities, reducing heads of department to craven functionaries implementing decisions made higher up the bureaucratic structure. The result is a requirement to fulfil the corporate "plan" while appealing to ever dimmer memories of collegiality when concessions from academics are required. Productivity indicators are applied to every aspect of academic work, rewarding managers' favourite Stakhanovites and pushing everyone else to emulate their 70-hour weeks.
The sheer illogicality of the assumptions underlying such attempts to drive up performance was perfectly stated in a recent article about "people management" at my own institution (as reported in "Staff baulk at performance yardstick threat",  February). Our director of human resources was quoted as saying that all academics will be expected to "excel" or will have to "leave the organisation". It is hardly surprising that mental health problems among academic staff subjected to such pressures are on the rise. The production paradigm is unsuited to academic research and creative teaching, which is the core of what higher education is all about.
But the biggest difference in the position of university staff in Stalin's time and our own is that we have freedom to organise in defence of professional standards and conditions of work. Organising academic staff is notoriously akin to herding cats, but history has provided us with an important illustration of where we will all end up if we do not make good use of that freedom to defend academic priorities.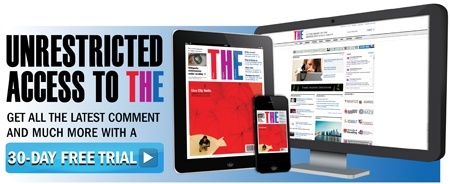 Register to continue
Why register?
Registration is free and only takes a moment
Once registered, you can read 3 articles a month
Sign up for our newsletter
Register
Subscribe
Or subscribe for unlimited access to:
Unlimited access to news, views, insights & reviews
Digital editions
Digital access to THE's university and college rankings analysis
Subscribe
Already registered or a current subscriber? Login