Source: Marcus Butt
Ibrahim Gashi seemed to have a particular fondness for the International Journal of Engineering and Management Sciences. Last year, Gashi, then rector at the University of Pristina, was cited as an author on three articles published in just one issue of the India-based open-access journal.
The fact that Gashi, a historian by training, was co-authoring a paper on minerals went unremarked upon until the same journal published another paper by putative Kosovan scholar "Filan Fisteku" – the Albanian equivalent of Joe Bloggs. The paper, a spoof of The Communist Manifesto titled "The principles of manifesting management at a public university in a developing country: case of Kosova", included not-too-subtle digs at Gashi and his academic conduct.
The appearance of the story in the Kosovan media sparked mass protests at the University of Pristina. Dozens of students were arrested before Gashi was forced to resign last month.
"I hope that my resignation will start the normalisation of work at the University of Pristina," Gashi said on stepping down. But the affair has only focused attention on the deepening crisis in higher education in Europe's newest state.
Academic dishonesty and plagiarism are rife in Kosovan universities, claims Dukagjin Pupovci, an academic working in the country and an expert on Kosovo's educational system. One reason for this is the number of higher education institutions that have sprung up since independence from Serbia in 2008 – about 30 for a population of 2 million. About 100,000 Kosovans are in higher education – some 60 per cent of the 19-24 age group.
It was not always like this. The University of Pristina, the country's first seat of higher education, was founded in 1970. Until 2010 Kosovo had just two public universities: Pristina and the University of Mitrovica North (the latter still under Serbian administration).
Now, according to Pupovci, there are five more public universities in Kosovan towns as well as 25 accredited private higher education institutions.
Applicants for academic posts in Kosovo need publications in international journals, which makes "predatory" open-access journals with low or no standards attractive. At the same time, a culture of fraudulent multiple authorship of papers has spread.
Such underhand practice is not surprising given the paucity of original research conducted in Kosovo. Total public spending for research in Kosovo in 2012 was less than 0.1 per cent of GDP, far below regional standards. "Research is not even included in staff contracts in Kosovo higher education institutions," says Pupovci.
The problem of a shortage of qualified academic staff has been exacerbated by the political capture of Kosovo's university sector. Staff often have links to the governing parties in Pristina – currently prime minister Hashim Thaci's Democratic Party of Kosovo and its coalition partner New Kosovo Alliance (AKR) – and academic positions have become an important form of patronage. Gashi was himself a former AKR deputy minister of foreign affairs.
Underachieving students can pay cash to gain admission to universities. The sale of grades, essays and even dissertations is common. Appointments are often nepotistic: the siblings of professors find themselves with jobs as teaching assistants or junior lecturers.
"We need a thorough investigation of the process of hiring staff in the University of Pristina," said Flutura Kusari from the Balkan Investigative Reporting Network, in Pristina, in the wake of Gashi's resignation. Kusari also called for legislative change: four of the University of Pristina's nine-person council are appointed by the Ministry of Education, she said.
The travails of the university are particularly painful for a country that endured the horrors of war just a decade and a half ago.
The University of Pristina helped to maintain – and create – Kosovan Albanian identity during the long Yugoslav years. In March 1981, students protested for better food on campus and improved living conditions in dormitories. The demonstrations sparked unrest across Kosovo as ethnic Albanians demanded more autonomy within Yugoslavia.
After almost a decade of disinvestment in the University of Pristina, in 1990 a new curriculum exclusively in Serbian was introduced. Eight hundred and sixty-three Albanian teachers and staff were sacked. In response, Kosovans began to develop a parallel system of education, with young people studying in makeshift classrooms in private houses. The 1990s were marked by a major "brain drain" as qualified Kosovans left the country in droves.
After the 1998-99 war, significant attempts were made to reform Kosovo's system of higher education. In the early 2000s, the Department for Education and Employment funded assistance from British universities to the University of Pristina. As part of this project, Kosovan academics visited a number of UK university departments. But some Kosovan Albanians, having developed their own clandestine system during the war, proved reluctant to adapt to outside influences.
The current crisis in Kosovo's universities mirrors problems across the country. Unofficial statistics put unemployment as high as 40 per cent.
A university education, once seen as a means of escaping poverty, is rapidly losing its cachet. "Today much less value is placed on higher education qualifications than was the case 15 years ago," says Pupovci.
"Kosovo is a small country and the only resource we have here are the people. They need to be well qualified."
Gashi's departure is an opportunity for root-and-branch change in Kosovo's university sector. Whether there is the political will to seize that chance remains to be seen.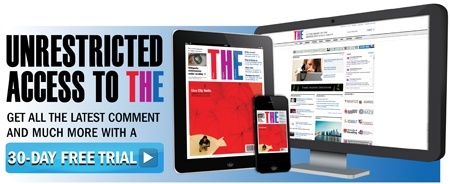 Register to continue
Why register?
Registration is free and only takes a moment
Once registered, you can read 3 articles a month
Sign up for our newsletter
Register
Subscribe
Or subscribe for unlimited access to:
Unlimited access to news, views, insights & reviews
Digital editions
Digital access to THE's university and college rankings analysis
Subscribe
Already registered or a current subscriber? Login