Spend any time at all observing higher education and it quickly becomes clear that universities are one of the strongest common denominators as countries and cultures become increasingly intertwined.
National borders are supposed to mean less and less, and yet – in the UK at least – years of economic woe have changed attitudes, with xenophobia taking root in what now passes for mainstream politics. It would be wrong to say that this has had no impact on higher education – the government's attitude to student "migration" is a case in point. But damaging though local policy interventions may be, the international currents run deep in higher education, from student flows and academic careers to research collaborations and the measurement of institutional performance.
It's always striking when one meets the heads of research-intensive universities in particular how common their concerns and ambitions tend to be, regardless of geography. So if the president of a Chinese university talks about teaching that does more than merely pass on knowledge – that also encourages entrepreneurship and inculcates values and a global outlook – then the same mantra will be repeated by the head of a university in, well, almost any other developed country. Whether this is an unalloyed good that drives up standards, or whether it holds some risk (an unwelcome homogenisation of higher education, perhaps?), it's a trend that's likely to continue.
Neither Labour nor the Conservatives are willing to make any spending commitments this side of the general election
The perceived quality of universities and national systems rests heavily on research, and in this area, too, elite universities tend to pursue largely interchangeable strategies.
Many countries, meanwhile, are adopting "excellence initiatives", which typically aim both to increase research funding and to funnel it to the universities most likely to climb into the top ranks globally.
In our cover story this week, we report from Moscow on Russia's £450 million Project 5-100, which aims to get five Russian universities into the global top 100 by 2020.
Similar projects have been implemented in Germany, France, South Korea, Japan and China.
Putting aside the issue of concentration of funding, what all these schemes recognise is the importance of investment, and the simplest analysis of world university rankings shows that improvement in performance is heavily correlated to the amount of money available.
Which brings us to the UK's commitment to investing in its universities. It's true that student tuition fees have kept university balance sheets buoyant recently, and the flat-cash settlement for science was welcome at a time when other areas of public spending were being reduced.
But it was clear at a pre-election debate held last week at the Royal Society by the Campaign for Science and Engineering that neither Labour nor the Conservatives are willing to make any spending commitments this side of the general election, due in May.
It fell to the Liberal Democrat MP Julian Huppert to make the strongest case for more investment.
What is Britain's future in 50 years if it isn't based on our continued excellence in science and research, he asked? It's a question lots of other countries are asking themselves; and if we don't answer it honestly, and invest accordingly, plenty of others will. In fact, many already are.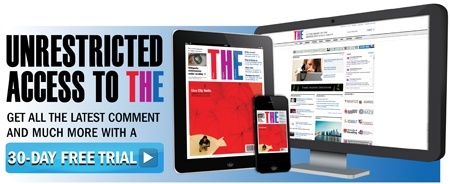 Register to continue
Why register?
Registration is free and only takes a moment
Once registered, you can read 3 articles a month
Sign up for our newsletter
Register
Subscribe
Or subscribe for unlimited access to:
Unlimited access to news, views, insights & reviews
Digital editions
Digital access to THE's university and college rankings analysis
Subscribe
Already registered or a current subscriber? Login