I'm beginning to feel sorry for Universities UK. It has been under attack from all sides since the publication of its report last month advising that at talks given by external speakers, the segregation of men and women is acceptable as long as the groups sit side by side. So concerted and so furious was the onslaught that after a series of half-hearted reiterations and embarrassing climbdowns, it has finally decided to withdraw the guidance altogether.
First into the fray was Maryam Namazie, head of the Council of Ex-Muslims of Britain. She created a petition, signed by more than 9,000 people, condemning the recommendation as nothing less than gender apartheid. "Any form of segregation, whether by race, sex or otherwise is discriminatory," the petition declared. "By justifying segregation, Universities UK sides with Islamist values at the expense of the many Muslims and others who…demand equality between women and men."
In response, UUK was at pains to point out that its report merely intended to clarify the legal position for universities. Heaven forfend! It was never meant to endorse segregation. And, still smarting from the condemnation, UUK's chief executive, Nicola Dandridge, issued a statement to reiterate the point, attaching supportive legal advice.
But this still wasn't enough for the Muslim feminist Sarah Khan.
"The idea that both men and women are equally segregated and therefore treated equally is highly erroneous," she scoffed in The Independent. "Segregation perpetuates discriminatory social norms and practices, shaping male attitudes about women and restricting the decisions and choices of women."
This tendency to assume that religious sensitivities must override any others is influencing many universities not just to cater for different cultural needs but also to 'pander to extremism', as Michael Gove put it
In its search for an acceptable compromise, UUK had suggested that ideally an unsegregated area should be provided as well. But instead of placating the critics, it found itself under another line of attack after expressing caution that such an arrangement might offend the "genuinely held" religious beliefs of the group hosting the event – or, crucially, of the speaker, whose freedom of speech should be protected.
This aroused Polly Toynbee's fury. "[UUK's] guidelines give the sexist eccentricities of some religions priority over women's rights," she fumed in The Guardian. "Muslim speakers demand segregation to make a very public point about their belief in women's 'separate' role in the universe, one step behind a man."
But while opponents piled in to argue that gender segregation curtailed free speech, UUK protested that free speech was exactly what its advice was intended to protect. "By promoting free speech and open debate," it pleaded, "the rights or wrongs of gender segregation can be challenged and discussed."
That is not how it works in practice, though, according to The Sunday Times. In a piece clearly designed to refuel the furnace, the paper reported that at a recent seminar held at Queen Mary University of London, women were not only segregated, they were also barred from speaking. Female students attending the event run by its Islamic Society were forced to walk through a "sisters only" entrance and, unlike the men, were required to write down their questions rather than speaking.
It seems that any effort to neutralise the row only made it worse. That's what happened when Dandridge appeared on BBC Radio 4's Today programme last week. Her intervention backfired disastrously because of one regrettable gaffe: gender segregation, she blithely asserted, is not completely "alien to our culture".
Cue the politicians. Chuka Umunna, the shadow business secretary, said he was "horrified" by the advice. Then education secretary Michael Gove condemned it. But the final death blow for UUK's report was the intervention of the prime minister himself, quite unable to resist such a wonderful opportunity to speak out for British culture and values.
"I'm absolutely clear that there should not be segregated audiences for visiting speakers to universities in Britain," said David Cameron, graduate of Eton College and former member of the Bullingdon Club. And after that high-level pronouncement, there was only one course of action. UUK's discredited case study was withdrawn and the whole report is being reviewed.
What this saga highlights is the incompatibility of so many religious precepts with liberal thinking. And increasingly it is religion that wins out. Only last year, when Malcolm Gillies, vice-chancellor of London Metropolitan University and a Times Higher Education columnist, announced that he was considering banning alcohol in some parts of his campus, he appeared to be favouring Muslims who regard drinking as "immoral" above the rights of the other students. The issue, he said, was one of "cultural sensitivity".
And this tendency to assume that religious sensitivities must override any others is influencing many universities not just to cater for different cultural needs but also to "pander to extremism", as Gove put it. For example, the University of Westminster has been accused of doing just that. Twice in the past month it has given a platform to Sheikh Haitham al-Haddad, an Islamic leader who among his many unsavoury proclamations has condemned homosexuality as a crime.
But although other institutions, including London Met and the London School of Economics, have banned him along with other radical speakers, Westminster denies that it has bowed to religious pressure. Rather, by allowing such speakers, the university claims, it is championing free speech.
No wonder Dandridge ran into such trouble attempting to find common ground between so many opposing positions. But maybe one good thing has come out of this whole sorry mess. For years there have been endless pleas in this magazine for UUK to speak with one voice. Now it has. And no one will ever urge it to again.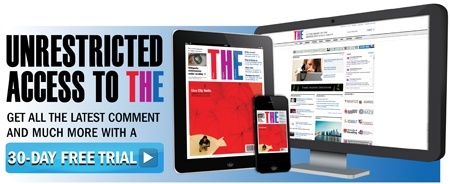 Register to continue
Why register?
Registration is free and only takes a moment
Once registered, you can read 3 articles a month
Sign up for our newsletter
Register
Subscribe
Or subscribe for unlimited access to:
Unlimited access to news, views, insights & reviews
Digital editions
Digital access to THE's university and college rankings analysis
Subscribe
Already registered or a current subscriber? Login