Missing face-to-face interaction? Try becoming a 'hologram professor'
Beaming a hologram of lecturers into classrooms offers greater closeness than current video systems, say Carla Victoria Ramírez López, Leticia Castaño Sánchez and Patricia Aldape Valdés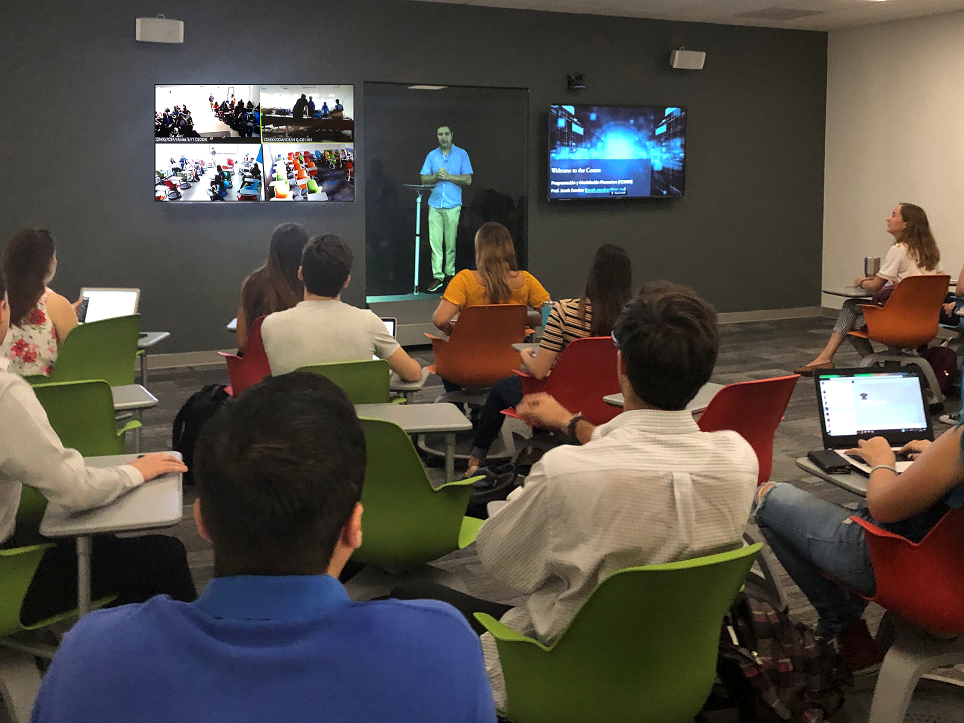 For the many academics out there who feel the online teaching and/or learning experience isn't quite cutting it, the hologram professor project – which we began at Tecnológico de Monterrey in Mexico in 2018 – might offer some succour.
The hologram professor is an innovative educational experience based on "telepresence" and, crucially at this juncture for higher education, it can recreate the natural dynamics of face-to-face environments – by creating a hologram of the lecturer in multiple classrooms at once, offering greater closeness and warmth for distance learners compared with current videoconferencing systems. Knowledge and experiences can be exchanged in real time while students interact and carry out activities in their classrooms. Here, we break down the nuts and bolts of the project.
How does the hologram professor experience work?
Students sit in "receiving" classrooms with up to 30 students per room – but on different campuses of the Tecnológico de Monterrey. The professor, meanwhile, is in a "transmitting room", watching, teaching and interacting with students on all these campuses just as in a face-to-face class.
The hologram professor transmission technology allows students to see the professor's image live, in anatomically correct dimensions, projected to multiple receiving rooms through a videoconferencing tool.
The magic of the approach lies in the fact the students feel like the professor is in the room with them and can get immediate feedback from her or him. Along with the hologram of the professor, students follow slides and other content on large monitors in their classroom, while other screens show their classmates from other campuses.
How do I get started?
As with any educational innovation, this will need to be supported by several areas within the institution. It will be key to form a team with IT staff to set up and enable the receiving and transmitting rooms. And there will need to be instructional support in terms of training and coaching teachers in the use of the rooms.
In the transmitting room, the professor stands in front of a black background to deliver the lesson, and there are two monitors that show course materials plus the students in the receiving rooms. This set-up does not require any particularly spectacular tech – the transmitting room needs simply a computer with a videoconferencing tool, a regular video and audio system (camera, microphone, speakers) with good audiovisual quality, the black screen for the background and the two monitors.
In the receiving room, students sit like they would in a regular class and can see the professor's image projected on to a holographic screen. On other monitors, they can see the class content and their classmates in other rooms. This room must have a holographic screen, but other than that, again, the requirements are fairly basic – a video and audio system (camera, microphone, speakers) with good audiovisual quality, two monitors, a projector and a computer with a videoconferencing tool.
Alongside the professor is a transmission coordinator who makes sure that all the sites are receiving the audio and video signals correctly and supports the professor in following up on what's happening with the students on the different sites. Meanwhile, in each classroom is a facilitator who supports the professor in carrying out teamwork activities, experiments and other learning, as well as monitoring and moderating the group's participation and, if applicable, administering exams.
Even once the rooms have been converted for the project, they can subsequently be used for other purposes such as face-to-face classes and regular videoconferencing classes.
What is the hologram professor's role? Does it change the way lecturers teach?
The professor teaches their class in a very active way but otherwise acts the same as they would in a face-to-face classroom. However, instead of a traditional blackboard or interactive whiteboard, the professor uses a touchscreen or tablet to explain the content of lessons, solve problems, show videos and more. The teaching needs to be very dynamic, and professors must design activities to involve all the students who are connected across the different sites as well as working with their local classmates.
Can we really recreate a face-to-face environment without the physical presence of the professor?
Yes. We used the "technological ecosystem for telepresence with hologram effect model", which has four components.
First, a pedagogical strategy that utilises active learning. Students carry out various contextual activities to build their knowledge. They are engaged in learning through activities and discussions in class instead of passively listening to an expert.
Technology is the second component. In addition to the hologram transmission technology, the teacher uses the learning management system (in our case, Canvas) and educational interaction tools such as Miro, Menti, Kahoot, Quizzis, chatbots and augmented reality apps.
Third is educational resources. Students access a variety of content in different formats; these resources help the students understand the lessons and content.
The fourth component is interaction in live sessions. Teacher-student interaction is once again achieved in a natural and agile way: the student raises their hand and participation is carried out in real time; professors communicate with students using their names as if they were physically in the classroom, helping to create an emotional bond. These small gains, and more, help to engage students and result in their enjoying the class.
Continuing to innovate is essential for universities, and offering several formats for teaching and learning cannot help but attend to a wider variety of students' needs. The hologram professor model has proven successful and effective, but above all, it's been well received by the students, one of whom said: "It's very comforting. It's been one of my favourite classes in my time at Tec. It feels innovative, and that makes you want to participate in and attend classes more."
Carla Victoria Ramírez López is leader of educational innovation and the hologram professor initiative at Tecnológico de Monterrey, Mexico.
Leticia Castaño Sánchez is leader of educational innovation at Tecnológico de Monterrey.
Patricia Aldape Valdés is innovation director of learning experiences at Tecnológico de Monterrey.