A campaign to communicate the impact of university research
With public perception of US higher education in decline, universities urgently need to send an engaging, integrated message about how their work benefits society, writes Paul M. Rand. Here's how his institution is doing it

The University of Chicago
29 May 2023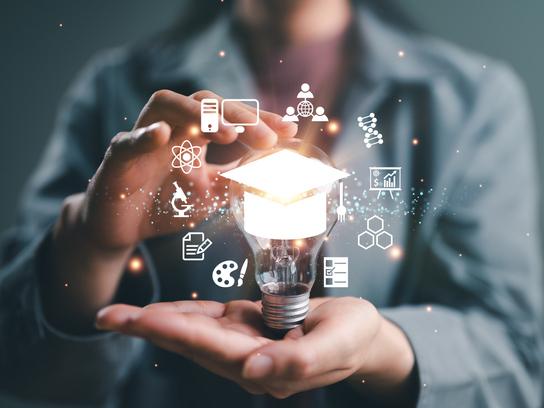 The public perception of American colleges and universities is in alarming decline. According to surveys by New America and the Association of American Universities (AAU), the share of Americans who say that colleges and universities are having a positive effect on "the way things are going in this country today" has fallen by more than 10 percentage points since 2020.
Higher education institutions nationwide are also facing an environment of unprecedented polarisation. Just 33 per cent of Republicans today view universities positively, compared with 72 per cent of Democrats, according to a recent Pew survey. Despite a surge of public confidence in research universities as Covid-19 emerged, overall the pandemic appears to have worsened this perception gap rather than improve it.
Despite political dissonance, the nation still looks to research universities for answers to society's most pressing issues. The American Association for the Advancement of Science (AAAS) estimates that R&D funding grew in FY2023 to a total of $195.2 billion (£156 billion), a 10.3 per cent increase over FY2022. In the past, the breakthrough discoveries led by research universities have helped to bolster the public's trust, but that confidence is fragile. There's a disconnect between encouraging investment in America's leading research universities and their public perception. At a time of unprecedented need for scientific advancement, we need to cultivate a public consensus about how pioneering research can help to address the many global problems we all face.
World-changing research deserves ambitious communication
The challenge is to show how research and education at our universities are making an impact now – and to demonstrate each institution's distinct contributions. This might take the form of digging into the annals of university history or reaching out to current researchers, as we did at the University of Chicago (UChicago), in order to find the exceptional ways in which researchers and faculty benefit society.
While there are many aspects of a campus community that deserve recognition, some of the highest goals of research universities are to shape and define fields, provide a transformational education and develop solutions to the world's most pressing challenges. To help broad audiences understand why research universities are worth the investment, we need to convey how we contribute to all these deep priorities.
Develop an engaging, integrated approach
UChicago launched a communications campaign called The Day Tomorrow Began to show how the university fostered breakthroughs that helped to define fields of study and change the world for the better. Here are key takeaways from our experience.
Start planning early, consult widely and consider the content and scope of your campaign. More than 10 months before our campaign was launched, we started talking with faculty and other colleagues in departments across the university to gather ideas for a set of inspiring breakthroughs. That required working with colleagues in many areas, including physical sciences, social work and humanities.

Be clear about selecting content that supports your message and priorities. In considering breakthroughs to highlight, we asked our colleagues to keep in mind criteria that included:
Did the breakthrough have far-reaching impact (within a field of study and in the wider world)?

Did it involve tangible discoveries with interesting stories behind them?

How could it help to show the diverse fields where our faculty and students have made a difference?

Was the impact ongoing (and not a one-off advance)?

Was the breakthrough part of a programme of study that is still being pursued at UChicago? Does it continue to benefit society?
Canvas for ideas that could give audiences an engaging message that they experience in many ways. You might bring together videos, podcasts, online content, social media, advertising and news media coverage. For example, to help explain how UChicago astrophysicist Subrahmanyan Chandrasekhar laid the foundation for modern ideas about black holes, our team produced a podcast with current faculty members who knew the Nobel laureate and are carrying on his legacy in new ways.

Marshal existing resources to develop the campaign. For example, our colleagues at the medical centre helped to put together the materials for a short video tracing Janet Rowley's work on the genetic basis of cancer. To date, we've published seven instalments on breakthroughs in diverse fields such as ancient civilisations, radiocarbon dating and economics.

Use multiple, accessible metrics to measure impact. We used widely available services for news media monitoring and social media analytics, and tracked the impact of targeted adverts on social media. A bit more than halfway through, the initiative has generated more than 240 million engagements through news media stories, social media posts, podcast downloads and other measures. Judging from the enthusiastic response from our alumni, campus community and people who just love science, the campaign has achieved our desired impact of getting key audiences excited about how research can address our society's biggest challenges.
Breakthroughs bring people together
Since the time of the Second World War and Sputnik, the US has a long history of coming together to meet scientific challenges head on. It's imperative that we sustain that spirit of discovery, despite political polarisation and the divisions that the pandemic might have worsened, and demonstrate the importance of investing in the next generation of world-changing discoveries. The Day Tomorrow Began helps to address this need, while reinforcing an urgent message: that unprecedented times call for unprecedented breakthroughs from the world's leading research universities.
Paul M. Rand is vice-president for communications at the University of Chicago.
If you found this interesting and want advice and insight from academics and university staff delivered direct to your inbox each week, sign up for the Campus newsletter.
You may also like