Two Septembers ago I found myself in Aldeburgh, well within hearing range of a full peal of bells emanating from the famous parish church where Benjamin Britten, Peter Pears and Imogen Holst are buried. Walking along the beach in the direction of Thorpeness, I heard this glorious clamour fading as the sea's murmur grew stronger; on my return, its sudden cessation as the ringers concluded their lengthy mathematical permutations fell like a sudden blanket of mist on the shingle. Keen to know which peal had been rung, I searched online, only to find myself staring into a pit of vituperation. The bells were not soft upon the ears of incomers, it seemed, and so a vocal minority had campaigned to have them silenced. At that moment I swear I heard three bodies turning in their graves.
Towards the end of his book, Trevor Cox considers the unseemly distaste of such weekender urbanites for the "wonderland" of distinctive sounds. Public tolerance can accept eyesores and bold sculptural statements, he discovers, yet centuries-old traditions such as campanology can trigger a silencing order. The question of why that should be the case hovers over each page without alighting on a fully satisfactory answer. There is talk of "soft fascination", the restorative effect of gentle motion in nature, and then there is an unstable alliance of physics, neurology, psycho-acoustics, subjective perception and sound art, in itself a tacit acknowledgement, perhaps, that our understanding of sound can only grow from such hybrid research.
To a sound addict like me, the common desire that non-human species should satisfy human listening requirements is dispiriting
To his credit, Cox eschews the (doubtless tempting) subtitle 100 Things To Hear Before You Die. Moreover, he is tireless in his self-imposed quest for sonic phenomena that delight, amaze and educate. Even the most mundane expedition, such as waiting for his children outside a comic book museum in France, turns ennui into practical science as he risks "embarrassing dad syndrome" by clapping in the direction of staircases. At first the enthusiasm is wearing, particularly since his anecdotal and somewhat episodic approach echoes (and I use the word advisedly) Malcolm Gladwell's blink-and-you-miss-it formula. Splashes of journalistic colour sit uneasily alongside the peculiarities of extraordinary auditory phenomena. It may be impossible to avoid anecdotes about the poolside sipping of margaritas with top Hollywood sound people, but Cox might have done better to apply the strictures of Elmore Leonard's 10 rules for good writing rather than resort to personal descriptions that have no function and precious little conviction.
Yet miracles can happen, and after 90 pages or so I found myself charmed by the diligent application of Cox's curiosity. For those who have been testing canaries in the sound mines for many decades, there may be a prickle of territorialism when a FameLab finalist such as Cox displays precious jewels of sonic phenomena such as singing sands, insect musicians, booming dunes and freakish echoes as his own. But that would be unjust. Cox consults some of the important pioneers of field recording, sound art and acoustic ecology – Hildegard Westerkamp, Peter Cusack, Chris Watson and Lee Patterson, for example – and presents their work not as an esoteric comedy turn, as is often the case when mainstream media attention comes to call, but as a serious, dedicated body of research into the significance of sound.
At these points in Sonic Wonderland, the question resurfaces, albeit silently: why is listening important? The aforementioned pioneers all have answers; their practice exists in the interstices between art, music, intuitive science and environmental activism. Their motivation to investigate sound and listening is driven not only by personal obsession but by a realisation that our culture's historical dominance of sight and word is unbalanced, reductive and not at all faithful to common experience.
Cox's strengths are founded in joyful ardour – a love of unusual sound events – and the scientific knowledge and communicative skills to analyse each of these events as he encounters them on his travels. Even the most familiar sounds benefit from this elucidation. Quoting from Thomas Hardy's Under the Greenwood Tree – "The ash hisses amid its quiverings; the beech rustles while its flat boughs rise and fall" – he clarifies the "breathy and inconsistent" sound of an evergreen tamarisk tree, thousands of tiny sound sources produced by the movement of air around the needles of the tree's foliage, each pitch varying according to the wind speed and diameter of the needle but combining to make a distinct note, "like a child learning to whistle".
As the book progresses, the air miles accumulate. Our capacity for listening is transported from the sewers below London to the Inchindown oil tanks of Cromarty Firth, from the Mojave Desert to singing sand beaches on Australia's Whitsunday Island, from the geysers of Iceland to the cathedral of Girgenti in Sicily where an acoustic anomaly made confessions audible to all and sundry, from a flotation tank in Venice Beach to the belfry of Big Ben, and from Blackpool's tide organ to a tiny spot in Northumberland that has the distinction of being, according to the Campaign to Protect Rural England, "the most tranquil place in England".
Locating this last spot in a peat bog in the middle of an Army firing range, Cox finds the silence unsettling rather than tranquil: "I wanted to hear birds or the trickle of a stream; even a buzzing fly would have been good – some sound that signified life." Perhaps influenced by television's requirement that its presenters should make themselves look as foolish as possible in order to enliven a story, he is game for anything. With all due awkwardness he enters a Buddhist retreat where vocal silence is mandatory, describing the atmosphere of sharing a bedroom with two silent strangers as like a "1970s sitcom where a marriage had gone wrong".
Amusing as this is, it tells us rather more about Cox and Buddhist retreats than it does about the subject of silence. Many of these anecdotes are suggestive of a peculiar contradiction in contemporary listening: too little sound is discomfiting, as is too much; many remarkable sounds go unnoticed yet sounds that have an established place within an environment, like the bells of Aldeburgh, are perceived as an irritant. Of the latter category, Cox gives the example of Australian birdsong, described by a Briton who had recently emigrated there as "disruptive" to the extent that others had been known to move back to the UK because the effect of its supposed ugliness was to "raise people's tension".
To a sound addict like me (and to Cox as well, judging by his effusive remarks on whip birds) Australian birdsong is one of the seven wonders of the audiosphere. The common desire that non-human species should satisfy human listening requirements is dispiriting, as are Cox's pronouncements on why music is as it is, Miley Cyrus for example, rather than the eerie calls of tawny frogmouths or barking owls. "Imagine a musician walking up to a piano and repeating a snippet of a favourite melody over and over again," he chides, to which the response might be a rousing cheer from all the Philip Glass fans out there. Misfiring musicology aside, Sonic Wonderland ends with a predictable plea: if we would all just listen, the world would be a nicer place. That remains to be heard.
The author
"I was born and raised in Bristol," says Trevor Cox, professor of acoustic engineering at the University of Salford, "although you wouldn't know it from my accent."
He lives with his wife Deborah and 16-year old sons Michael and Nathan "in a typical 1950s semi-detached house" in Chorlton, a district of Manchester "where you'll find many trendy bars, a vegan supermarket, Asian food shops, discount stores and numerous fried chicken outlets. The local free paper likes to call Chorlton 'bohemian'".
"My dad was a physical chemist at the University of Bristol and my mum a botanist and teacher, and so I was brought up in a scientific and inquisitive culture. An older sibling was the archetypal teenage rebel, which according to pop psychology left me no option but to be studious if I was to get any parental attention."
He studied physics at university, "and when looking around for subjects for doctoral study, decided to go into acoustics because I'm an amateur musician. Most of my colleagues in acoustics are musicians; I play the soprano sax."
"As a child I played the clarinet, and then gave this up when other things in life got in the way (mostly cycling). After a 15-year break, I started playing again. I looked at my old clarinet music and realised it would be too painful to try and relearn the same repertoire, and so I switched to the saxophone. I was amazed to find that some of the musical neural pathways still functioned after a 15-year break."
A coordinator and judge for BBC Radio 4's So You Want To Be A Scientist?, Cox observes that it is now "a good time for citizen scientists, because the internet gives access to so many resources, whether that is tools for analysis or access to the scientific literature. However, working on the project showed me the importance of citizen scientists having access to mentors to help them with research. Unless you've done research before, it is very hard to judge what is achievable."
Are there any sounds he finds unbearable? Cox admits that "some noises, chirps and beeps we use to test phenomena in the acoustics laboratory are pretty annoying. But the worst sounds in our lab are the ones used in perceptual tests. The poor experimenter running the tests has to hear the same sound samples over and over again. I'm still haunted by the 8-second clip from the Marriage of Figaro that I used during my PhD."
Of the sounds highlighted in the book, Cox notes that "you can hear many of the sounds online. Sonic Wonderland grew out of a travel guide to sound. When I set out to write Sonic Wonderland, I wanted a book that would stand on its own without someone having to wear a pair of headphones to audition the sounds. One of the skills I had to learn as an author was the aural equivalent of painting pictures in the mind."
Asked if he still has the time and desire to listen to music for pleasure, and if so which sound carrier he prefers, Cox says, "Nowadays, most of my listening is speech radio podcasts. One of the best pieces of advice I got from the first radio producer I worked with on a radio documentary was to listen to more radio to improve my presenting. The majority of the music on the SD card of my phone is tracks featuring saxophonists I want to emulate (mostly classical and a little jazz)."
He adds, "I'd rather not comment on the vinyl versus CD versus mp3 debate, because my in-box is already full enough without provoking more people to email their strongly-held opinions on the issue!"
Cox's most recent music purchase "was 117 tracks of music needed for an EPSRC project that is investigating the audio quality of user-generated content. The music was then distorted so listeners could audition the tracks and rate the perceived degradation. The 117 tracks were chosen because a scientific paper showed them to represent all types of music. So these will also be the last recordings I ever need to buy."
Were a good fairy to offer him the gift of any skill, Cox says he would like to "miraculously recover my cycling fitness from my 20s overnight. There are quite a few great climbs from the Tour de France that I have never ridden up; it would be great to conquer Mont Ventoux."
Karen Shook
Sonic Wonderland: A Scientific Odyssey of Sound
By Trevor Cox
Bodley Head, 320pp, £20.00 and £11.98
ISBN 9781847922106 and 9781448114573 (e-book)
Published 16 January 2014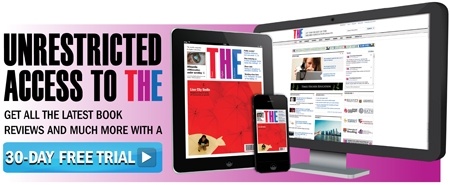 Register to continue
Why register?
Registration is free and only takes a moment
Once registered, you can read 3 articles a month
Sign up for our newsletter
Register
Subscribe
Or subscribe for unlimited access to:
Unlimited access to news, views, insights & reviews
Digital editions
Digital access to THE's university and college rankings analysis
Subscribe
Already registered or a current subscriber? Login