Questions of diversity and colour, race and status are central to studies of modern society, especially in 21st-century America, where the election of Barack Obama – born of a white mother and a black African father – as president has made the consideration of all things African American both urgent and fashionable. These pursuits have spurred an ambitious generation of academics to reconsider scholarly convention and to embrace rather than evade complex issues of racial politics and practice – not least those highlighted in the histories of light-skinned black Americans who abandoned birth families, kin networks and communities to cross the colour line and "pass" into the world of white privilege.
While literary scholars have long mined the "tragic mulatto" theme, until recently US historians have rarely explored and barely acknowledged the clandestine world of the tens of thousands of black people, across many generations, who masqueraded as white. Here, Allyson Hobbs provides fresh analysis of an oft-ignored phenomenon, and the result is as fascinating as it is innovative. She foregrounds the sense of loss that passing inflicted, and argues that many of those who were left behind were just as wounded and traumatised as those who departed. Those who passed may have had much to gain, but what were the hidden costs, the invisible scars of enforced patterns of subversion and suppression? She suggests that the core issue of passing is not what an individual becomes, but rather "losing what you pass away from".
Many who were able to pass for white used this strategy to escape the bondage they were born into - by 'performing' whiteness
By turning safe assumptions inside out, Hobbs questions some of the longest-held ideas about racial identification within American society. Like Jacqueline Jones' groundbreaking 2013 study A Dreadful Deceit: The Myth of Race from the Colonial Era to Obama's America, A Chosen Exile does not allow the traditional contradictions inherent in racial categories to go unchallenged.
From the earliest days of colonial settlement, people of African descent lived in a world in which colour determined almost everything – survival, status, the fate of progeny. During the pre-Civil War era, many mixed-race people who were able to pass for white used this strategy to escape the bondage they were born into – by, in other words, "performing" whiteness. As Hobbs demonstrates, "passing was imbricated with strivings for freedom", and in the book's early chapters she weaves together compelling accounts of a handful of fugitives, including Ellen Craft and George Latimer, who manipulated white prejudice back against itself.
With emancipation came the greatest challenge to white hegemony. Racial ambiguity and the mobility of freed people, says Hobbs, destabilised white supremacists. Whites responded to the end of slavery by imposing legal disability in the form of the racial segregation laws known as Jim Crow. In Plessy v Ferguson in 1896 (where "separate but equal" policies were declared constitutional), the lone dissenting Supreme Court vote was cast by Justice John Marshall Harlan. His father was rumoured to have fathered a mixed-race son, Robert, who grew up in the family household but was refused admission to a private academy when it was discovered that he was of mixed race, indeed black.
Hobbs teases out the balancing act that light-skinned blacks maintained in the late 19th-century South, and how and why the colour line imposed such hardship. African Americans were ensnared by the double consciousness of which W. E. B. DuBois wrote so powerfully: "One ever feels his two-ness, – an American, a Negro; two souls, two thoughts, two unreconciled strivings; two warring ideals in one dark body, whose dogged strength alone keeps it from being torn asunder." The complicated life of those masquerading as white further complicated the psychological high-wire act that all blacks endured, and Hobbs is particularly good on the dilemmas faced by educated and ambitious blacks.
Of particular note is the story of Harry Murphy, a cadet sent by the navy to the University of Mississippi in 1945 after a recruiter ticked the box for "white" when Murphy enlisted. He enjoyed his year on what was then a firmly whites-only campus; in 1962, in the midst of black air force veteran James Meredith's much-publicised battle to enrol at "Ole Miss", Murphy commented that those resisting integration were "fighting a battle they don't know they lost years ago". In 1929, Albert Johnston, a mixed-race doctor unable to secure a hospital post in Chicago, moved with his blue-eyed wife (also of mixed race, and born in New Orleans) to New Hampshire. The Johnstons became pillars of the community, and kept their racial background from everyone in their small town, including their four children.
These are stories of more than merely historical interest. From ongoing debate about Thomas Jefferson fathering children with Sally Hemings, to the mixed-race background of the late New York Times literary critic Anatole Broyard, "unmaskings" of family and racial identities continue to make headlines. Moreover, the practice of passing in US society resonates elsewhere. As Hobbs recounts, many light-skinned black Americans passed "nine-to-five", slipping out of black communities by day to work. Such role-playing could also be seen in attempts to evade de facto discrimination in 20th-century Northern Ireland, where some Catholics passed as Protestants to hold day jobs, and faded back into their separate communities by night.
It is challenging to offer a full account of such phenomena, and it is notoriously difficult to draw conclusions from the sparse official records, as evidence for passing necessarily remains clandestine. But, like Joel Williamson in New People: Miscegenation and Mulattoes in the United States (1980) and Werner Sollors in Neither Black nor White yet Both: Thematic Explorations of Interracial Literature (1997), Hobbs tackles the topic with creative sensitivity, exploring hybridity rather than hyping "post-racialism". Her vivid vignettes recover hidden lives and contextualise them, shedding light on entanglements that heighten our appreciation of the absurdity of requisite disguises employed to evade racial barriers.
A Chosen Exile is given depth and resonance by Hobbs' excavation of a wide range of sources, and she is as adept at tracking nuance in antebellum "runaway slave" advertisements as she is at spotting the modern trend for advertising to address Generation E. A. – ethnically ambiguous – consumers. She is also insightful at capturing the tone and texture of life for those who saw masquerading as white as the road not taken. In the 1930s, the black writer Charles Chesnutt told an interviewer who asked why he had not passed: "I married a woman darker than myself, and I will never go where she is not welcome, too."
The quiet dignity of his response sheds light on the way that passing could lead to some of the most heartbreaking of dilemmas, as in Hobbs' account of a California woman who received a phone call after years of exile from her family. It was her mother, begging her to return home because her father was dying. The woman said she was unable to come, and broke off contact lest her deception be discovered by those in her new life. The sense of tragedy in this rupture is lessened only slightly when Hobbs tells us that the woman is a distant cousin in her own family. Hers was the tale that set the author on the road to recovery of the hidden lives so poignantly portrayed in this compelling volume.
A Chosen Exile: A History of Racial Passing in American Life
By Allyson Hobbs
Harvard University Press, 400pp, £22.95
ISBN 9780674368101
Published 23 October 2014
The author
Born in Massachusetts, Allyson Hobbs moved to Morristown, New Jersey, "a wonderfully diverse suburb of New York", when she was five.
She and her labradoodle, Clover, now live close to Stanford University in California, where she is assistant professor of American history. "I feel lucky to be at Stanford, where teaching is deeply valued. I have learned so much from my graduate students and undergraduates," she says.
Of her earliest pedagogical influences, Hobbs recalls "a lifetime of extraordinary teachers, starting with my parents. I went to public school in Morristown through high school, and I feel lucky to have had inspiring, dedicated teachers who nurtured my love of writing, reading and history."
A studious child, she also "ice skated, played soccer and tennis and ran track. My parents have been incredibly supportive and encouraging of every passion, every interest, every pursuit I've ever had. I owe all of my success to them."
Hobbs, who graduated magna cum laude from Harvard University, "loved college. I loved my classes, but I also enjoyed extracurricular activity. I tried everything, from crew to writing for the student newspaper to giving campus tours."
Of the impetus for A Chosen Exile, her first book, she observes: "History is a series of fascinating stories. I've always wanted to write in a way that is accessible to a wider audience.
"I think this comes from hearing so many incredible stories from my family members. I come from a family of magnificent storytellers. I also hope my book can shed light on contemporary race relations."
Were a good fairy to offer her the gift of any skill, Hobbs "would love to be a pastry chef. I'd love to be able to read and write faster. And in my spare time, I wouldn't mind being a professional tennis player."
Karen Shook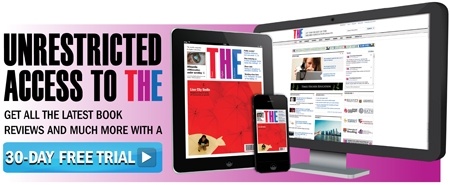 Register to continue
Why register?
Registration is free and only takes a moment
Once registered, you can read 3 articles a month
Sign up for our newsletter
Register
Subscribe
Or subscribe for unlimited access to:
Unlimited access to news, views, insights & reviews
Digital editions
Digital access to THE's university and college rankings analysis
Subscribe
Already registered or a current subscriber? Login