National Taiwan University (NTU)
World University Rankings 2021
World Reputation Rankings 2020
No. 1, Sec 4, Roosevelt Road, Taipei, 10617, Taiwan
Taiwan's flagship university
Founded in 1928, National Taiwan University (NTU) is the most prominent and comprehensive research university in Taiwan, and its history traces back to Taiwan Hospital founded in 1895. The NTU campuses display the beautiful landscapes of the island, from its main campus in the modern and culturally rich capital of Taipei, to the vast experimental forests in central Taiwan. NTU has a faculty of 2,000, a student body of 32,000, and offers more than 280 degree programs, ranging from natural sciences to humanities and social sciences, underpinned by cutting-edge research and academia-industry cooperation.
Connect with the world through NTU
NTU has over 640 partner universities in more than 65 different nations. You will have the chance to cooperate with professors and students from NTU and all over the world and engage in top-class research on national and international levels, making your contributions to changing the world. We welcome over 5,000 international students each year, diverse campus events including orientation, student clubs, the Azalea Festival, NTU Art Festival, and World Carnival contribute to vibrant life on campus.
NTU alumni's influential impact on society
NTU has fostered around 300,000 outstanding alumni, including leading academics, four elected presidents of Taiwan, and business magnates such as the chairpersons and founders of Taiwan Semiconductor Company, Quanta Computer, Garmin, and Asus, generating 25.9% of Taiwan's overall GDP. Our faculty and alumni work closely with the government to make national policies by providing suggestions and solutions to the grand challenges in society. Furthermore, NTU ranked 40th in the 2020 Times Higher Education World Reputation Rankings.
Develop your potential in a vibrant campus and city life
Home to the biggest library in Taiwan, extensive indoor and outdoor sports facilities, and over 400 student clubs, NTU boasts premier student resources. Surrounded by diverse cultural and entertainment attractions, NTU acts as a bridge between a quiet retreat for studying and the bustling city of Taipei.
The university provides numerous opportunities for students to grow their potential in an exciting and supportive community. Career guidance coupled with our innovative and entrepreneurial spirit creates the perfect blend to broaden students' personal and professional development.
Channels for prospective students:
Degree Programs
NTU offers more than 280 degree programs, including over 90 double degree programs, at the bachelor's, master's, and Ph.D. levels, with 800+ courses taught in English each academic year. Furthermore, massive open online courses (MOOCs) are readily accessible, with 51 courses on Coursera and over 2,700 lectures and 180 courses on NTU OpenCourseWare.
We also proudly present our latest Master Program in Global Agriculture Technology and Genomic Science (Global ATGS) and Master Program in Biodiversity. Both are English-taught interdisciplinary master programs that emphasize hands-on training and site visits. Please visit the corresponding links for more information.
In addition, numerous scholarship opportunities are available to all students, including international students, at both undergraduate and graduate levels. Combined with affordable tuition fees and living costs, it makes NTU and Taiwan an excellent choice for degree students.
Non-Degree Programs
Out of 5,000 incoming international students every year, many participate in our exchange student program and visiting student program. NTU also provides tailor-made short-term courses for international students, attracting thousands year-round. The university's Chinese language courses are a popular platform for learning Chinese and experiencing Taiwanese culture. Moreover, NTU offers complimentary Chinese language courses to all incoming exchange students.
Worldwide recognition in research
As a globally renowned research university, NTU is leading in fields such as AI, semiconductor technology, medicine, earthquake engineering, atmospheric sciences, aging, and sustainability. The university supports over 100 cutting-edge research centers and operates the only cancer center in the country that leverages AI to provide innovative clinical treatment in oncology. Moreover, our faculty members author over 5,700 publications annually with partners around the world.
We welcome non-NTU members to immerse themselves in research at our university through international scholar programs while enjoying benefits such as access to campus resources and facilities.
Social responsibility at heart
NTU is dedicated to the practice of university social responsibility and UN sustainable development goals. We collaborate with international organizations such as the Association for the Advancement of Sustainability in Higher Education (AASHE) and the University Social Responsibility Alliance, as well as national entities such as Academia Sinica, the Ministry of Science and Technology, Taiwan Centers for Disease Control, and more.
NTU's emphasis on innovation and entrepreneurship has paved the way for a new social responsibility platform, leading to the development of creative hubs such as NTU Garage and D-School. By providing courses such as University PLUS and hands-on interdisciplinary programs, we reinforce the importance of actively engaging students and faculty in giving back to the community, thus creating a mutually beneficial relationship between NTU and the society.
The university received acknowledgment for its COVID-19 response and re-opening strategies. Executive Vice President Dr. Shan-Chwen Chang was widely appraised for his role in the specialist advisory panel of the Central Epidemic Command Center (CECC), contributing his expertise on infectious diseases and immunology.
NTU research highlights
Explore rankings data for National Taiwan University (NTU)
All ranked institutions have an overall score and 4 pillar scores. However for each pillar, only institutions ranked in the top 500 overall or the top 500 in this pillar have a publicly visible score
Key statistics
9.9

No. of students per staff

(1)

12%

Percentage of International Students

(1)

43 : 57

Student Ratio of Females to Males

(1)

24,880

Number of FTE Students

(1)
Video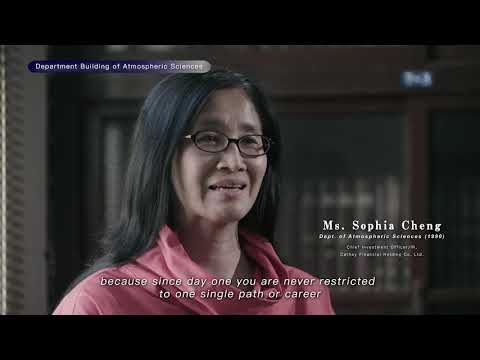 Subjects taught at National Taiwan University (NTU)
Arts & humanities

Engineering & technology

Business & economics

Psychology

Life sciences

Physical sciences

Social sciences

Clinical, pre-clinical & health

Law

Computer science