Duke Kunshan University
No. 8 Duke Avenue, Kunshan, Jiangsu, 215316, China
Founded in 2013, Duke Kunshan University is a partnership of Duke University in the United States, Wuhan University in China, and the fast-developing Chinese city of Kunshan, Jiangsu province, where its campus is located.
Duke Kunshan University is redefining what it means to be a global university. Students today need to be part of the international conversation, to graduate with the skills needed to find innovative solutions to tackle worldwide challenges.
The academic pedagogy at Duke Kunshan features interdisciplinary approaches, engagement with research and collaborative learning. Our award-winning faculty and high-tech campus all combine to create the ideal environment for an experiential education that teaches students the strategies they need to not only learn, but to lead.
At this innovative global university, students will:
Have the opportunity to study and live on two campuses: from Kunshan, China, to Durham, U.S.
Undergraduate students receive degrees from Duke University and Duke Kunshan University
Graduate students receive a Duke degree
Become part of Duke's 180,000-strong global alumni network
Duke University
A private comprehensive teaching and research university, Duke traces its roots to 1838, and officially became Duke University in 1924. In addition to liberal arts and engineering education at the undergraduate level, Duke offers graduate and professional study in arts and sciences, business, divinity, engineering, the environment, law, public policy, medicine and nursing. Duke enrolls more than 15,000 students in its undergraduate, graduate, and professional programs. Duke's home campus is situated on nearly 9,000 acres in Durham, North Carolina, USA. Duke also is active internationally through the Duke-NUS Graduate Medical School in Singapore, Duke Kunshan University in China and numerous research and education programs across the globe. More than 75 percent of Duke students pursue service learning opportunities in Durham and around the world through DukeEngage and other programs that advance the university's mission of "knowledge in service to society."
Wuhan University
Wuhan University is one of the most prestigious and selective public universities in China. Founded in 1893, the university is among the oldest in China and has over 100 years of experience in training top researchers and scientists in fields such as the social sciences and engineering. Wuhan University enjoys partnerships with more than 400 universities and research institutes in over 70 countries and regions, and its more than 500,000 alumni include at least 100 members of the Chinese Academy of Sciences and the Chinese Academy of Engineering.
The City of Kunshan
Located at the heart of Jiangsu province in the vibrant Yangtze River Delta, Kunshan is one of China's fastest-growing economies and a hub for high-tech research and manufacturing. The city boasts picturesque forests and historic water towns and is connected by high-speed rail and subway to Shanghai and Suzhou, two of the country's most dynamic cities, making Kunshan the ideal setting for Duke Kunshan University.
The research-based, liberal arts curriculum at Duke Kunshan University is ideal for a wide degree of programs and areas of inquiry. Undergraduates have the opportunity to study their chosen field in depth while also benefitting from the collaborative and interdisciplinary approach that is our hallmark. Our graduate programs offer advanced degrees suited to professionals and academics and foster creative engagement between the public and private sectors.
Undergraduate Studies
Duke Kunshan University provides a 21st century liberal arts and sciences education that helps students develop a sense of social responsibility and global citizenship, as well as strong and transferable intellectual and practical skills such as communication, analytical and problem-solving skills, and a demonstrated ability to apply knowledge and skills in real-world settings.
At Duke Kunshan University, each major consists of an interdisciplinary set of courses that integrate different forms of knowledge and a distinct set of disciplinary courses that provide expertise in specific areas.
Current majors include:
Applied Mathematics and Computational Sciences with tracks in Computer Science and Mathematics
Behavioral Science with tracks in Psychology and Neuroscience
Computation and Design with tracks in Computer Science, Social Policy, and Digital Media
Cultures and Movements with tracks in Cultural Anthropology, Sociology, and World History
Data Science
Environmental Science with tracks in Biogeochemistry, Biology, Chemistry, and Public Policy
Ethics and Leadership with tracks in Philosophy, Religious Studies, and Public Policy
Global China Studies with tracks in Chinese History, Philosophy, Religious Studies, Economics, and Political Science
Global Cultural Studies with tracks in World Literature and World History
Global Health with Tracks in Biology and Public Policy
Institutions and Governance with tracks in Economics, Political Science, and Public Policy
Material Sciences with tracks in Physics and Chemistry
Media and Arts with tracks in Creative Practice and Art History
Molecular Bioscience with Tracks in Cell and Molecular Biology, Genetics and Genomics, Biogeochemistry, and Biophysics
Political Economy with tracks in Economics, Political Science, and Public Policy
U.S. Studies with tracks in American History, American Literature, Political Science, and Public Policy
Graduate Programs
Duke Kunshan University attracts the best minds and provides students with the education to become global citizens and outstanding contributors to society. Whether it's mastering advanced research methods, training alongside experts at leading hospitals, or understanding the latest business trends, our graduate programs immerse students in intercultural environments and equip them with the skills to understand and address global challenges, now and in the future. Our programs propel experienced professionals and recent graduates into the next dynamic phase of their career.
Master of Management Studies (MMS)
The MMS program offers a unique global degree that prepares recent graduates and early-career professionals for a successful international career. Students learn the foundation of core business disciplines and are exposed to two of the world's most-important economies: China and the U.S. Students spend the first half of the program at Duke's top-tier Fuqua School of Business in the U.S. before transitioning to the Duke Kunshan campus in China.
International Master of Environmental Policy (iMEP)
The iMEP program approaches the study of environmental policy through an interdisciplinary lens that straddles economics, public policy, political science, law, geography, and the natural sciences, with an emphasis on international and Chinese experiences and contexts. Based on Duke's master of public policy and master of environmental management, Duke Kunshan's iMEP program offers a highly analytical and innovative postgraduate degree. Our graduates become leaders in civil society, business, consulting firms, research institutions, think tanks, and entrepreneurial enterprises.
Master of Science in Global Health
The global health program at Duke Kunshan is modeled on the highly successful global health program at Duke University. Its mission is to train the next generation of global health researchers, practitioners and leaders through a high-quality educational program and participation in research that emphasizes interdisciplinary collaboration, mentorship from expert faculty, and the importance of reducing health disparities worldwide. Our students study in Kunshan and Durham, and at a fieldwork research site.
Master of Science in Medical Physics
The medical physics program trains students in concepts of physics and in the diagnosis and treatment of human disease, preparing them for careers in academia, research or clinical settings. Students spend their first year and the second semester of their second year at Duke Kunshan. The first semester of their second year may be spent at Duke's Durham campus, during which they receive clinical practicum training. The practicum gives them the opportunity to use the equipment necessary to their field and practice the techniques learned at the world-class Duke University Medical Center. With an advanced degree in medical physics, students are empowered to contribute to cutting-edge medical care, whether in China or in diverse international spheres.
Master of Electrical and Computer Engineering
Based on the high-quality interdisciplinary education and research of Duke University's ECE program, the master of ECE program at Duke Kunshan provide students with an American-style education integrated with modern Chinese business practices and industry standards, to prepare them as global leaders in tech. Students spend their first year at Duke Kunshan and their second year at Duke's Durham campus, allowing them to experience intercultural education in China and the U.S.
A Transformational Journey That Begins in China
Over the past decade, China has transformed into a laboratory for innovation and a hotbed for research and technical development in emerging fields. This Duke Kunshan experience is designed to provide students with a deep understanding of China and a microcosm of the dynamic changes going on in the world. With time spent in China and abroad, students will be well prepared for advanced studies and career choices worldwide.
Kunshan city is an emerging, modern metropolis with a history dating back more than 2,000 years. The city is the birthplace of Kunqu Opera, one of the oldest forms of Chinese opera, and its mix of natural and urban landscapes has attracted residents from all over the world.
Whether you become captivated by the beauty of nature and culture in Kunshan, or you use Kunshan as a home base for exploring the world's magnificent places of interest, attending Duke Kushan presents a golden opportunity for a rich global experience.
Video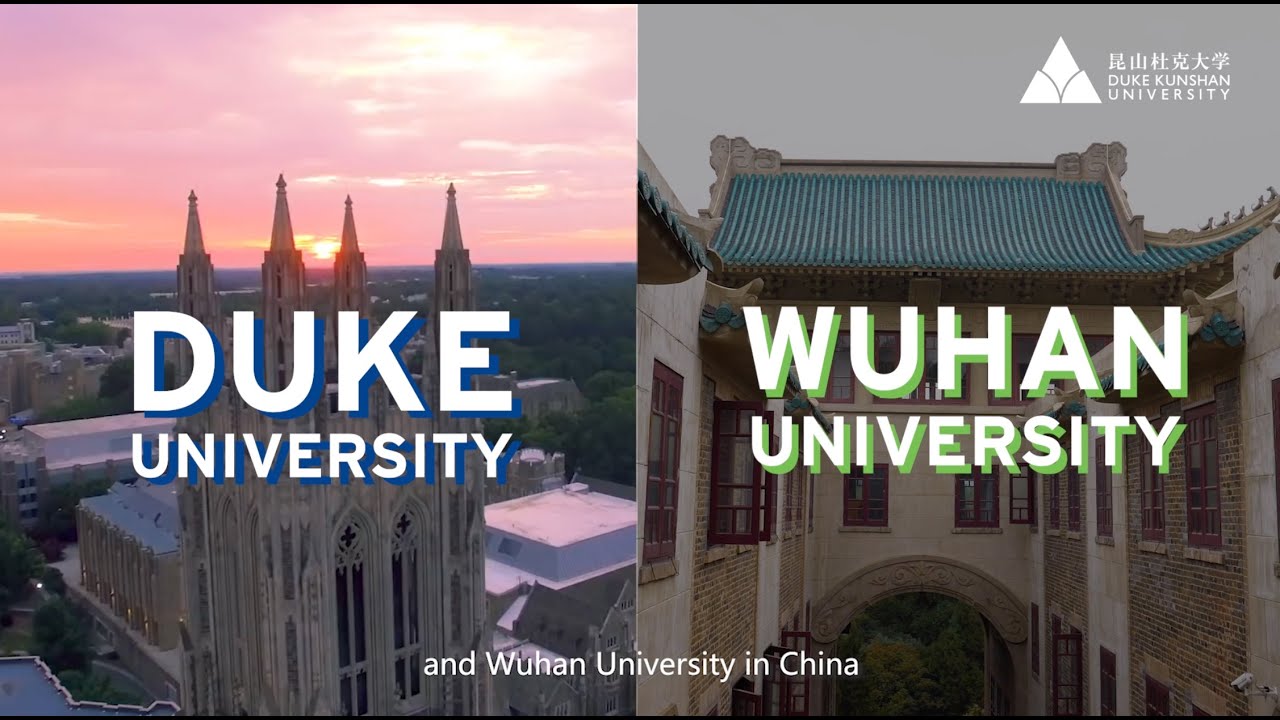 Subjects taught at Duke Kunshan University
Physical sciences

Social sciences

Life sciences

Business & economics

Arts & humanities

Computer science

Engineering & technology

Psychology